The story of five years Travelbird
Rédigé par

Laurens Aalbers le

.
Five years ago founders Symen Jansma and Dennis Patten Alberts started with Travelbird from their (how cliché it may sound for a start-up) attic. Due to an overload of choices picking a holiday at that time caused a lot of stress and frustration and it was anything but easy to find a nice destination. "Time for a change", Symen and Dennis thought.
Partager

By offering a specially selected deal each day they met the needs of the consumer, the reduced the stress of choosing and people were again pleasantly surprised with great offers. Since then Travelbird has become one of the most popular travel websites in Belgium that has given more than 2.5 million travel enthusiasts a fun and exciting holiday experience.
Today Travelbird offers a selection of six daily deals and a permanent offer including sun holidays and citytrips. Partly thanks to Travelbird travel enthusiasts travel to places where they themselves would never have immediately thought of.
The holiday you weren't looking for
Where other travel organizations mainly focus on helping the consumer to book a trip to a destination they were actively looking for, Travelbird tends to focus on the side of the market where the consumer does not always have the intention to book a holiday or day trip to. Because of the variety they don't overwhelm consumers with all sorts of special offers and choices, but they respond to the unconscious need to enjoy a holiday or day out.

Travelbird is also very inspiring, where other parties can mainly satisfy an existing demand Travelbird suprises with new offers on a daily basis. In addition, for Travelbird convenience comes first and they believe that booking your holiday should be as easy as visiting your neighbors. They believe in their products and they are focused every day with full commitment to ensure quality.
"Besides quality we offer the best prices and our trips are more complete than just an overnight stay in a hotel. We often offer extras, think of a dinner, rental car, breakfast, etc. We also have a dedicated 'Travelbird Labs'-team, which is constantly innovating and thinking of ways how we can serve our customers even better before, during and after their trip. The entire experience should be good from A to Z!" (Robin Doezie - Online Marketer @TravelBird)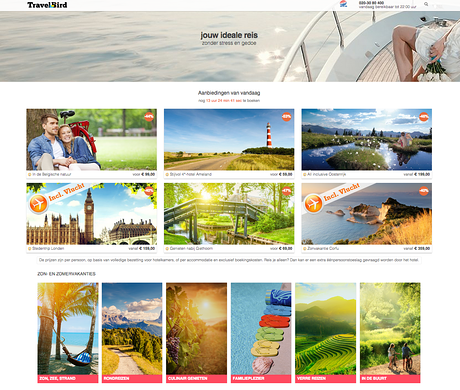 A look into the future
So much has happened over the last five years, it is difficult to predict where they will be in five years from now. Yet there is a clear vision. Travelbird will work hard in the short term to optimize their existing product and their customer service. They also aim to do their first expansion(s) outside of Europe this year! The whole world is their potential customer, they want to offer everybody the experience of their product.
"Continuously improving the product and discovering new opportunities is what we focus on. This allows us to serve customers even better and our ambition is obviously to make Travelbird 'top of mind' when people think of holidays!"(Robin Doezie - Online Marketer @TravelBird)
Successful affiliate program
In 2012 Travelbird started the collaboration with Awin. Since that time, many achievements have been celebrated, including the extension of only the Netherlands to a total of 12 countries! This international success is also recognizable in the office at the Keizersgracht in Amsterdam. At the moment there are 650 people working here with 30 different nationalities, which makes cooperation with international parties such as Awin very pleasant.
"Its character and the ability to engage internationally makes Awin a great added value as a network. This allows colleagues to exchange experiences with each other and in case of success to immediately roll it out to other countries where Travelbird and Awin cooperate together." (Robin Doezie - Online Marketer @TravelBird)