Founding members of the European Union and home to the de facto capital of the EU in Brussels, the Benelux territory is both literally and figuratively at the very heart of modern Europe. Originally formed in London by the three exiled governments of Belgium, the Netherlands and Luxembourg during the Second World War, the politico-economic union between these three territories still exists to this day as a means of enabling mutual benefits through co-operation across the region.
To some extent the partnership was seen as setting a template for the EU's own eventual cross-border community and Benelux has sometimes served as an experimental test bed for new EU initiatives such as the Schengen Agreement, which allowed the free movement of EU citizens across the Union and that took its name from the town in Luxembourg where the initiative was first rolled out.
Of course each of the three countries comprising the Benelux area has their own distinct national characteristics, and this is reflected as much in their ecommerce and affiliate industries as it is in their wider cultural legacies. However, there is no doubting that there are similarities between the three nations and that one of the most prominent of these is their shared openness toward, and appetite for, international trade and relations, both on and offline.
While the political hub of Brussels and the huge trading ports of Rotterdam and Antwerp (the two biggest in Europe) represent this in the physical world, within the digital space we can see this in the online consumption habits of the region's shoppers. Similarweb's analysis of the top online retailers in the Netherlands, for instance, reveals a mixed bag of domestic names such as Bol.com and Wehkamp.nl, alongside other neighboring country's popular sellers like Poland's Allegro, and huge international brands including the likes of AliExpress, Amazon and Ebay.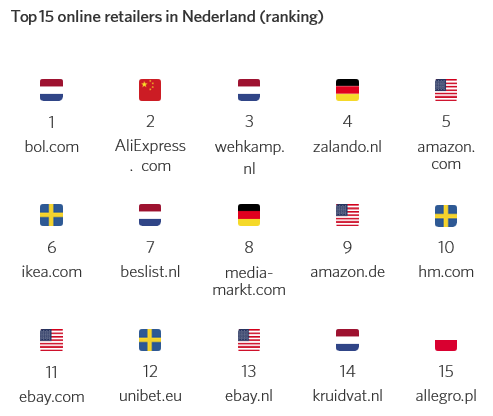 Over a third of Belgium's online shoppers were reported to have made a cross-border ecommerce purchase in 2016, and for the Dutch that figure was similarly high at over a quarter. Part of the reason for this can be put down to the ease with which online orders can be delivered both to and within these countries. Luxembourg (2), Netherlands (4) and Belgium (6) all currently rank within the top 10 countries in the World Bank's Logistics Performance Index which compares nations on their ability to efficiently move products into and inside a country.2 This means that regional customers are used to fast and inexpensive online deliveries regardless of where they buy products from. Clearly, these shoppers are comfortable engaging with brands beyond their borders and affiliates in these countries play a vital role in helping to bring these advertisers to a new audience.
Trust is a key point here. For both Dutch and Belgian consumers, the ability to trust that the retailer they are buying from is completely legitimate is essential, and this explains the high regard in which trust marks are viewed and used on retail websites. In the Netherlands, the Thuiswinkel Waarborg logo is one recognised by over 90% of the nation's online shoppers and requires retailers to complete a comprehensive certification process in order to display the logo, while in Belgium the SafeShops.be sign fulfils a similar function:

Belgian shoppers' payment methods also suggest a desire to stay safe while shopping online, with the majority of purchases being made using credit cards which also offer additional consumer protection should their terms not be fulfilled.

Favoured payment methods in Belgium


Interestingly, this is one characteristic which isn't shared by their Dutch neighbors who instead prefer a payment method which is exclusive to their nation. iDeal payments are the most popular in the Netherlands, set up by Dutch banks when ecommerce first started to gain traction with the wider population and it was found that card payments were not designed for the 'distance selling' model that is characteristic of the internet. iDeal payments enable a secure bank-tobank transfer system to get around this problem and have since established themselves as the primary means of buying products online with almost 60% of sales being processed in this manner.

Favoured payment methods in the Netherlands

Even with these more secure payment processes in place and an established retailer trust mark widely available for their shoppers, online consumers in the region exhibit a particular tenacity for researching information about both the products and the suppliers that they intend to buy them from. Statistics Netherlands surveyed online shoppers regarding how they research advertisers prior to purchasing and found that 35% of them would nearly always use websites to compare prices beforehand.
Type of research prior to online purchase, 2016 (%)

It may be this habit of comparison and research which explains why certain affiliate types have flourished in the region. Like many global affiliate markets, incentive-based propositions such as voucher code and cashback sites have made impressive inroads into the industry and have been popular with online shoppers, eager for a saving or deal. However, what is perhaps specific to the Benelux region, and particularly the Netherlands, is the success and development of comparison websites.
This is a phenomenon best exemplified by the annual frenzy for health insurance that takes place for many Dutch citizens between Christmas and New Year, when the deadline for changing provider expires. Although healthcare provision is supplied by the government, since 2006 its management has been undertaken by private health insurance companies. These companies compete fiercely for new customers, meaning that as the end-of-year deadline approaches there is always a flurry of activity as people compare prices to see who can offer them the best deal. Comparison websites such as Independer.nl and Zorgwijzer.nl have thrived in this environment. With over €400m spent by health insurance providers advertising policies in 2014, and over 85% of that budget being focused on just November and December, it's clear to see the invaluable role that such affiliate sites can play in the market.6
High quality product feeds are an essential factor if such affiliate models are going to succeed, providing site users with the most up-to-date and comprehensive product information available. As such, it is perhaps no surprise to note that the product feeds supplied by advertisers and affiliate networks in the region to their affiliate partners are particularly advanced and effective. Looking at the number of commissions derived specifically from product feeds supplied by advertisers in the Benelux region as a proportion of overall affiliate commissions suggests this rate to be just over 10%. In comparison with other global Awin territories this is a clear regional outlier.
% of affiliate commissions derived from product feeds by selected Awin territories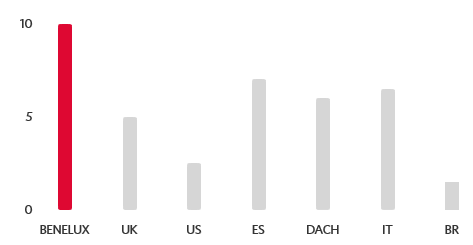 This kind of technological support from advertisers and affiliate networks to their affiliates is not uncommon in the Benelux territory. It forms part of a virtuous circle which is constantly contributing to its own evolution and advancement of the means by which affiliate partnerships can be facilitated.
Awin's new commission-sharing facility, which allows thirdparty tech providers to offer their tools and resources to other affiliates through the network's platform, is just one example of an initiative rolled out on a global scale following the successes seen in the Dutch and Belgian markets.
This tech allows those publishers without technical expertise to benefit from tools developed by other third parties and to then split their subsequent earnings with them. The model has enabled high traffic-earning influencers and bloggers to turn more of their recommendations and imagery into shoppable content in a seamless fashion. This, in turn, liberates them from becoming weighed down by such developmental projects and ensures that they instead get to spend more of their time producing the influential content that is so valuable to them and their audiences.
Given the increased pressures placed upon more traditional publishers and their established advertising revenue streams by the modern landscape, this type of facility has been warmly welcomed. Elle.nl, the online version of the popular international magazine focusing on fashion, lifestyle & design, has partnered with Shopsuite, a third-party technology, to integrate a shop module which allows their visitors to shop advertisers' products they see featured within the articles. This is a trend that is steadily increasing, with a growing number of more 'traditional' media house publisher websites being drawn to the affiliate channel in this region as they begin to realise the additional revenues driven on a performance basis, unimpeded by obstacles such as ad blocking which have gradually encroached upon their display advertising incomes.
This influx of new affiliates is already being reflected in the increased investment in the channel and 2017's Online Ad Spend study from the IAB in the Netherlands highlighted the relative growth of affiliate marketing there, with a 7% increase on 2015 culminating in almost €150m of advertising investment.
Spend on affiliate marketing (€m)
Despite distinct regional differences in respect of language, and a current disparity in terms of internet and smartphone penetration rates (Belgium lags somewhat behind its Dutch counterpart currently), the overall region is primed for affiliate marketers. The combination of a large online demographic that has high expectations around service levels and which is open to buying products from international brands, along with innovative approaches such as those demonstrated by the advanced quality of product feeds and third-party partnerships, suggest a promising future lies ahead.