Hyperoptic boosts affiliate connectivity with Awin Gold Standard accreditation
Written by

Jessica Elliott on

.
Putting industry best practice at the forefront of its affiliate channel strategy, Hyperoptic has been accredited as an Awin Gold Standard advertiser. 
Share this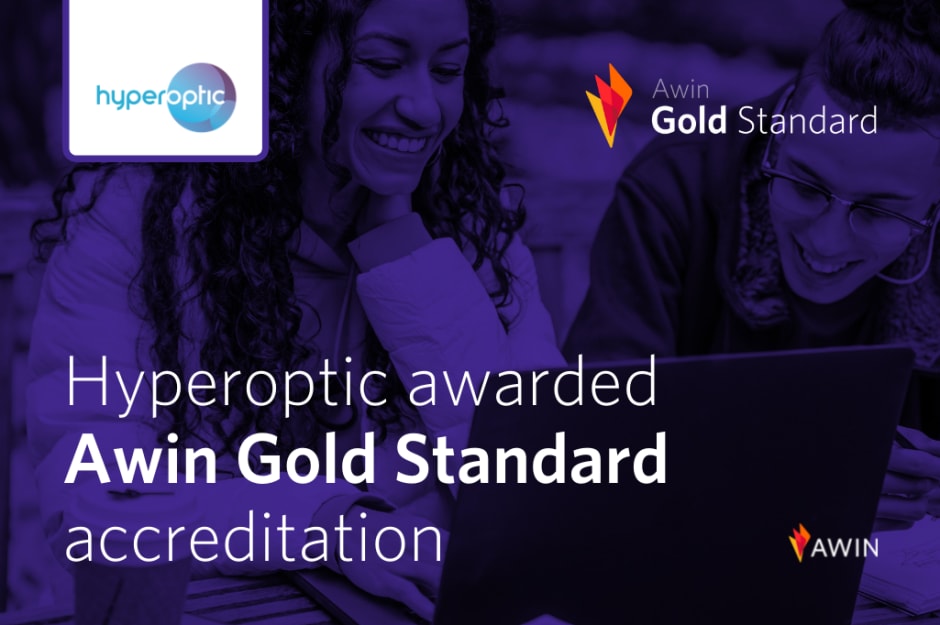 The Awin Gold Standard is a best-in-industry affiliate accreditation created in collaboration with the Publisher Board, designed to encourage positive change and increased transparency within the channel, helping brands to provide the best possible experience for publishers.
Hyperoptic is a broadband network built for the future, delivering gigabit enabled connectivity to 57 towns and cities across the UK. Its advanced fibre optic technology provides broadband speed over 11x faster than the UK average.
Hyperoptic upholds five core brand values for its customers:
Speed:

Top average broadband speed is over 11x faster than the UK's average
Reliability:

The power and stability of Hyperoptic's full fibre means an ultra-reliable connection
Flexibility:

Flexible plans available to suit everyone – including 24-month, 12-month and monthly rolling options that can be taken with or without phone
Service:

Thousands of 5-star reviews on Trustpilot
Value:

Price match guarantees offered and no increases applied during commitment periods
In alignment with its core business aim to 'go beyond the expected', Awin Gold Standard accreditation certifies that Hyperoptic has shown steadfast commitment and fairness to its publishers, from long-standing affiliates to new publisher partners and wider audiences. Prioritising best practice, Hyperoptic partners on the Awin platform benefit quickly from faster payments, quicker validations, optimal tracking and fairer commission rewarding.
Jawad Laa'iq Safdar, Head of Channel & Performance Marketing at Hyperoptic commented on being accredited as an Awin Gold Standard advertiser:
"Fairness and gold standards are really important for us at Hyperoptic. From never increasing prices to our customers, to making sure we've got water-tight tracking in place with affiliates to ensure they get credit where it's due. Getting Gold Standard recognition from Awin is really important to us because we want to build trust with our partners; we have invested in setting a higher standard to establish long-term partnerships"
James Kennedy, Account Executive at VoucherCodes UK, supports Hyperoptic's accreditation:
"Congratulations to Hyperoptic for their very much deserved Awin Gold Standard award. Working with Hyperoptic to deliver new customers whilst simultaneously providing customers with fantastic offers has been a joy, and I look forward to continuing to grow our successful partnership over 2022 and beyond."
Join the Hyperoptic Awin programme here, or speak to a member of the team for further details.
Share this