Awin launches interactive self-help center to better support publishers
Written by

Sarah Ruzgar on

.
Awin has launched its Partner Success Center, an all-in-one digital hub for publishers. 
Share this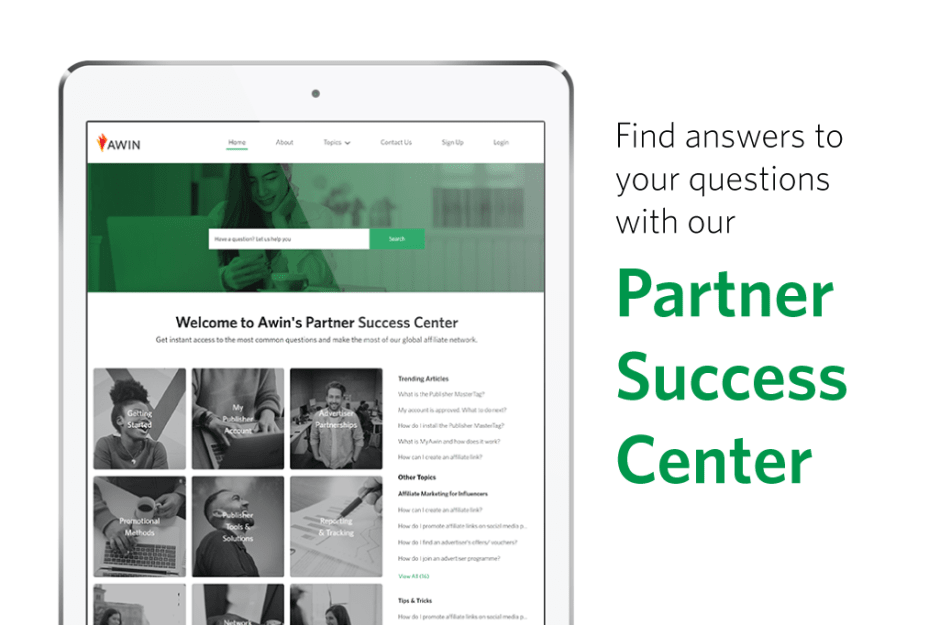 With over 150 informative articles, the Partner Success Center offers access to a wealth of knowledge resources at the click of a button, empowering Awin publishers to make the most of our global affiliate marketing network.
Hosted on success.awin.com, publishers can easily find information, video tutorials and guides on the following topics:
Unsure of what topic your question falls under? The Partner Success Center utilises AI technology to suggest articles with answers to your queries in both the search bar and the contact form, enabling you to quickly prevent and resolve any issues you may have.
Melani Kumaladewi, Global Head of Publisher Success says, "The Partner Success Center has been created with publishers at the forefront of our minds. We want to make sure that any and every question a publisher may be looking for can be answered in this hub, whether that be through a help article, or eventually by fellow users in the community forum. Not only will this mean publishers are able to successfully utilise the Awin platform for their activities and monetise their offering, the elimination of repetitive questions will allow us to use the time to continue improving our services. We're excited for the additional features we'll be launching in 2021 to further enhance the Partner Success Center and empower publishers."
The future of the Partner Success Center
Whilst launching today, the Partner Success Center will continue to evolve to suit the needs of our publishers and built out with further content to support you. In 2021, you will be able to access support tickets and track the status of open issues, as well as be able to engage with other publishers through a Community Forum.
The Partner Success Center is currently available in English, with other languages to follow throughout 2021. For specific technical documentation on Awin platform features, please continue to use the Awin Wiki.
If you need publisher support and/ or have any questions or feedback about the new center, please contact us via the Partner Success Center here.
Share this