Transparency, tools, and tracking - three ways Awin is helping our partners grow
Written by

Sarah Ruzgar on

.
Voting has opened for Best Affiliate Network  at the International Performance Marketing Awards.
Share this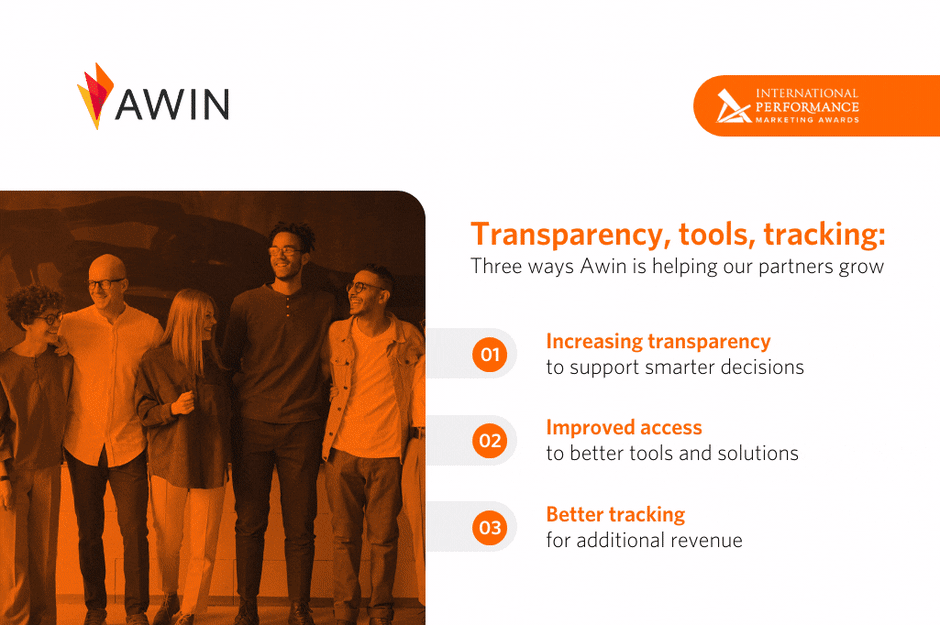 Now in its fifth year, the International Performance Marketing Awards rewards creativity, innovation, and excellence demonstrated in the industry at a global scale. Following another uncertain year navigating extended lockdown periods and returning to 'normal' life, we're pleased to share recognition of our efforts alongside our partners with eight shortlisted entries.
We're also thrilled to be shortlisted for Best Affiliate Network, which is weighted 40% by industry votes.
While Awin has participated in these awards since its inception and took home several awards last year, the honour of winning hasn't diminished – it's still something we truly value. That's why we'd like to highlight three ways we're helping you to grow your business:
1. Increasing transparency to support smarter decisions
One of the many lessons we learned over the past 18 months is that transparency is key when businesses are faced with tough choices to safeguard their revenue. In 2021, we made it our mission to continue equipping our partners, both advertisers and publishers, with as much insight as possible to help them make better commercial decisions, regardless of the pandemic.
Awin Gold Standard
With this in mind, we formalised our approach by launching the Awin Gold Standard in January. The first and only of its kind, the initiative recognises best-in-class affiliate programmes based on the following criteria: faster payments, timely validations, optimal tracking, fair commission structures and transparent de-duplication policies. Marked with a Gold Standard badge in our platform, Awin publishers have complete visibility on the best programmes to prioritise for marketing promotion. This not only benefits publishers with reliable, faster paid income, but accredited advertisers can enjoy attracting more publishers to their programmes and strengthening their existing partnerships to grow revenue. Initially launched in the UK with over 40 advertisers now certified, the Awin Gold Standard will be available in all markets by the end of the year.
Tableau reporting available in the Awin platform
Following the popularity of our COVID-19 Performance Tracker and the clear value it brought our partners, we've made the tool powering the report available in the Awin platform. Tableau is a marketing-leading data visualisation tool offering highly sophisticated levels of data and analytics that our clients now have access to directly in their reporting dashboards. The reports can be configured and adjusted depending on what insights you need to access. Currently being piloted in our US market, Tableau reporting will be rolled out across all markets in the near future.
Acquisition of multi-touch attribution technology SingleView
Having partnered with SingleView in 2020, we quickly realised the potential of the powerful insights the multi-touch attribution tool offered for brands. Not only can it help answer which partners and campaigns deliver the greatest value in the customer journey, it also evolves our industry's reliance beyond the last-click model, enabling brands to strategically adjust where they invest their marketing spend and ensure tangible improvements on ROI. Fashion giants PrettyLittleThing and Ted Baker have already seen huge uplifts in revenue driven by partners when reallocating budget based off insights visible in SingleView's platform. That's why in March we invested in fully acquiring SingleView's technology to help bring these invaluable insights to more of our partners and help optimise their affiliate activity.
2. Improved access to better tools and solutions
In business, knowing what you need to do is just the first step. What if you don't have the tools or information to get the job done? Another area Awin has focused on this last year is enhancing our solutions to make sure no matter how big or small your company is or what marketing problem you need to solve, we've got the tools, plugins and partners to support your goals.
Commission Manager
Once you've determined which affiliate partners are contributing to different parts of your purchase funnel, you may need to adjust how you're rewarding certain publishers or partner types. To make sure advertisers have complete flexibility to amend commission rates in line with their objectives or change in circumstances, we overhauled our Commission Manager tool in 2020 - and by January 2021 every advertiser was migrated to the new tool. Offering a range of improvements, Awin's new Commission Manager included a simplified interface, the ability to set group rates or build bespoke partnerships with individual rates, as well as a timeline view that allowed both advertisers and publishers to pinpoint factors such as the types of promotion affecting commission rates. This enhanced version of Commission Manager means you can confidently invest in your affiliate programme, knowing you have the flexibility to adapt your spend and optimise towards the best performing publisher types.
Enabling Awin Access integration on core platforms
Since launching our small business solution Awin Access in 2020 and with ease at the forefront of our minds, we've spent the past 12 months making sure it can be easily integrated into the most popular ecommerce and publishing platforms, including Squarespace, Wix and WordPress. A key milestone in 2021 was our integration with the Shopify app store, opening up affiliate marketing opportunities for over one million businesses to our 200k+ publisher partners. The first global affiliate marketing solution to launch on the app, it quickly earned a 5-star rating from Shopify users impressed with how easy it was to integrate the solution in their store and start working with a variety of partners to grow traffic, sales, and revenue. The numbers speak for themselves; over 1,300 programmes have launched worldwide so far, with over 500,000 sales converting and more than €40m in revenue generated.
Streamlining support with our self-help centers
It's all well and good offering a platform full of sophisticated features, but what if you're unsure of how to use them? As part of our ongoing mission to make affiliate marketing and using Awin easier, we've launched two self-help success centers for both advertisers and publishers. The Publisher Success Center launched in Oct 2020 and, in July 2021, was followed by our Advertiser Success Center. Powered by AI technology, you simply start typing your enquiry to have a recommended selection of over 150 articles covering all aspects of using Awin and our platform suggested to you. Not only does this cut precious time spent contacting and waiting for support, you may discover new features and hacks you weren't aware of, ensuring you make the most of what Awin has to offer for your affiliate activity.
Additionally, in July 2020, we launched our Agency Resource Center for our North American agency partners. This special hub provides exclusive access to publisher opportunities, strategic insights and training materials for both the Awin and ShareASale platforms, as well as the ability for ShareASale agency partners to become an accredited partner through our agency certification programme. While currently available in the US only, the Agency Resource Center will be rolled out to other markets in the coming months to further extend our agency support.
3. Better tracking for additional revenue
It's not rocket science - if there are gaps in tracking sales, you're losing out on revenue. With Google and Apple continuing to crack down on third-party tracking, and consumers purchasing more on apps, it's imperative for affiliate programmes to use cutting-edge tracking technologies to avoid missing out on sales and prevent your publisher partners losing out on commission.
Awin's MasterTag
Our in-house developed solution for both advertisers and publishers serves multiple functions. Not only does it secure first-party tracking with its privacy-conscious functionality and remove the risk of missing sales from Apple and Google updates, but as we've continued to welcome more technology solutions to our platform in 2021, it also offers a ream of plug-and-play abilities from our technology partners.
For advertisers, the Awin MasterTag includes everything from on-site product bundling, AI-based upselling, visual recognition, personalised discounts, remarketing and exit intent solutions in an easily accessible, pay-on-performance basis.
For publishers, the MasterTag provides access to Bounceless Tracking - removing redirects from the consumer journey to get them to the purchase page faster and reducing the risk of losing sales through lengthy page load times. In addition, the unique adMission tool, available in the MasterTag, has automated ad disclosure for our publisher partners, with more than 500 partners already using it to guarantee promotion complies with local ad disclosure regulations.
App tracking
We believe everyone benefits when in-app sales and activity are tracked as a default for affiliate programmes. In 2020 we tracked 6 times more in advertiser revenue for app-based transactions than in 2019, and that's why we made this a core requirement in 2020 for all brands with transactional apps.
Leading the way in app tracking within the industry, Awin was the first affiliate network to join Button's Certified Partner Program earlier this year and the first to partner with their Reach technology in July last year. In addition, we now partner with the three largest MMPs (Branch, AppsFlyer and Adjust) to make app integrations even easier for advertisers, and these moves have led to increased activity being tracked, with double digit revenue growth generated for many advertisers that integrate app tracking. But it's not just advertisers who benefit from this adoption; programmes with affiliate app tracking implemented track 2.5 times more publisher commissions than those without – ensuring all partners are better rewarded for their contributions.
The combination of improved transparency, tools and tracking have ensured that every one of our partners has not missed an opportunity to grow with us. The past 18 months have seen huge shifts for consumers and businesses alike to adapt to. Demand for ecommerce and performance marketing have leapt with those shifts, with our industry reacting well to meet this renewed appetite. Here at Awin, we've responded with a raft of products, initiatives and improvements over the last year that mean we're ready to help businesses everywhere continue to grow in a profoundly altered world.
We'd be honoured to have your vote for Best Affiliate Network.
You can find the full shortlist here, of which we're delighted to be shortlisted with our clients for the following awards:
Best Managed Affiliate Programme – USA: Awin & Under Armour
Best Paid Social Campaign: Awin, Etsy and TikTok
Best Retail and E-Commerce Campaign: Awin, LOOKFANTASTIC and UNiDAYS
Best Social Commerce Campaign: Awin, PcComponentes and ToroTocho
Best Use of Performance During COVID-19: Awin Access
Performance Marketing Team of the Year: Awin Global Agency Team
Best Affiliate Programme Launch or Relaunch: Awin and AO
Congratulations to our partners at Commission Factory as well for being shortlisted with its clients for the following award:
Best Performance Marketing Campaign – APAC: Commission Factory & My Muscle Chef
Best of luck to everyone on the shortlist – we look forward to seeing you all (in person!) on 18th October in London.
Share this