Awin would be honoured to receive your vote for Publisher's Choice of Network
Written by

Kevin Edwards on

.
As publishers across the industry are being asked to vote, we focus on the work Awin has done to defend the affiliate channel and protect our partners.
Share this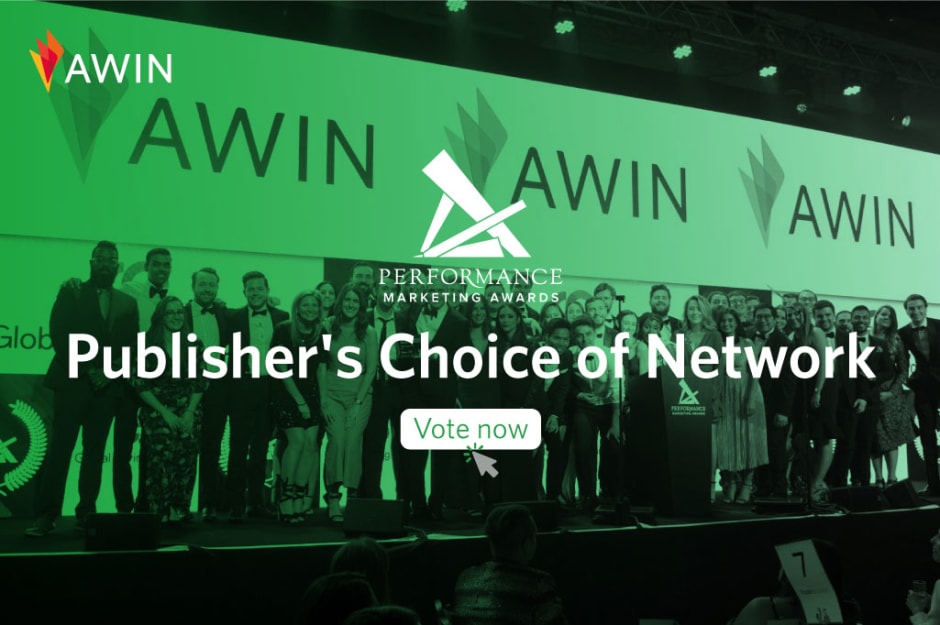 I was pretty new to Awin when the business won the Publisher Choice of Network at the now annual Performance Marketing Awards for the first time back in 2007. Held in a pub in east London, it was a low-key affair, but winning the inaugural prize meant such a big deal to our small team.
While the affiliate landscape may have changed beyond all recognition, we've stuck to our core principles that I felt were behind that win; wanting to do right by the industry and our affiliates.
That's why, in our 20th year as defenders of the affiliate industry, we're thrilled to be shortlisted in the same category once more and would love your vote to continue supporting the channel that is our lifeblood.
You'll probably read a lot of these posts over the next week, asking for your vote, explaining why any given company should take home the main prize. I don't want to waste your time reading endless superlatives about why we deserve your tick in a box. Instead I'm going to focus on one new 2019 tech release from the team and how I believe it's indicative of Awin's commitment to affiliate marketing in the face of one of the biggest threats we've ever seen to the channel.
I've always believed that any network worth its salt should focus on three critical functions; tracking, reporting and payments.
In the coming years traditional tracking methods will become obsolete. Against a backdrop of privacy concerns, consumer consent, adblockers and browser shutdowns of traditional tracking methods, Awin is embarking on an ambitious project to transform how we do business and ensure affiliates and partners can continue to thrive at the heart of brands' marketing efforts.
Bounceless tracking is how we intend to do it.
By removing Awin from the tracking equation altogether we're working to eliminate any future browser threats. As part of our wider publisher solution, that mirrors what we offer to advertisers, our vision is to make affiliates a fully integrated part of the consumer journey through a suite of existing and soon-to-launch solutions.
Bounceless is already paying dividends with an uplift in sales tracked. Overcoming Apple's cookie blocking moves (that led to us clawing back almost €1m in commissions) as well as Chrome and Mozilla, we've also seen page load times speed up, on average, by five seconds, delivering a double whammy of additional revenue for our partners.
For me this is the type of solution that any company interested in defending the affiliate channel should be doing. Tech upgrades may not be the shiniest or flashiest things to shout about, but they get the job done. Coupled with our unrivalled Live Chat which saw more than 7,000 conversations and a 94% satisfaction rate, our vocal support for the newly formed Publisher Board and the largest publisher team in the industry, we have occasionally lost business as brands think we're too 'pro-affiliate'. I'd take that any day of the week.
Awin would be honoured to receive your vote for Publisher's Choice of Network. Voting lines are open from now until midnight, 19th March and you can cast your vote here.
Share this