Awin 2016 Highlights
Written by

Sophie Johnson on

.
2016 has been quite the year and there is a lot to be proud of, as we reach December we can't help but reminisce about this unique year:
Share this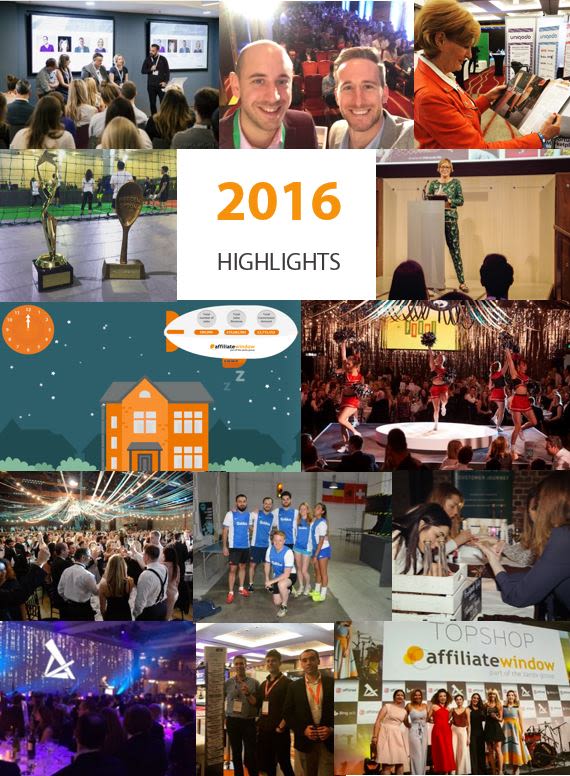 Firstly we'd like to this as an opportunity to thank every partner we work with for your continued support at the Performance Marketing Awards, voting for us as your Industry Choice of Partner for 2016. We'd like to also highlight the awards taken home with TOPSHOP for their London Fashion Week campaign, John Lewis who scooped Best in Retail and BT who took home Best in Technology and Telecoms for the second year in a row. A lot of hard work went into these wins and it really is an honour to share these awards with such fantastic advertisers.
New Business
It's been quite the year as we greeted a host of new advertisers onto the network. We couldn't be more thrilled to welcome them all, including Gocompare.com and exclusive launches from Anglian Home Improvements, Forever 21, Reiss and Wayfair whilst Dell marked their return in the affiliate space back in May. The end of the year also saw a mammoth achievement for the network, with Tesco now hosting all of their affiliate marketing activity with Awin.
It's been a real pleasure launching your affiliate marketing ventures and we greatly look forward to helping you grow these programmes going into 2017 and beyond.
Events
We feel there is no better way to celebrate new and existing client and partner relationships than at one of our events. Things got competitive at our summer sporting meet, Supergames before everybody swapped lycra shorts for gowns and suits as September saw us host our 10th Black Tie Gala PROM! bringing all partners under one roof for a night of 50's fun. Elsewhere in the 2016 events calendar, Fashion Focus, Connect and All Aboard saw the fashion, telco and travel sectors host dedicated events. We also introduced new Health and Beauty sector event, Revive to the calendar. Thank you to all who attended one or all of these events, making them a real success. We'd also like to thank all of those who supported us at PMI: London this year for two days of interesting industry insights, and not to mention an addictive VR game.
New Products
To follow up a product fuelled 2015, February saw the release of the new Magento Extension for Advertisers. This extension allows advertisers who use the Magento ecommerce platform to easily integrate Awin tracking within a matter of minutes. Fast-forwarding on to April we announced some new features to our Strategy Hub by launching new Public Interactive Reports to help bring the data to life and provides an opportunity for anyone to explore the data for themselves, enabling marketers to make better informed decisions.
Our most recent and possibly most notable piece of product news comes in the form of Black Friday, where we launched our first ever Live-Data Website to document the event. The dedicated website which updated throughout the day with new insight and commentary was a first for us as a network and for the affiliate marketing industry as a whole. We're extremely proud of what the team achieved and we'd like to thank all who got behind the website and followed us on the day.
Webinars and Whitepapers
The year kicked off with the Affiliate Marketing Trends webinar, setting out which themes were to shape the industry this year. June took us back to basics in our Introduction to Affiliate Marketing for Publishers webinar to offer those new or unsure of the industry guidance on how they can benefit from affiliate marketing. Topshop took our 2016 webinar series advertiser side in July, when the team released the Behind the Scenes at TOPSHOP webinar – an opportunity for bloggers to learn about the brands key collections, campaigns and tips.
We're proud to say that 6 whitepapers were launched this year. The first accompanying our January webinar highlighting Top Ten Affiliate Marketing Trends in 2016 whilst March meant Fashion Focus was on the horizon and the dedicated Fashion Focus 2016 whitepaper was released. Before our second sector whitepaper coming from August's Telecoms event, Connect the 'Are you Receiving Honest Rewards for Honest Sales?' whitepaper was live! For the first time in the history of our involvement in PMI: London, 2016 was the year for the whitepaper – coinciding with the 'Where is Affiliate Marketing Heading?' talk presented by Awin at the conference.
Publisher Stories
It simply wouldn't be a good year if we didn't have involvement from our publishers. As we like to show them off as much as possible we're delighted to have launched The Collection in time for PMI: London to do just that. We're always on the lookout for these stories as they are a great way for mid-longtail publishers to really get their voice heard with advertisers. A massive thank you to all who took part in 2016.
We'd like to take this opportunity to thank every single one of our clients and partners for all of their work and continued support this year. We can't wait to continue in 2017.
We always welcome ways in which we can improve through your feedback, so please get in touch if you'd like to provide some.