Publisher Spotlight: Orpiva are matching brands with influencers through content based story telling
Written by

Sophie Johnson on

.
Orpiva specialise in influencer lead marketing for affiliate managers and brands.
Share this

How does it work?
Orpiva hosts a network of influencers and micro-influencers and through content based story telling, match them up with brand campaigns by combining AI, machine learning and audience and network analysis. Orpiva tailors these campaigns around a brand's KPI's across multiple sectors, ranging from gifting products to generating exposure from a product release.
Whilst Orpiva can work on a campaign by campaign basis, they focus on creating long-term relationships between brands and influencers by creating 'brand champions' to produce authentic content across a longer period of time.
Known for their content generation and social media enagement, influencers know exactly how to build relationships online, however, tech updates and the evolvement of social platforms means that being able to tailor campaigns to support additional metrics such as ROI is a growing trend across 2018. Orpiva supports brands and helped them to identify, manage and track influencers with a key focus on ROI through the following steps:
Create a campaign around a brand's target demographic and core KPI's
Brands receive influencer reports containing vetted applicants
Once influencers are signed off the campaign is launched
Brands receive an outcome report with performance results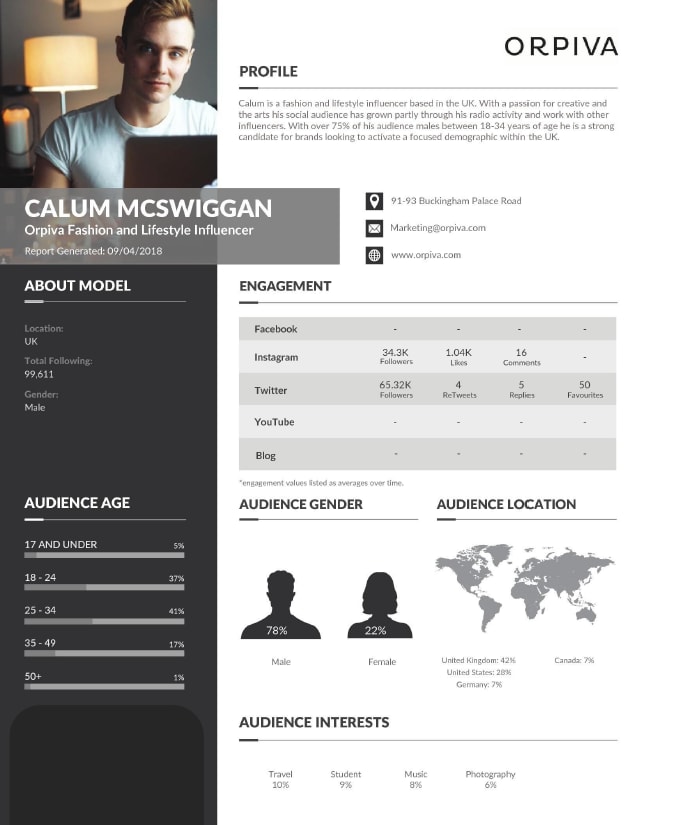 What else you need to know
Saving both time and valuable resources, Orpiva works closely with each partner according to their KPI's and manages the campaign from start to finish. With the brand provided an outcome report following, Orpiva combines experience to maximise results, whilst saving significant costs to support a positive ROI.
Saves a great deal of time.
Full campaign management
Campaign analysis and reporting
Following each campaign, the brand is provided a campaign story link featuring all content produced.
For brands looking for performance information across specific sectors or KPIs, case studies can be sent on request.
To find out more contact our Publisher Services team