Publisher spotlight: Uniqodo
Written by

Sophie Metcalfe on

.
We speak to Uniqodo about their launch into Australia, how advertisers can work with them and their plans for 2021.
Share this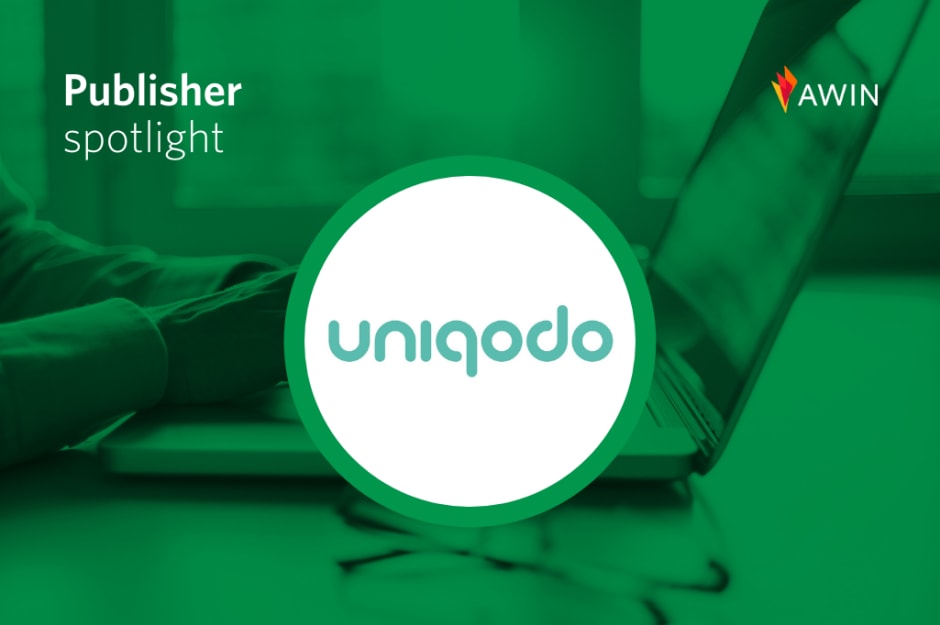 We are excited to Awin's partnership with Uniqodo. In this article, we speak to the Uniqodo team about who they are, how their technology serves and benefits the industry and how advertisers can work with them.
1. Can you tell us about Uniqodo and what you do?
Uniqodo was founded six years ago to answer a challenge that the entire eCommerce industry was facing: code leakage, code sharing and general code misuse. Whether it was affiliate or CRM campaigns, generic codes were ending up on public sites, impacting profit margins and disrupting other marketing activity.

Uniqodo is a promotion management platform that includes a sophisticated SaaS promotion engine for the set-up, issuance and validation of unique codes, alongside a team of promotion engineers to build onsite engagement and activation solutions. We bring controlled, advanced promotion solutions together with great promotion UX to deliver what we call Promotion EX (experience). Why? Because delivering incremental conversion does not excite us, but exponential conversion does.

2. As a leading technology platform, what is your vision?

Every day we strive to solve every challenge our clients present us with. That really underpins everything we do here at Uniqodo, from the day-to-day promotion delivery for clients to the way we develop our roadmap.

Promotion Experience (EX) is the future, not because we dreamed it up from our lofty tower, but because clients asked us to help them message and curate their promotions on site. And what we saw isn't just a fraction increase in conversion rates, but up to a 35% increase. Unique codes + customer experience = promotions that pack a punch.

Customer Experience has defined the new super brands in the last 20 years. We know that creating seamless, frictionless and delightful experiences is what wins hearts and minds… and wallets.

3. Can you tell us more about the products you offer retailers and how they work?
We have four key parts to our platform that answer real business challenges;

Control - stop codes from being leaked or shared into places you didn't intend with single use, unique codes, protecting margins and other marketing activity. With control, you can also build exclusive campaigns into your marketing strategy, partnering with closed-group publishers or affinity partners to reach new audiences.

Discovery - whether you're trying to acquire new customers through affiliate or partner activity, or engage existing customers through CRM or onsite campaigns, Uniqodo is integrated with all major, global publishers and our APIs provide a simple solution to integrate with your CRM, ESP or site. It's really simple to add a new publisher to our platform, but we also have tools to support partners or channels that aren't directly integrated. Plumbing is never sexy, but it does a very important job!

Advanced - we know from experience that a discount can only go so far in achieving your targets. Combined with onsite activation solutions including overlaid and inline messaging, co-branded pop-ups and dynamic error messaging, we deliver great Promotion EX that delights customers and achieves exceptional business results.

Activation - we know from experience that a discount can only go so far in achieving your targets. Combined with onsite activation solutions including overlaid and inline messaging, co-branded pop-ups and dynamic error messaging, we deliver great Promotion EX that delights customers and delivers exceptional business results.

4. Specifically what is that you do that is innovative or disruptive?

The innovative part is providing any eCommerce site with the ability to use unique codes. Our technology is platform-agnostic, so everyone can benefit from Uniqodo's solutions.

It isn't so much the component parts of what we do that's disruptive, it's how we combine technology and engineering to solve problems and deliver amazing Promotion EX for your customers. We advance the way advertisers issue and validate campaigns with single-use, unique codes, combined with our team of promotion engineers to activate them for the best success.

Too often, the marketing team's development needs to get stuck at the bottom of the backlog, never to be prioritised. Uniqodo becomes a marketing team's very own development house, getting the things done that have been on the to-do list for too long.

5. What are your plans for the future in Australia?

Uniqodo already works with globally leading businesses including Moonpig, Avis, OVO Energy, Samsung and more. Because we're digital, we can do what we do anywhere in the world, and for any eCommerce business. But we'd love to work more closely with the Australian market and get under the skin of a whole new range of challenges. I bet there will be some exciting new problems to solve.

6. What role Awin is playing in your expansion strategy?

Uniqodo's founders are both ex-Awin'ers and have been part of the Awin family for 15+ years, solving specific advertiser challenges to help the account team deliver on the strategy and ambitions of your clients.

This has always been about creating a mutually beneficial relationship. Uniqodo helps to make your relationship with clients stickier by enabling broader capabilities in the affiliate space. We offer a six-month free trial to all Awin advertisers through our partnership and our tag that can be deployed from the MasterTag to remove as many barriers as possible to getting started.

We have worked together on lots of clients over the years with Awin globally, many of which still work with Uniqodo today: EE, BT, Uniqlo, Moonpig, N Brown and Samsung. We'd love to add an Australian Awin APAC advertiser to that list.
For advertisers with a programme, speak to your Awin account manager for more information, alternatively, if you are an advertiser interested in working with Awin, please get in contact with us and a member of our team will contact you.
Share this