Awin is Baltimore Sun Top Workplace 2020
Written by

Samantha Sherer on

.
For the second year in a row, Awin is thrilled to be a Top Workplace on The Baltimore Sun's 2020 list - this time securing the #4 'small employers' spot.
Share this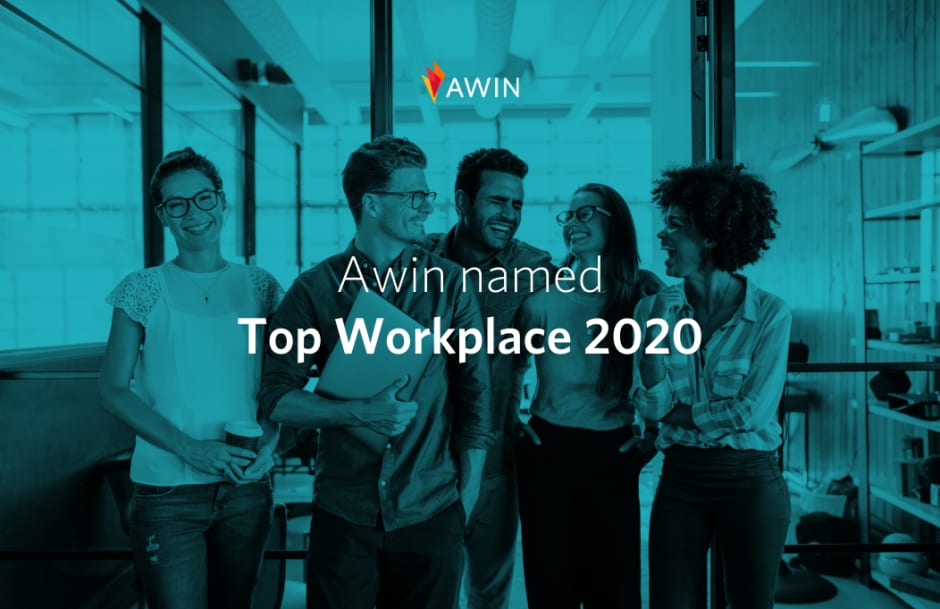 The Baltimore Sun's Top Workplaces ranking measures several aspects of workplace culture including alignment, execution, leadership, connection and more, and is based solely on employee feedback gathered by a third-party, Energage, LLC.
"In times of great change, it is more important than ever to maintain a connection among employees," said Eric Rubino, Energage CEO. "When you give your employees a voice, you come together to navigate challenges and shape your path forward based on real-time insights into what works best for your organization."
Awin is thrilled to be listed as a Top Workplace for the second year in a row, securing the #4 'small employers' spot on the 2020 list. This achievement is a testament to the great culture Awin has built to power all it does as an organization, something that became of critical importance as COVID-19 moved all employees to a permanent work-from-home lifestyle.
"It's a great honor to be named a Top Workplace for the second time," said Alexandra Forsch, president of Awin US. "Keeping staff morale and productivity up in a year with so many highs and lows has been a core focus of Awin. Being recognized by our employees for quickly accommodating to their changing needs as we moved to a fully virtual operation overnight is truly rewarding. I am grateful and proud of our local management team for their support and fantastic leadership as we laid the foundation for an even greater workplace for tomorrow."
So what makes Awin great?
In March 2020 when the government mandates enforced closure of non-essential business due to COVID-19, Awin's structure was tested. Fortunately, its existing global operational structure demonstrated a uniquely agile approach to teamwork. Once offices went remote, Awin was able to rapidly roll out communication and support processes for all employees and schedule virtual meetings across teams and locations to ensure projects were still running smoothly. Training and onboarding was also arranged to be virtual by utilizing Microsoft Teams to offer new and existing employees ongoing education and support.
Additionally, Awin employees communicate frequently across Teams to share their successes and failures so the wider group can benefit from each other's experiences - offering more transparency, visibility and access than ever before. Anything that works well in one department or region is mirrored across the group to improve company operations, while encouraging ownership and innovation on an individual level. A library of resources and documentation hosted on Awin's intranet hub was also established due to remote work, which are designed to provide education, support and training for all. These resources arm employees with information to help them succeed and reference, posing a unique opportunity for growth and development.
Prior to the pandemic, Awin began forging a path to a four-day work week to foster a culture of flexibility, innovation and resilience to offer a new way of working. The pandemic fast-forwarded these efforts, and today Awin is currently operating on a four-and-a-half day work week. The goal is to strike a balance - less working hours are compensated through more efficient ways of working, leading to more productive, happier and balanced employees who passionately drive the business forward.
Furthermore, in the US Awin is privileged to be able to offer all full-time employees a robust benefits package including paid-for medical, dental, life and vision insurance, a 401K retirement plan, employee assistance programs, language and career development training resources, a work from home program, one day paid charity leave, a peer-to-peer recognition scheme, and more.
Awin has a variety of career opportunities available across a multitude of functions. Don't miss your chance to work for a Top Workplace 2020. View our vacancies and apply today.
Share this