Visit Awin at Affiliate Summit East 2017
Written by

Samantha Sherer on

.
Held July 31 - August 1 at the New York Marriott Marquis, Affiliate Summit East is the leading performance marketing conference and expo in the U.S. Below is a list of ways to connect with Awin at ASE.
Share this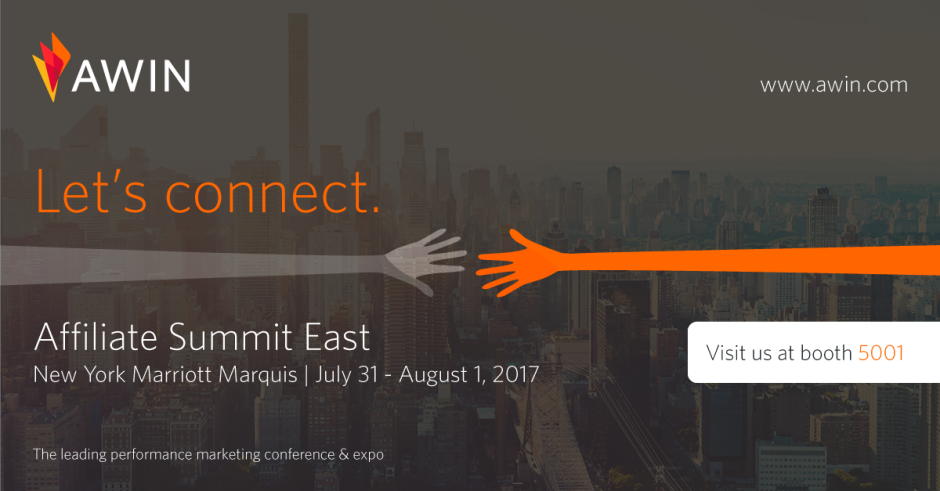 Exhibit hall
This year we will be positioned next to our partner network, ShareASale. We will be combining efforts at one booth, unifying brands and further establishing our shared goal of becoming the preferred network for all affiliate marketing needs. Visit both ShareASale and Awin at our booth to learn more.
Awin = Booth 5001
ShareASale = Booth 4016
RevShare Roundup
Awin will be participating in this year's RevShare Roundup Monday, July 31, from 10 a.m. - 1 p.m. Join Jeannine Crooks, client services manager, at Table 3a as she discusses Missguided and MyProtein and the excellent opportunities both offer to publishers.
Missguided, a fresh and vibrant online store, aims to stay on top of the latest trends in order to provide their customers with the best that the fashion world has to offer. Since 2009, Missguided has fast established themselves as a reputable and reliable company standing toe-to-toe with some of the most well-known online fashion retailers. A favorite for fast fashion at fantastic prices, Missguided prides themselves on delivering key catwalk looks and celebrity inspired women's fashion.
Myprotein.com offers premium quality supplements and an outstanding active wear range at unbeatable direct prices. With over 350 products and reassuring price guarantee, customers can shop for all their health and nutrition needs. Myprotein.com offers great discounts plus major monthly promotions and flash discounts to maximize exposure and revenue generation.
Don't forget to check out ShareASale's RevShare Roundup, Monday July 31, from 10 a.m. - 1 p.m. and 2 p.m. - 5 p.m. at Table 8a.
Sessions
'Insights on Latam' | Monday, July 31 at 2:45 p.m., 9b: Awin's Rodrigo Genoveze will review the main industries and verticals for affiliate marketing in Latin America, including which industries are still growing at double-digit rates and what the main opportunities are for publisher growth.
'Affiliate Experience: Fast Food or Fine Dining?' | Tuesday, August 1 at 10 a.m. , 12a: Awin's Jeannine Crooks joins John Lobrutto and Mike Allen to discuss tips for affiliates to enrich your "menu" and rating as a master chef. Take your savory experience from "greasy spoon" to five-stars.
Early Birds of a Feather Networking
Registered to attend 'Early Birds of a Feather Networking' Sunday, July 30? Awin's Jeannine Crooks will lead the discussion on helping bloggers get started with affiliate marketing. Make sure to join her group on the Broadway Balcony, 7th floor, from 8:30 - 10:30 a.m.