Advertiser spotlight: Fiverr
Fiverr is the world's largest marketplace for freelance services.
Share this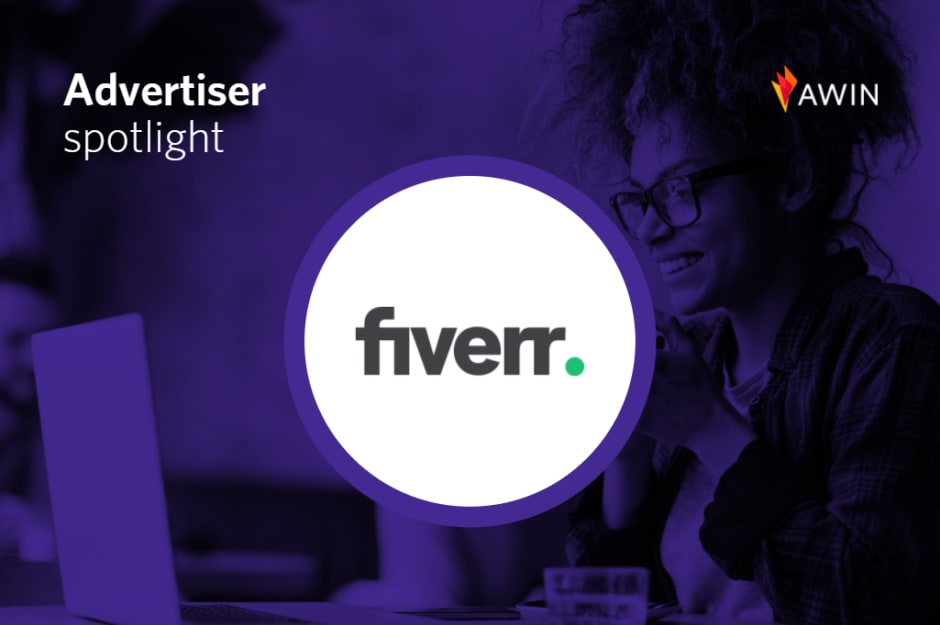 Fiverr is where digital entrepreneurs and businesses can connect with incredible talent based on their budget, deadline, and project requirements. Available in 7 languages, Fiverr offers over 500 digital services; if a business needs it, Fiverr offers it.
Fill in the blank - Affiliate marketing means to me:

A win for all involved – our brand, the publisher, and the customer. We appreciate building close relationships with publishers and brainstorming together on how we can create a path to success. Every partnership is a bit different, so we're happy to provide what's needed to drive the right customers to the services that can benefit them. The tracking technology on the affiliate channel allows us to get creative where needed on a low-risk basis as well. We may be a niche brand on the channel, but with the many service categories our freelancers can provide, the audiences are infinite in the affiliate space!
What's your "elevator pitch" for potential partners or those who are unfamiliar with your company?

Fiverr is an online freelance platform that connects businesses with on-demand freelance talent offering digital services. As a Fiverr Affiliate, you earn for any first-time-buyer you refer to our platform. We offer up to $150 per sale for first purchases, as well as opportunities to increase CPA and/or receive bonuses for hitting certain targets. With over 500+ digital services on Fiverr, there's a service fit for any audience.
What sets your company and affiliate channel practices apart from others in your niche?

Fiverr's affiliate program is one of the only brands in its niche, but even in general Fiverr's affiliate model is quite unique compared to other merchants. We offer $20 - $150 per purchase compared to the more traditional percentage commission model, which provides our partners with high earning potential. In addition, we have a vast range of service categories a publisher can choose from, so you can get very creative with how you promote the brand. Lastly, we have a 365-day cookie period and also indefinitely tie your publisher ID to customers who register on Fiverr through your unique Awin link. This means if a customer registers on Fiverr through your affiliate link but makes a purchase years later, you will still receive that commission when they buy on Fiverr.
What are the benefits to working with you in the affiliate channel?

We're well known and have high brand awareness in the gig economy - over 5.5 million people use Fiverr to start and grow their businesses
Creative resources – we offer a portfolio of high-performing creative assets to help you promote the brand, as well as completely customizable assets
We're popular - big brands like Netflix, L'Oréal, and P&G all work with Fiverr
We're everywhere - we operate in over 160 countries, and are fully localized into 6 languages besides English
We're affordable - services start from standard $5 to PRO $1000+
We're on any device - bring traffic from display, mobile web, or app. We accept them all!
Special terms and great scaling opportunities for top-performing partners
What makes a great partner in your eyes, and what kind of partners are you looking to work with?

We accept and are happy to collaborate with partners of all kinds and sizes. We especially appreciate working closely together to strategize and push out authentic content - partners who are looking for long-term partnerships and those with the willingness to experience Fiverr throughout.
In addition to what you consider to be a great partner, how do you measure success of said great partnership?

Publishing Fiverr content consistently or providing Fiverr with permanent exposure, rather than one-time promotions, is where we see positive results. Steady streams of traffic and month-over-month revenue growth is what we like to measure from a reporting perspective.
Do you have any advice for those who are new to affiliate marketing?

It's important to understand that affiliate marketing is a marathon, not a sprint. There's no money on the floor - success comes to those who are willing to spend the time to learn, build, and try and fail a few times. Be patient, invest in the foundations of the channel, steadily grow your audience, and study them - their interest, intent, specific needs, and preferences. Also, you'll need to provide them with real value before you can expect to get any in return.
What is your favorite part about working with Awin? Do you have a favorite tool or feature?

The variety of publisher types is one of the key benefits of working with Awin – having access to YouTubers, bloggers, loyalty websites, coupon websites, forums, and many more is a major draw for us. In addition, we highly recommend the managed account option. Awin has awesome Account Managers who can really put you on the track to success.
What freelance services are most popular on Fiverr's affiliate program?
The highest converting services purchased on the affiliate channel include Logo Design, Proofreading & Editing, Resume Writing, Illustration, Voiceover, Photoshop Editing, Social Media Marketing, and Wordpress. That being said, even though these are currently popular on Awin's network, you can find large demand in any Fiverr vertical. It's all a matter of which service is relevant to your audience.
Interested in joining the Fiverr affiliate program? Please contact Kristina Lefelar at kristina.lefelar@awin.com.
Share this