Advertiser spotlight: Form Nutrition
Form crafts plant-based proteins and responsibly-sourced nootropics, all backed by science and designed with your optimal performance in mind.
Share this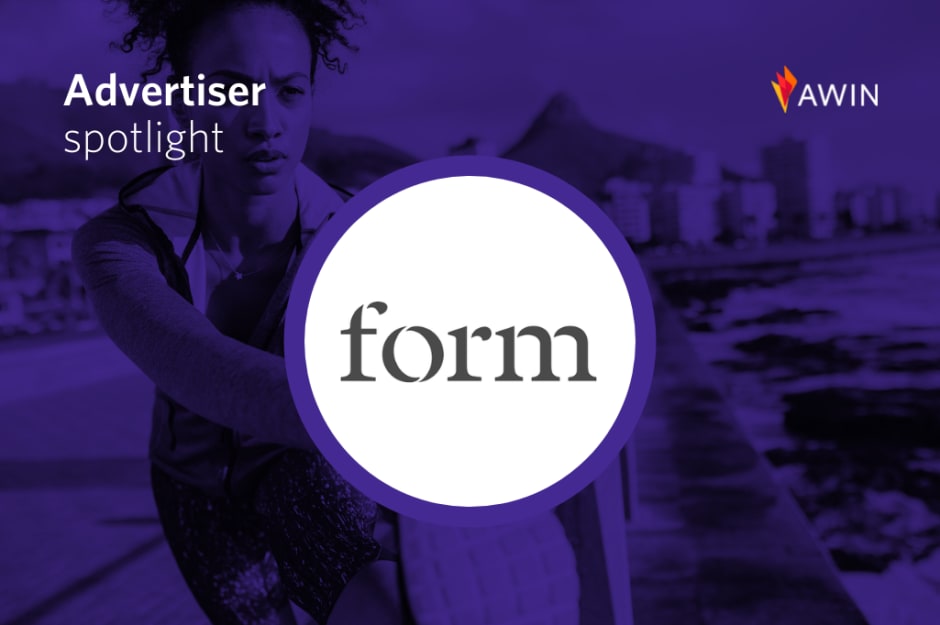 Form Nutrition is the brand of choice for premium, conscious consumers in fitness, wellbeing and lifestyle. Form's affiliate program offers those aligned with their values an exceptional opportunity and a long-term relationship with a fast-growing, purposeful brand.
Fill in the blank - Affiliate marketing means to me:
Affiliate marketing means the opportunity to connect with thousands of new customers by working with like-minded publishers, collaborating on content to serve and inform, and building long term relationships. It allows us to grow our business and introduce people to Form in the US.
What's your "elevator pitch" for potential partners or those who are unfamiliar with your company?
Form is a wellness brand selling a range of sustainable health supplements, from nootropics for your mind to multivitamins and a range of delicious vegan protein powders. Beyond that, we believe that you can realize the greatest version of yourself while being mindful of others. This permeates through everything we do. Form is for everybody: bodybuilders, ballerinas and everyone in between. We advocate for empowered wellness – whatever that looks like to you— and the belief that we're all on a path to our potential. Working together we will support you to showcase our protein powders and nootropics to your users in the best and most organic way possible.
What sets your company and affiliate channel practices apart from others in your niche?
A big difference between Form and the other brands in the health and supplement market is the fact that we're a B Corp company, meeting the highest standards in environmental and social impact. With every order placed, we donate a meal to the Bansang Hospital in The Gambia to people in need. For our affiliate program we pick our partners carefully and select those who understand and genuinely believe in our products and ethos. We want our publishers to be excited about us and share this with their audience. We have a dedicated contact looking after affiliates at Form who is happy to help with all things affiliates - from how to join Awin if you are new to affiliate marketing to increased commission for additional exposure.
What are the benefits to working with you in the affiliate channel?
We offer competitive commission rates as well as product samples for the right partners. We engage with our affiliates regularly and directly to build a supportive, future-proof and sustainable relationship. We have an Affiliate Guide to help people join Awin and learn how to use it if they are new to the platform as well. We can create images or banners you need in-house and are happy to share our imagery with affiliates. Our program offers those aligned with our values an exceptional opportunity and a long-term relationship with a fast-growing, purposeful brand.
Benefits of the Form Nutrition affiliate program:
Up to 8% commission
Increased commission for preferred publishers and additional exposure
High retention and repurchase rates
High average order value
Dedicated affiliate contact at Form to provide support and creative assets
What makes a great partner in your eyes, and what kind of partners are you looking to work with?
We are looking for partners with a dedicated, engaged audience who align with our values of responsible business, sustainability and being mindful of others. We are a certified B Corporation and love working with other B Corps as well as cashback, loyalty and reward partners who give back to their users. We like working with content partners such as coaches, trainers, nutritionists and dieticians with an enthusiastic community of clients and customers wanting to find new products for a healthier life. If you love our products and are excited to tell others about them, we want to work with you. Affiliates do not need to have a massive following, audience or client-base as long as they are engaged and truly interested in working with us.
In addition to what you consider to be a great partner, how do you measure success of said great partnership?
For us, it is not all about sales and revenue, although this is important of course. We understand that, especially for content, affiliates' sales are not the best measure. A great piece of content which tells our brand story and gets people interested in the brand means a lot to us and will lead to new customers in the long term. We also look at the traffic and what kind of exposure we are given. If you love our products and are excited to tell others about them we want to work with you.
Do you have any advice for those who are new to affiliate marketing?
Take it one step at a time. As an advertiser, don't accept everyone and anyone onto your program but be selective to ensure a good fit for your brand and goals. For new affiliates it is also important to work with brands you care about. Engage with them and ask for support. For both brands and publishers: Ask questions and lean into the Awin support team. The only stupid question is the one you didn't ask.
What is your favorite part about working with Awin? Do you have a favorite tool or feature?
The Publisher Directory is fantastic. The search functionality and filters allow us to find new and exciting partners that fit our brand perfectly. Also, the great team at Awin is priceless. They are always happy to help, offer gap analysis, affiliate contact information and how to navigate the platform. This is especially important when launching an affiliate program in a new market.
Why do our customers love Form Nutrition?
Our natural, plant-based nootropics help support enhanced brain function. It's you, improved.
ZZZZs naturally supports a regenerative sleep because we believe that every day starts with a good night's sleep.
Our Boost capsules provide a calming energy lift to get you in the zone whether you have a big workout, presentation at work or a long day with the children ahead.
Edge is your daily cognitive enhancer, combining herbal extracts, nootropics and B vitamins.
Our newest product Multi covers your daily vitamin and mineral requirements and more; it's your daily nutrient peace of mind.
Our vegan protein powders taste great, even with just water. Our protein blend is unique - from the grades of fine organic protein powders we use, no emulsifiers or thickeners and we only use natural ingredients so not artificial sweeteners here.

Our best seller Performance Protein also uses additional ingredients such as curcumin for recovery and black pepper extract to improve absorption.
Superblend has the added benefits of vitamins and minerals - from the fruit & veg powders as well as actual vitamins and minerals.
Pureblend, our unflavored protein, is an ideal base for your smoothies and perfect addition to your cooking and baking.
Interested in partnering with Form Nutrition? Please contact Marlene Rohde or join here.
Share this