Publisher spotlight: RevLifter
Written by

Samantha Sherer on

.
RevLifter helps advertisers deploy personalized deals in real-time before a customer makes a purchase by reading the contents of their shopping cart. This allows advertisers to upsell and cross-sell in real time. RevLifter accomplishes this through their two technologies RevPage, an advertiser branded coupon landed page, and RevConvert, intelligent site overlays that minimize site abandonment. New to Awin, RevLifter is launching campaigns with several well-known US network advertisers at the moment. 
Share this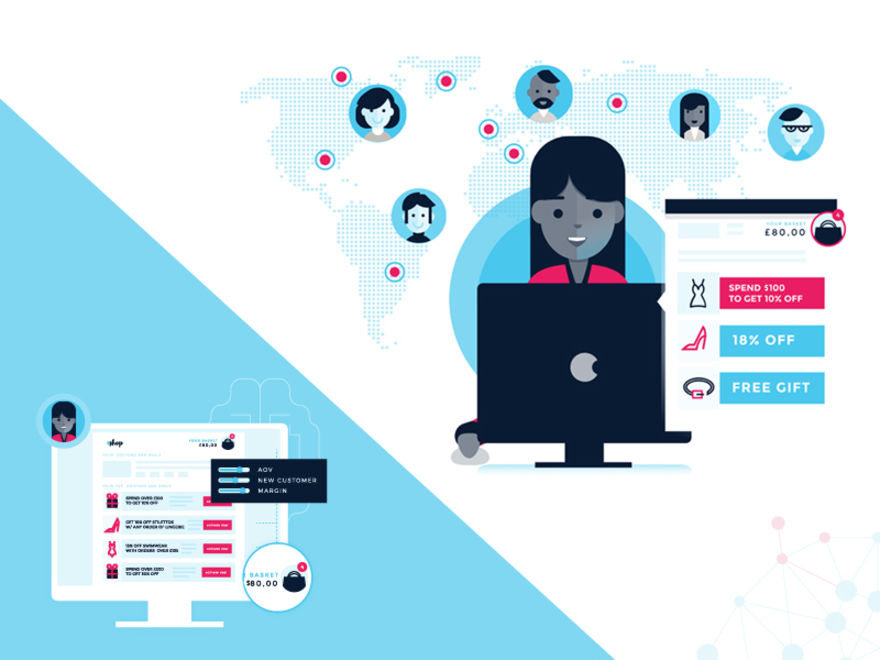 How is RevLifter different than a traditional affiliate coupon partner?
There are a few really big differences that separate us from the rest of the pack.
First of all, we can live on the advertiser's own site, or we operate our site, which is fully branded as the retailer site. RevLifter uses information from each customer's on-site behavior to provide incentives that fit in line with the brand's goals, as well as those of the person making the purchase. It could be that a consumer is checking out for the very first time and from a region where the merchant wants to build its presence. The brand may have used RevLifter to trigger a discount for people in this territory, which would then appear before the person checks out.
RevLifter essentially offers 1-2-1 personalized incentives, based around the customer and the merchant's goals. Currently, consumers typically abandon a basket that might be full of lots of expensive items and head across to a coupon website for a discount; who you are doesn't really matter, you'll still get a very general view of what's "trending." With RevLifter, the offers are personalized in real time to boost AOV and conversions, as well as upselling and cross-selling opportunities.
RevLifter's two main offerings are RevPage and RevConvert. Can you explain how both of these work?
RevPage targets users that are searching for coupons and discounts on Google and other search engines. We create a PPC and SEO-optimized landing pages, complete with the merchant's branding, which is made to act as a deal hub for people on the lookout for an incentive. The big benefit is that when someone searches for a coupon we are able to offer an incentive at the same time as keeping the conversation on the brand's own property. With traditional coupon sites, that gets handed to a third party where lots of their competitors also reside.
Of course, some merchants already have their own deal sites, but they can be clunky and void of personalization. We're tasked with boosting conversions for clients, so our page solution is a natural upgrade for a lot of the retailers that come across us.
Moving along the product line, we have RevConvert: an on-site messaging tool that alerts customers to deals before they're about to checkout. Every campaign is different, but a merchant will generally call on RevConvert for users that are showing certain behavior that might indicate they're about to leave the site. The end goal here is to reduce cart abandonment, as well as drive the needle for incremental sales.
RevLifter has some pretty powerful targeting capabilities. Can you talk about what they are and how you use them to personalize coupon landing pages?
When I'm introducing RevLifter, I'll start with the basics like basket contents, order value, and customer status (e.g new or existing customer.) Again, a brand can use this data to match the right customer with the right incentive.
Going deeper, I love talking about our ability to respond to IP addresses, which then unlocks geotargeting on city and regional level. We use things like heat maps to assess conversion levels across a country and use that insight to power our campaigns.
Obviously certain markets and products will have higher levels of demand over certain periods, so it's not really fair to keep things the same. Our technology works on the basis of rule setting, which can shift the requirement to sell more over a given timeframe. For a well-known chemist, we're currently exploring the idea of triggering deals based around pollen counts and UV levels, enabling them to capitalize on a key time for their products.
A less specific example would be the weather, which affects a whole host of businesses. From suppliers of waterproof clothing across to travel providers, the weather can really benefit and work against all sorts of groups. We're all about looking for these moments and baking that insight into the way RevLifter goes to work.
What are benefits for advertisers working with RevLifter?
I can't understate the power that we're giving our clients, which is pretty rare across the coupon space. We're offering a way for them to incentivize their audiences at the same time as owning their traffic and the customer experience, which limits the risk of their customers going to another site and being introduced to some of their competitors.
The personalization aspect is new for affiliate marketing and this carries lots of different benefits, ranging from the ability to upsell and cross-sell in real time, across to the general sense of brand loyalty that promotes. Customers really like to feel wanted these days and their expectations have never been higher. The best way around catering to them is to acknowledge their interests and optimize off the back of that.
Finally, we've made RevLifter super easy to trial and implement. On Awin, it's a case of switching on Mastertag and letting us go to work. We're also paid on performance, just like any other publisher, so the risks are kept to a minimum.
Why did you join the Awin network and what features do you enjoy?
I've been a fan of the network since working there back in the Affiliate Window days. When I went across to the publisher side, I saw even more benefits that really hit home on just how good the service is.
Topping my list of features is the easy interface and the friendliness and knowledge of the staff, not to mention we also get paid every two weeks. The Awin Mastertag is another huge feature for us, mainly because it makes it so much easier for brands to work with RevLifter.
I've been using Awin as a network for a number of years and it was such an easy decision to onboard RevLifter once we'd finalized our solutions.
Do you have any upcoming promotions, new launches, or exciting news you would like to share?
One of the biggest bits of news has already arrived with our official launch earlier this year. We were highly commended in the Industry Disruptor category at the 2018 Performance Marketing Awards, despite coming up against some much bigger, more-established competition.
The reaction to us going live has been nothing short of astounding and we're so glad that the affiliate marketing community has embraced what we truly believe is a revolutionary way of incentivizing an audience.
In the very near future, we'll be launching with several well-known Awin advertisers across the US and other regions, so keep an eye out for that.
Interested in partnering with RevLifter? Please contact Simon Bird at RevLifter or our publisher management team.