7 Questions to Filip Tröger from FLARIE
Written by

Lija Scheiman on

.
Earlier this week, we got the chance to get together with Filip Tröger, CEO and Co-Founder of Flarie. 
Share this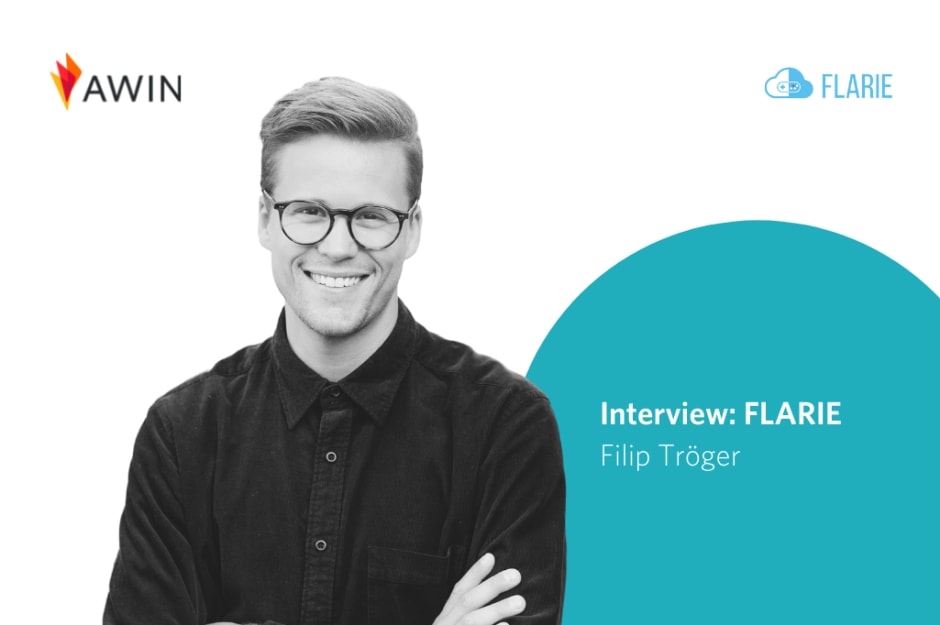 Filip, 32 years old, from Falun, Dalarna - is the CEO and Co-Founder at Flarie, a leading entertainment company providing brands with a scalable platform for Advergaming to entertain and engage their audiences globally on any device or touchpoint. Flarie was founded in 2016 and has today a team of 25 people.
Flarie's journey began when Co-founders Filip Tröger, Niclas Bergfors and Kim Ejebari defined the demand on the advertiser's side to find new and more effective ways of engaging with customers within their marketing strategy.
In their past work experience they identified that it was difficult for advertisers to get effective customer engagement almost regardless of what communication channel they used. To disrupt the traditional marketing opportunities, they built a platform with the aim for brands to achieve better results when it comes to communication with both existing and new customers, by integrating branded games as content.
Since then, Flarie observed brands increasingly turning their attention and budgets to Advergaming. Read on for the full interview with Filip:
How did you meet Awin and what was your first impression of the work that we do?
One of my colleagues met Awin at a Marketing conference in Stockholm and as we developed our platform further, he thought that Awin was a great fit for us. Since then, we have developed parts of the platform based on our collaboration with Awin, and I think that Awin has been easy to work with from day one.
How would you describe Flarie and its mission?
Flarie is a leading entertainment company providing brands with a scalable platform for advergaming to entertain and engage their audiences globally on any device or touchpoint.
A struggle today for every brand is that attention on digital ads is extremely low and keeps getting lower, and science shows that the average attention for an ad on the big social platforms is 1,7 seconds, while ads need 3 seconds at minimum to get a noticeable marketing effect. This is a large problem and by using branded games you can entertain your audience instead of interrupting them, and as a reward you will get their full attention for minutes instead of seconds. Creating consideration, buying intent and loyalty.
What's in it for a brand or advertiser when entering a partnership with Flarie?
We have quite a few different business propositions used by brands on a global basis, but the primary ones that we work with clients through Awin are the following:
In Sweden, Flarie hosts one of the biggest entertaining platforms with over 1 million users, mainly in the target group 18-35 years old. And in the app, brands can add their brand and offers as rewards for the users playing the Flarie games, to drive sales through an Affiliate model.

Brands can also use Flarie's technology for advergaming to do branded games to entertain and engage people in their target group, this can be done both through the Flarie app in Sweden, but also on any other digital platforms globally, e.g., Social platforms, emails, and on brands own apps or websites.
To reiterate, essentially brands are benefiting from capturing the users' attention for a substantially long period of time as they interact with their branded game.
Were you considering using Affiliate Marketing as a business model prior to your contact with Awin?
Yes, we were already working with an Affiliate model with some of our clients prior to our collaboration with Awin, however Awin made it possible for us to work with a larger number of clients in a more seamless way.
How does working with Affiliate Marketing benefit Flarie?
Working with brands through Affiliate Marketing helps us provide our users with good content and a vibrant selection of brands in the Flarie App, and at the same time provides us with a scalable business model.
While you had a successful onboarding on Awin with 20+ Awin merchants, what additional collaboration opportunities would you like to engage with through the network?
We have so far worked mainly with our opportunity to add brands and offers to the Flarie App as rewards for the users, which is a quite traditional affiliate marketing model. In the next step, we want to engage more brands to use our technology for advergaming, which will create even greater effects for the brands. In line with that we just launched a branded game campaign with Nelly.com and Awin, which we are very excited about. The first results look promising, and we are curious to see where this partnership takes us.
Finally, is a Market expansion planned for Flarie?
Even though we are based in Sweden our technology is already live with clients on 20 different markets in Europe, Asia, and US, and is working globally. The Flarie App however is available in Sweden today, and the plan is to roll out in more markets by the end of the year.
We appreciate very much, Filip Tröger taking the time in answering our questions and letting us take insights into their work and passion on Flarie.
Some quick facts to get to know Filip
Very structured & organized.

Took the opportunity to renovate his apartment during the pandemic but once the restrictions are lifted, a trip to Australia is far up on his to-do list!

Most played artist on his Spotify list is

Håkan Hellström

.

Has

competed semi-professional at horse jumping

and swims in the lake every month of the year – both which people might find surprising – he believes.

Finally, next to enjoying board & family games, Filip plays lots of

Flarie

games.
Interested in creating a branded game with Flarie? Find out more by reaching out the Nordics Publisher Development Team.
Glossary
Advergaming
is an advertising technique based on advertising brands through video games, with the aim of generating notoriety and improving engagement.*
Share this