Awin joins MAD//Anywhere as an official partner
Written by

Zhane Hylton on

.
Awin joins MAD//Anywhere as an official partner across the 10th and 11th March.
Share this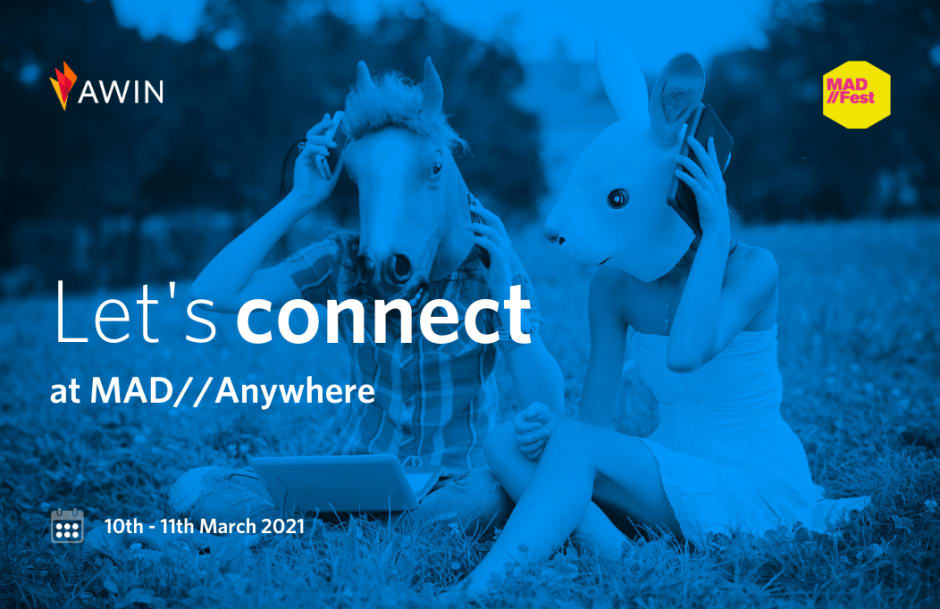 MAD//Anywhere will bring global marketing leaders, disruptors, and change-makers together virtually to spark innovation and foster collaboration across two content-filled days. With an overarching theme of 'Forward', content will be structured around marketing landscapes post-pandemic, shining a spotlight on opportunities as we all look to embrace new realities, trends, technology, behaviour, work environments, and economic conditions.
The virtual conference will host insightful speaker sessions, bold ideas, digital entertainment, and interactive engagement in punchy formats such as five-minute speaking slots. Expect to learn about global leaders' strategies, investment priorities, creative visions, emerging tech, and innovative solutions to support your strategies.
Among presenters is Awin's Client Partner, Joelle Hillman who will share 'Pivoting through partnerships: the power of performance marketing', followed by a two-minute Q&A on March 11th from 10:59 am to 11:06 am GMT. Joelle will explore how e-commerce has nearly doubled in size since last year, and how brands can take advantage of rapid and unforeseen change by pivoting to new business models and partnerships. Whether collaborating with start-ups or forging new brand to brand partnerships, hear how open affiliate networks offer brands the opportunity to supercharge their growth. Be sure to allocate time to tune in.
Click here for the official event agenda and here to get tickets for the event.
Stay updated on all things MAD//Anywhere before, during, and after the event by following #MadAnywhere across social. If you have any questions on joining Awin's session or getting access to an Awin guestlist ticket, please get in touch with our Events Team.
Share this