Life at Awin: Working parents
Written by

Maura Reidy on

.
In a new #LifeatAwin series, we explore how Awin staff around the world are enjoying a healthier work/life balance.
Share this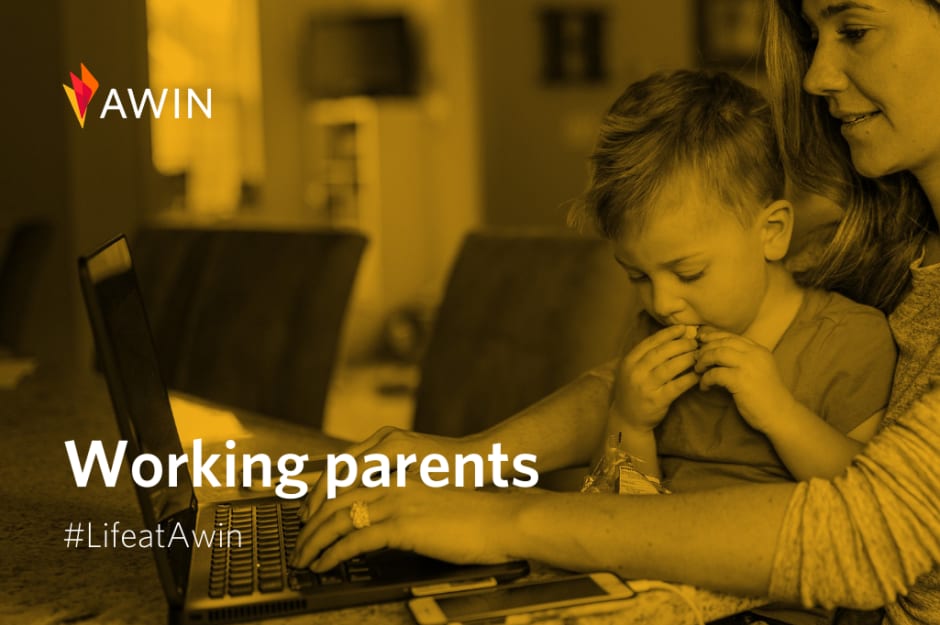 From their professional performance to the personal benefits, the series will provide a snapshot into how employees are responding to over a year of remote working and a few months into the 4-day work week pilot.
The first feature in the #LifeatAwin series showcases the lives of Working Parents; a group that has mastered the great balancing act of home and office life, perfecting the role of teacher, entertainer and carer on top of their day-to-day work.
How do our working parents feel about the increased flexibility?
The feedback from staff to date on our flexible working policies has been overwhelmingly positive. As Awin continues to monitor performance and employee sentiment across the business, the surveyed working parents echo the rest of the working world in declaring time saved on commuting a particular highlight of home-working.
"It's been great for getting a better life balance, especially as a new parent", says Stephen Buxton from the UK. Having welcomed his first baby a year ago, the extra time to spend with his daughter has been much appreciated. Similar to Sandra Castro, a single-parent based in Madrid, for who "being able to work remotely helps me to better combine my professional and personal life."
With less time spent travelling, and the added benefit of a 4-day work week, the extra time to spend with their children continues to be the most treasured aspect of the changes to our working culture. Keete Magrijn, from our Benelux office, values the moments she can share with her family, "they are now so little and seeing every change they do because I can spend so much time with them is seriously the best gift".
Who else benefits?
And it's not just Awin staff and their kids who are reaping the awards of increased flexibility. Jenna Walsh, a member of our US team, adds that "my husband is able to go into the office on the day I am off, giving my family the flexibility to live a more well-rounded lifestyle". Ugur Doymaz, who is based near Rotterdam, whose wife usually looks after their three children full-time, tells us that "the big advantage of the 4-day work week is that I can support her at least a whole day in the week".
Has their work been affected?
The positive outcomes to Awin's emphasis on the importance of a healthy work/life balance extends beyond extra family time. Having usually fulfilled their duties as employee and parent in the office five days a week, parents at Awin are now reporting an improvement in their ability to carry out their roles when granted more autonomy and space to manage their workloads.
Welcoming a day with reduced meetings and Teams messages, Keete explains that "because many people [on my team] are off on Fridays, I can really focus on Fridays and get a lot of work done". Andrea Engel from Awin HQ in Berlin, explains how the trust upon which Awin's culture is built motivates her to perform to the best of her ability.
Are there any challenges?
However, this change is not without its challenges. We're told that "the 4-day week is tough because it's over so fast and you need to take a lot of effort to manage your tasks and review the efficiency of your work". Stephen admits that "I'm under no illusions that I still have to perform at the same high standard I've always aimed for". But as staff acclimatise to their new schedule, we're reassured by Andrea that "the possibilities it brings for me weigh out any little or larger hurdles I might have faced or might face in the future".
Would our working parents recommend Awin as an employer?
In short, yes.
"There is tremendous flexibility, but also compassion for parents at Awin", says Jenna. Ugur endorses this statement by acknowledging his colleagues' consideration for his role as a parent, "I feel that there is broad support for parents from the Board. On top of that, my manager always showed understanding for my situation." While Lisa Chaikin, in London, says "the focus on wellbeing and genuine care for people is quite remarkable".
Awin believes in creating an open, diverse and agile workforce and if you would like to be part of team please check out our vacancies here.
Are you a working parent at Awin? Share your story on social with #LifeatAwin.
Share this