Black Friday was Awin's first 1m sale day. With advertisers ready in more territories than ever before, the level of anticipation about what the big day would bring was high.
For more mature markets where online shopping on Black Friday (the day after Thanksgiving in the US) is an established phenomenon, there was a sense that some advertisers would choose to push offers and deals ever earlier.
Typically offers are stretched from Friday to the following Monday, ushering in a four day shopping binge with consumers buying gifts for friends and family, as well as themselves.
In 2016 there was a feeling that the day preceding Black Friday could be pulled into the wider promotional period, establishing what some referred to as 'Black Fiveday'.
Seeing a number of advertisers launching their offers earlier it was anticipated that some purchasing would be brought forward, eating into the share of activity generated on Black Friday itself.
However, there is no particular evidence to show that occurred in any of the countries Awin operates in. The following chart looks at activity across the network plotted throughout the whole of November. It shows the volume of sales for that month tracked each day with the percentage of November sales tracked on Black Friday (11%) and Cyber Monday (6%).
2015's performance is also tracked along the same graph for comparison (note Black Friday fell on 25th November in 2016 and 27th November in 2015).
What is immediately obvious is Black Friday remained king and dominant, the proportion of sales recorded on Black Friday actually increasing between 2015 and 2016:

This picture was generally quite uniform for many of the markets that Awin operates in. Here is Sweden, for example, plotted according to the same criteria:

Brazil is a fascinating outlier, with Black Friday accounting for one in five sales tracked in the whole of November, meaning its success has a significant impact on peak trading performance:

An interesting anomaly remains the US, where Black Friday is still primarily seen as an in-store event. As the only country with a pre-Internet Black Friday heritage, US consumers are however slowly migrating their purchasing behaviour online, but Cyber Monday retains a narrow lead:

Further underlining how Black Friday has actually grown in importance in 2016, rather than being diluted by retailers 'going early' with offers, we can see how Black Friday in the UK, which has been running offers for the past four years now, performed as a percentage of all online sales for November: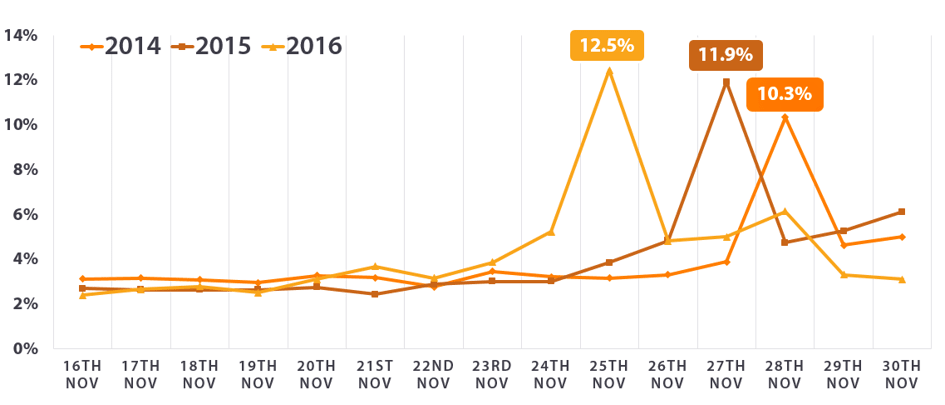 Where this becomes more insightful is when we look at revenue generated for advertisers in Black Friday week year-on-year.
The following chart plots the uplift in revenue across the week. It's interesting to note the larger increases occurred earlier in the week, especially on Monday. This must be caveated with the fact that the volume of activity on Black Friday itself was particularly significant last year making it increasingly difficult to post more significant year-on-year increases: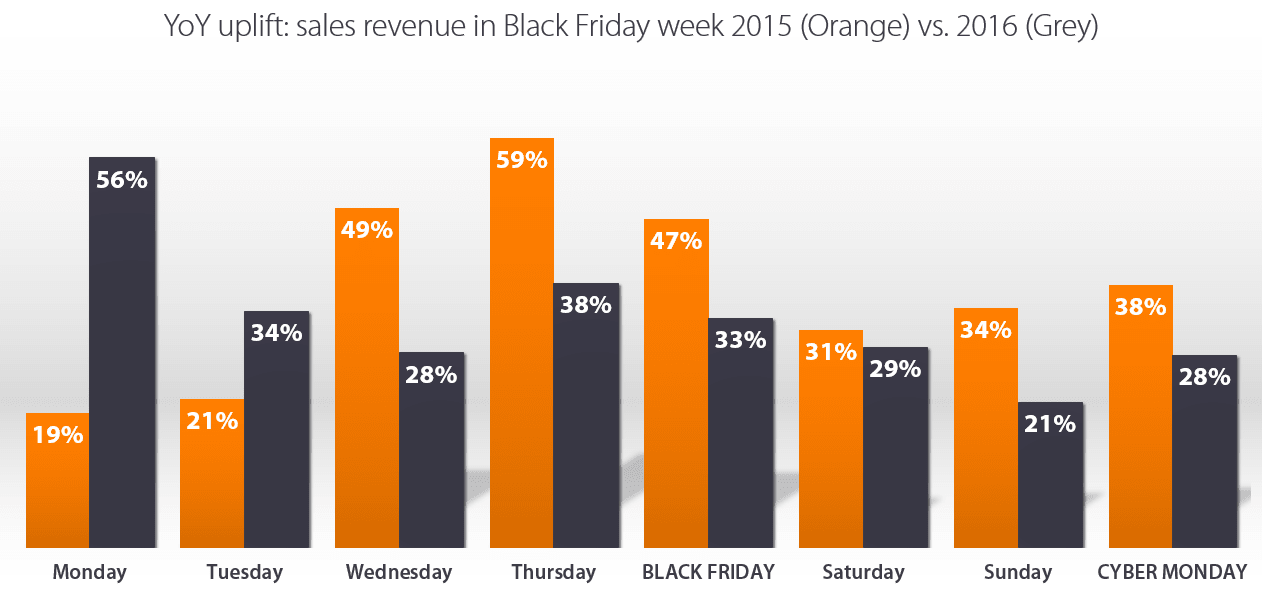 In 2016 the Monday prior to Black Friday saw a significant year-on-year increase raising questions about whether peak trading will continue to be pushed ever earlier.
How Black Friday cements itself in 2017 and beyond will be a combination of how advertisers choose to shape it and what consumers demand in an ever changing retail landscape. What is clear is that affiliate marketing will continue to shine a light on these trends well into the future.