In good company with the captains of Awin Benelux: Jesse le Grand
Rédigé par

Laurens Aalbers le

.
As an affiliate network, you are at the heart of an intensive & dynamic triangular partnership. Our account managers, technical consultants, industry experts, sales managers, the marketing team, etc. have regular, or even daily, contact with our partners. But who are those Awin people behind that phone call or email conversation actually?
Partager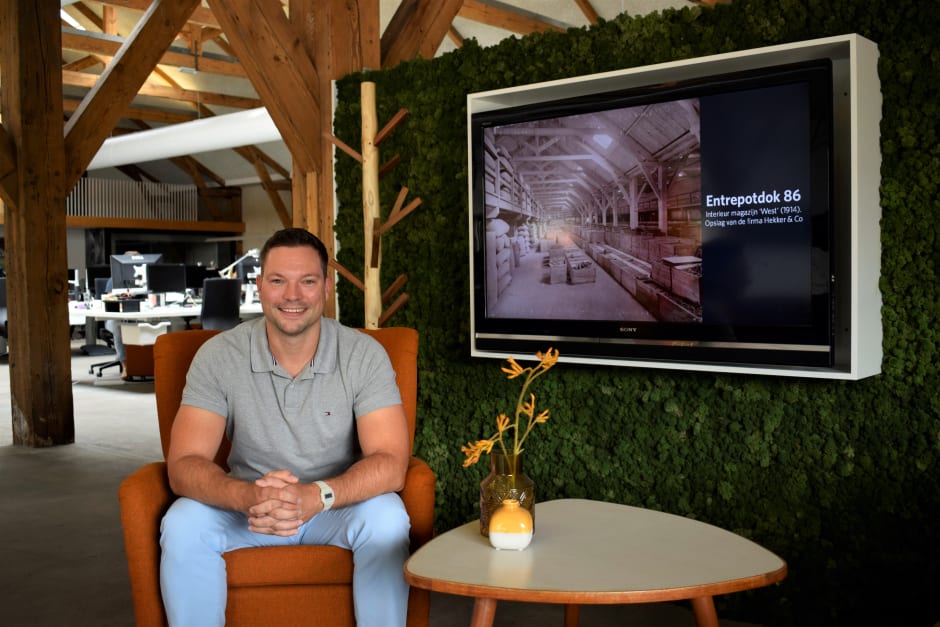 In our interview series 'In good company with Awin' we want to give a face to colleagues who work for our advertisers, publishers and our network every day. After all, without these ambitious, hard-working colleagues, Awin would not exist. Plus, every single one of them is great fun, of course!
But before we continue with the blog series, this last month of the summer recess we will squeeze in a 'special edition' trilogy. An exclusive mini series dedicated to our Management Trio, with just a couple of more questions.
Up next in our Management-trilogy is Commercial Director Jesse le Grand.
Hi Jesse, could you introduce yourself to the readers? Who are you and what makes your role within Awin special?
My name is Jesse le Grand and I'm the commercial director for Awin Benelux. I've been with the company for more than 10 years. I started as an account manager back in 2008 at M4N, a local champion network that later was acquired by zanox/Awin. Before I was working as an online marketing manager in the telco industry. With my combined experience in both advertiser and account management, I can relate to what my clients and employee needs are and making sure we act accordingly.

As commercial director I'm responsible for developing and executing the commercial strategy, making sure we exceed our advertisers' and publishers' expectations, coach and inspire people to develop their talent and grow within the company and last but not least, making sure we have a great place to work!

What do you see as your biggest 'Awin success'?

Well first of all, winning two of the two main affiliate awards ever to be awarded in the Netherlands. And second, a more personal success, taking part of a selected group (30) of people in the Axel Springer top talent program and doing an 18 months management course. But I also can't leave out that a big success for me has been driving global changes such as implementing a global client satisfaction assessment and improvement process and aligning service levels across the Awin group.
And what has been your biggest challenge in your career at Awin? How did you overcome it?
The biggest challenge was also the biggest opportunity for me personally. That was when M4N merged with zanox and we went from a local and relatively small company to an international market leader within affiliate marketing. We did have quite a similar company culture, but almost everything else was different! New and a lot more (international) colleagues, a state-of-the-art platform with advanced capabilities, new and bigger clients, new management and so on. We had to discover new ways of working and working together. I embraced this change and turned it into an opportunity to grow. This is where my leadership talent developed at a rapid pace.
What exactly do you think is the strength of Awin Benelux and of the people who work there?
The company exists of talented, enthusiastic, driven and entrepreneurial people that have a passion for online marketing and who always want to be better than the day before. Our clients are central to everything we do, and this is why we are the exclusive partner of choice for almost 80% of our advertisers.
Is that also one of the, perhaps crucial, characteristics that causes you to enter the office every day with joy and energy?
Absolutely! It's a pleasure to work with such a smart bunch of people. We work hard but also play hard and that makes Awin a unique place to work.
A good work/life balance is of course also very important. What is your most preeminent way of detaching yourself from work?

Going to my hometown of Alkmaar and my wife. She is Russian and ever since she has moved in with me I feel like being a tourist in my own country. We love to explore new things such as beautiful cities (of which some I have never visited before!), charming museums big and small, and learn about the intriguing history of various Dutch landmarks and places. I also love to spend time with friends and I like to blow off some steam in the gym. Oh, and I've recently picked up running!
What are you looking forward to most for the second half of this year?

The second half of the year is all about Q4 promotions, with Black Friday and Cyber weekend as well as the Sinterklaas and Christmas shopping days. And let's not forget our healthcare season. The 'healthcare insurance mania' starts in November, but preparations are already under way. This is the time of the year when commercially we're driving full speed and energy levels are the highest. To not only close this busy Q4 period but also the year, we have our legendary Sinterkerst party in December. A great moment to celebrate the holidays and all the beautiful moments this year has brought us.
In the office we all have a mouse mat with a quote on it and mine has one of my all-time favourites: "Assumption is the mother of all f*ckups". Turns out to be true every time!

The books that have inspired me the most are 'The psychology of persuasion' by Robert Cialdini, a must read for every marketer and/or sales person, 'The power of habits' by Charles Duhigg, it taught me a lot about changing behaviours and finally: 'Getting things done' by David Allen, an easy but effective way to organise work and reduce stress. These favourites have inspired me so much that I have incorporated the information from these books in trainings I give to the workforce.
Partager