Awin Day BE Recap: A day in the capital of Belgium
Rédigé par

Kelly van der Kaap le

.
"Wablief?" Yes, you are reading this correctly because on Thursday May 3rd, we travelled from Amsterdam to Brussels to visit our Belgian neighbors during our Awin Day. This year, our event took place in the Beursschouwburg café where de Bijenkorf, Solden and VE Global were invited as guest speakers and have given us a very educational day. Belgium may be a small country, but there is a lot of room for growth and many opportunities.
Partager

It has been a while, but we have finally returned to Belgium, and we were very excited to meet our Belgian advertisers and publishers.
"Belgium is one of our most important markets, and therefore it is also crucial to communicate offline with our advertisers and publishers. I am therefore very pleased that this year we are organizing an Awin Day in Belgium again that not only puts the emphasis on affiliate marketing, but also the international aspect of it." says our Senior Client Services Manager and also Industry Lead Belgium Mike van den Bos.
Our Awin Day was a cheerful gathering where advertisers, publishers and we ourselves were given the opportunity to gain knowledge, to get inspired and to get to know each other (better). We look back at some of the highlights of the day.
The kick off was given by Mike van den Bos, who took us back in time, where we observed some trends and challenges for the publishers and advertisers.
We took notice of these trends and challenges which resulted in an amount of functions and tools for both advertisers and publishers to optimize performance, to monitor campaigns and to uncover insights. Mike highlighted some of the most important features & tools of the Awin platform.
The next speaker was Cédric Beeris, Country Manager at the well-known department store chain de Bijenkorf. "You said that the package was delivered in the morning, but it is already two o'clock in the afternoon?" Noon and afternoon, huh? This was one of the many examples of the differences between the land of chocolate, waffles and beer and the Netherlands. We may be neighbors, but we do have some remarkable differences that distinguishes our two countries from each other. This means that while doing business you also need to take these cultural differences into account, and Cédric was keen to explain this. He also revealed how de Bijenkorf tackled these challenges, and provided the public with some potential business deals.
After a short break, we gave the mic to two of our publishers. Luc van der Blij (Sales Manager) and Domingo Karsten (CEO & Co-Founder) of the discount coupons - site Saleduck were the first to take the stage. During their presentation, Luc explained that the way in which discount codes are used has become old-fashioned, and discussed how Saleduck will change the use of these discount codes in the future in order to remain relevant in the market.
Our last speakers of the day were Erdem Türkmen (E-commerce Professional) and Mikel Burger (Territory Manager) of VE Global, an internet company that offers data-driven services to help e-merchants capitalize lost revenue. Among other things, they revealed some interesting marketing insights, and showed us how they make use of their innovative technologies to assist web shops in increasing the number of conversions in order to generate more revenue. After each presentation there was also some time provided for a Q&A session.
Let's talk business…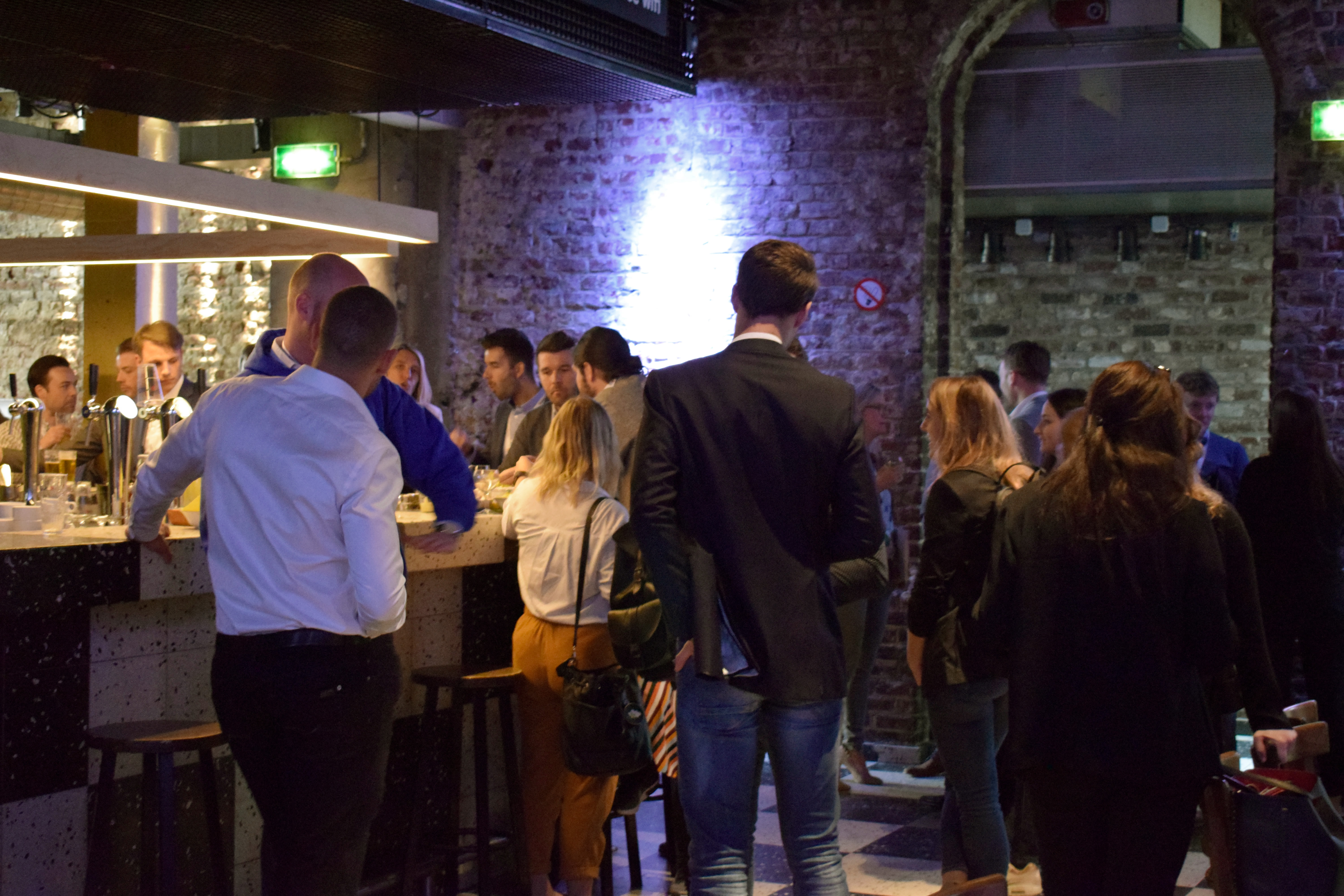 We ended the day with the best part of the event: a drink! With a glass of wine, a beer or two and a few tasty snacks, it was time to network and meet each other. Of course, this wasn't just about business, it was also a great opportunity to talk to one another. For our Awin Day Be, we also created a sector report with Belgium as the main focus, which guests could take home with them.
Amai, our Awin Day in Belgium is definitely worth repeating. Would you like to join us next time? Do not hesitate to contact us via e-mail or call +31 20 555 - 8900. Thank you to everyone who attended and we hope to see you again next year!