International Performance Marketing Awards 2018 Highlights
Rédigé par

Laurens Aalbers le

.
Recognising the best of our industry's work from the past 12 months at a global level, the International Performance Marketing Awards took place.
Partager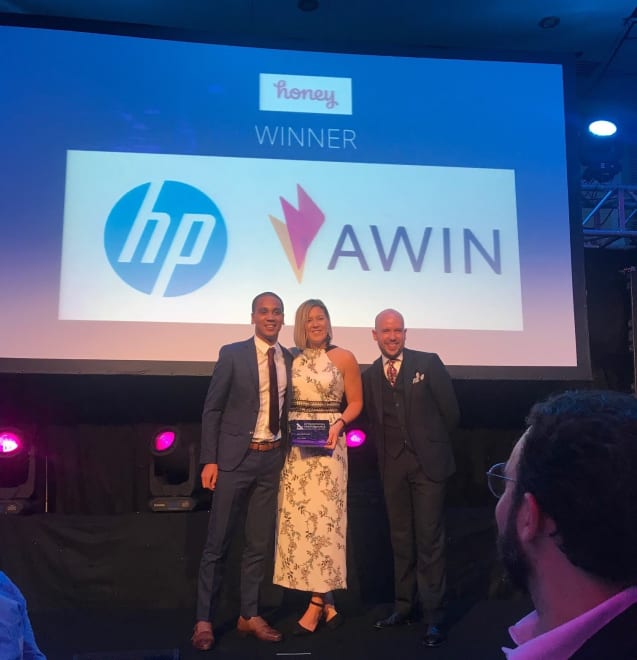 Held at the luxurious Grange Hotel nestled next to St Paul's Cathedral, the evening brought together 400 guests from publishers, advertisers, agencies and networks, including members from Awin's Global, US, Spain, Eastern Europe and Australia teams.
Matthew Wood, Founder and Director of the awards took to the stage for the welcome, stating the "incredible opportunity" offered by the channel to broaden their horizon into new markets "can't be ignored". Proceedings were then handed over to comedian Tom Allen, who proved a hit with guests with his witty and sarcastic commentary, taking the edge off an atmosphere of nervous anticipation.
With the channel continuing to excel each year with cutting-edge advancements of technology and innovative partnerships, no business is able to rest on its laurels. Which is why Awin is exceptionally proud to receive four awards.
For the second year running we were awarded USA: Best Managed Affiliate Programme, this year with HP, recognising our US team's tireless and expert account management:
"In working with Awin, HP has found an affiliate network with a kindred spirit…with each of HP's challenging objectives having been successfully met, Awin successfully reinvented their affiliate program, developing it into a hugely efficient platform for generating sales and cultivating new and innovative partnerships that will bring long-term value to the wider brand."
We were delighted to win both categories for Eastern Europe, reflecting our increasing strength in the region as a result of our continued investment in local resources:
Best Managed Affiliate Programme with Born2Be
"Beating CPA targets by more than 100% and ROI affiliate activities increasing 200% since launch, Born2Be partnered with Awin, utilising what judges remarked as "great use of segmentation" to offer affiliates flexible commission based around contribution and content-based affiliate activity while targeting new customers."
Best Performance Marketing Strategy with Steal Alert and zalandolounge
"Online shopping and members-only club Zalando Lounge launched its affiliate programme with Awin following exceptional growth in recent months. Publishers were rewarded for generating both new leads and sales, supported by Awin's impressive partnerships with influencers that drove newly-registered members for Zalando."
Finally, we were truly honoured to win Best Full Service Affiliate Network, an award which affirms the hard work our teams put in around the world from client services, to product and engineering teams, to provide the best possible network for our partners.
"Standing for honesty, integrity and ethics, Awin continues to be a leader in their field, demonstrating growth for the network, clients and advertisers alike, and always striving to go the extra mile. Driven by the desire to exceed expectations, with a focus on service and technology, the network is deservedly collecting this award. Generating £12 billion in revenue for its advertisers last financial year, Awin remains a pureplay network as it continues to commit and invest in the growing affiliate industry."
We're also pleased to be highly commended for Best Managed Affiliate Programme in LATAM for Click Bus, Awin and Social Miner and for our friends Commission Factory for being highly commended for Best Managed Affiliate Campaign, APAC. View the full list of winners here, of which we extend our congratulations to.
All in all, undoubtedly it was a night to remember and we thoroughly enjoyed celebrating another year of our industry's success. Digital advertising may have had one of it's most trying years in 2018, but the work highlighted in last night's ceremony proves that the affiliate channel provides a powerful and sustainable solution for online marketers.
Partager