Carphone Warehouse: Award-winning Account Management
Written by

Claire Mullan on

.
Awin and Carphone Warehouse won Best Managed Affiliate Programme at the Performance Marketing Awards 2018.
Share this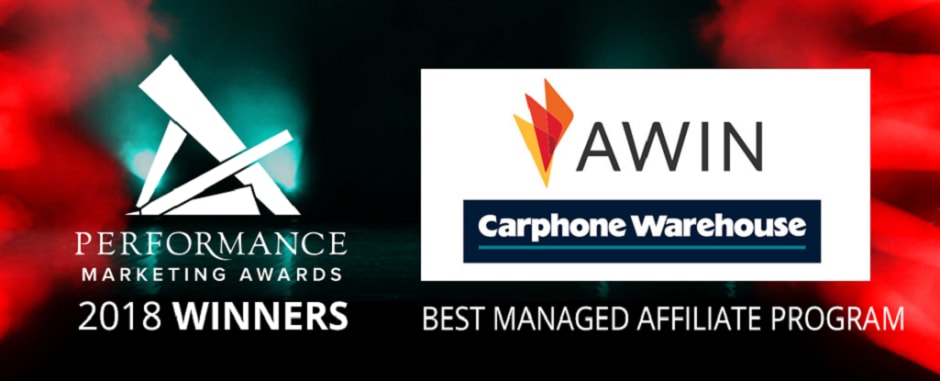 The focus for 2017 was to manage all four brands in The Carphone Warehouse Group as one strategic unit. Carphone Warehouse, Mobiles.co.uk, E2Save and ID Mobile were brought together to leverage the size of the group in the affiliate market and work more cohesively as a group.
The client said that they had 'been blown away by the level of planning, execution and tangible YoY growth…thanks again to the amazing Awin team'.
The results
+9% YoY group sales growth (target: 5%)
+14% YoY sales for iPhone campaigns (target: 10%)
Diversified publisher base to include cashback, comparison, voucher and content sites
Encourage synergy of group processes
Working as an extension to the client's team
To encourage synergy of group processes, the Awin team increased from 1 FTE to 3.25. The Awin team worked in the Carphone Warehouse offices once a week, with the Carphone Warehouse team at the Awin offices once a month. The teams used this time to have face-to-face meetings with publishers and publisher days. Awin introduced group business reviews and an annual group strategy day – attended by senior stakeholders. Awin provided benchmarking and GAP analysis to identify areas of growth for all brands and ensure it was incremental.
Awin built a customisable and automated live reporting suite to enable trading teams for the group to sign off exclusive deals across specific product ranges. Working this way enabled more publishers to run exclusive offers at the same time, and enabled the Awin team to reach out to more publishers in a bespoke way and diversify the publisher base. For example, Carphone Warehouse were able to test key content sites with confidence.
The teams also reduced validation times, improved payment speeds and increased the payment validation rate by 5% across the group, this improved the relationship with key publishers.
Reaching the target audience
As well as a site takeover with Quidco for the iPhone 8 and unprecedented exposure with Top Cashback for the iPhone X, the group booked exposure with a record 16 affiliates including cashback, comparison, voucher and content sites, resulting in +14% sales for iPhone campaigns YoY without increasing Cost per Acquisition.
The future
Not only did the team exceed the initial targets, but reduced the CPA across the group by more than 4% in the process. The processes, publisher management and additional resource ensured objectives were comfortably achieved. The Carphone Warehouse Group affiliate programme is in a fantastic position to succeed in the future.