Awin: 2017 highlights
Written by

Stephanie Salomon on

.
2017 has been a landmark year for Awin. Globally, our teams have worked tirelessly to unify zanox and Affiliate Window under one brand with one platform. Domestically, we have successfully joined forces with ShareASale to continue our mission to become the leading performance marketing network in the US and Canada. As the year comes to an end, we want to take the opportunity to reflect and share highlights.   
Share this
Developments 
We made a number of developments in 2017 to expand our international reach and offering. Following the acquisition of ShareASale and merger with longstanding European competitor affilinet, we're pleased to welcome two highly-regarded teams to the Awin Group, and are excited for our strengthened proposition and to grow together in 2018. 
Additionally, we secured a strategic partnership with Australia's leading network Commission Factory - offering greater reach to Australia and the Asia Pacific region - and invested in influencer marketing platform Tailify to connect our advertisers with a community of powerful influencers.  We also aimed to foster innovation in the channel by launching Accelerated Payments, a global initiative to pay publishers faster. 
Technology 
Awin has made great strides to support influencer partnerships in 2017, and our launch of cookie-less coupon tracking will help round out our offering to advertisers looking to nurture these relationships. With this technology, brands generate incremental affiliate revenue from influencer and social engagement through a network method that enables tracking of Instagram, Reddit, and other social platform promotions – regardless of a click, last click or channel attribution.
In an effort to expand program flexibility, we enhanced and updated our cost-per-click (CPC) tool. This will enable advertisers to easily work with publishers on a CPC commission model alongside the standard cost-per-acquisition (CPA) and/or cost-per-lead (CPL) activities. Using the refreshed CPC campaigns tool, advertisers can now set up CPC agreements with publishers in a more streamlined way - setting rates and budgets for each campaign, as well as easily monitoring the impact these campaigns are having.
Awin also began the dialogue to inform advertisers of a new encryption technique to be applied across our network. This is a result of the new GDPR requirement for organizations to keep the processing of personal data to a necessary minimum and to anonymize wherever possible. To address the requirements of handling IP addresses as personal data and to delink any kind of personal reference or association to any one person, Awin has implemented a method to anonymize this information, while still ensuring that all features on the platform (GeoIP, IP tracking, etc.) will continue working as-is upon activating IP truncation.
Industry insights 
Another key focus was to empower our partners with in-depth industry insights. In March, we launched our Market Insights hub - which hosts our whitepapers, sector trends and editorial publications - providing the most-comprehensive insights to the affiliate industry.  
In October, our global strategy team published The Awin Report, the first report to take a detailed look at the affiliate marketing landscape across the globe. Featuring interviews with industry experts from each of our core markets, it also included a chapter on the importance of global retail events like Black Friday.  
Black Friday/Cyber Monday are the biggest days of year on the network in terms of sales and 2017 was no exception. We followed the activity for these massive days throughout November with our dedicated hub. On the day itself we hosted a live blog and infographic, sharing snippets from around the world.  
Following the end of the Cyber Weekend, which saw us track $454m in revenue globally, we launched our interactive Tableau report that allows you to drill down by territory and sector to pull key metrics such as revenue, traffic, orders, commission and AOV. Read our North America Black Friday and Cyber Monday recaps.
Events 
Throughout the year we hosted Awin Days in our core markets, bringing together clients to facilitate networking and knowledge sharing. Domestically, we hosted our second annual runway show at this year's Affiliate Summit East (which we also exibited at), and featured brands Missguided, W Concept, PrettyLittleThing and Showpo. We also exhibited and presented at key industry conferences in North America, including Affiliate Summit West, Shop.org, BlogHer and IRCE.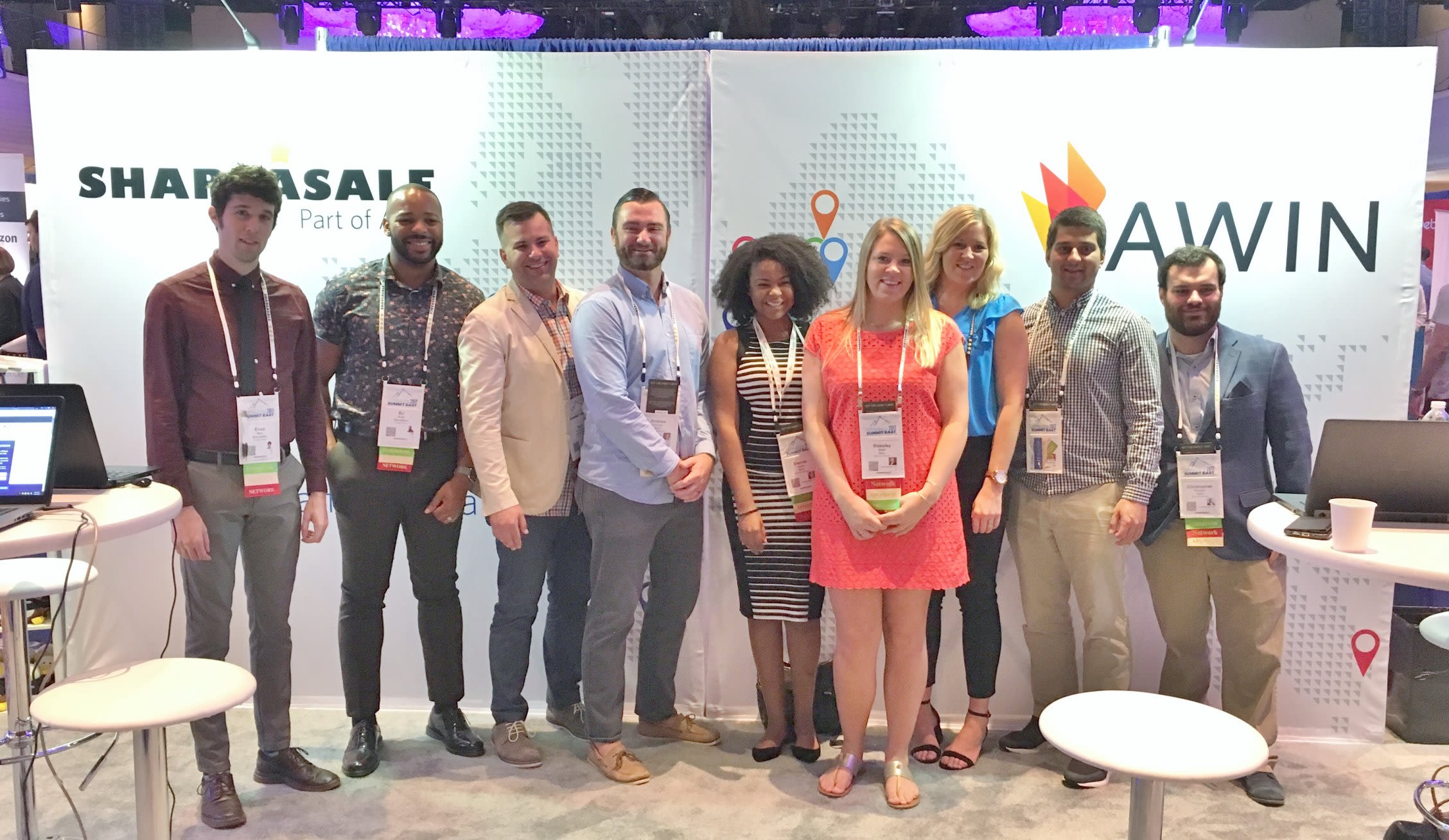 Awards 
Receiving recognition for our work is important and motivates us to strive for further success.  We are exceptionally proud to have received 19 awards across the Awin group throughout the year in several markets, including 'Best International Affiliate Network' and 'Best Managed Affiliate Program North America' at the first International Performance Marketing Awards. 
In November, PerformanceIN launched the PerformanceIN50, a list celebrating the top 50 influential industry members who have made an exceptional contribution to the development of the performance channel. We're honored to have four members of the Awin family on the list: Awin CEO Mark Walters, ShareASale CEO Brian Littleton, Global Client Strategy Director Kevin Edwards and Business Innovation Director Edwyn McFarlane. 
Thank you for your support during a momentous year, we hope you enjoy celebrating the holidays and we look forward to working with you in 2018. 
Share this