Awin Access: Q1 update
Written by

Maura Reidy on

.
With over 800 programmes now live across Europe and the UK, Awin Access achieves stellar Q1 growth with €9.2m in sales revenue.
Share this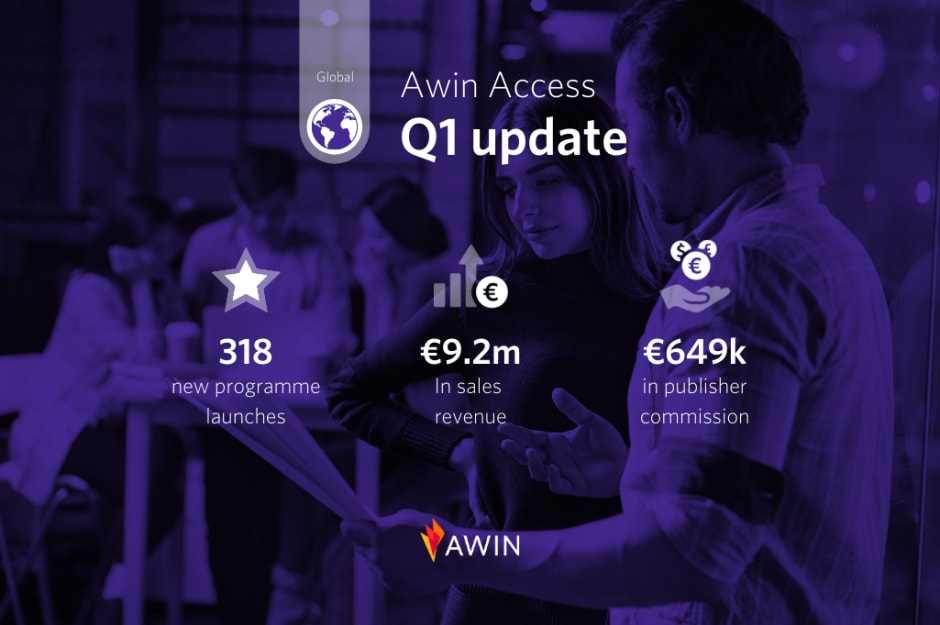 Earlier this year, Awin Access celebrated its one year anniversary in the UK, with our European regions meeting this milestone in the coming months. Designed to open up affiliate marketing to an untapped audience of small businesses, Awin Access has surpassed targets and our greatest expectations of what these emerging brands could achieve through online partnerships.
Looking back at the first quarter of this year, we round-up the latest small business performance figures and Awin Access updates.
Global
A total of €9.2m was generated in sales revenue
Awin Access programmes drove €649,000 in publisher commission
3.9m clicks and 167.5m brand impressions led to a total of 129,000 transactions
A total of 318 new programme launches added to the impressive activity seen across the quarter. And with the majority of us still in some of form of lockdown from January to March, the sectors seeing the highest new launches mirrored the trends seen in previous lockdowns; Health & Beauty (23%), Clothing (8.5%) and Home & Garden (7.5%).
UK
A total of £7.1m was generated in sales revenue
Awin Access programmes drove £479,500 in publisher commission
2.5m clicks and 5.4m brand impressions led to a total of 115,000 transactions
Again, reflecting the sectors that surged in the first and second lockdowns, out of a total 137 new programme launches in the UK, Health & Beauty (31%), Clothing (8.8%) and Home & Garden (8%) continued to be the most popular sectors for new programmes on the network.
Awin Access in The Awin Report
The fifth edition of The Awin Report examines the role the affiliate industry has played in ecommerce's rapid expansion over the past 12 months. Key themes include the adaptability and resilience of the channel, with a dedicated chapter on Awin Access providing inspiration for small businesses venturing into affiliate marketing for the first time, offering resources on how partnerships are shaping future growth for start-ups and SMEs.
In the Report, hear from high-growth start-up Kally Sleep, one of over 800 small businesses who have joined Awin Access, as Mark Slattery, Head of Digital Marketing reveals that "less than two years from our first venture into affiliate marketing, the channel now represents over 25% of our total online revenue."
"The new Awin Access package that can be self-run helped us to get set up with minimal cost and the program started to build traction at a good pace." Dan Whytock, Co-Founder of Down Your High Street explains how the online marketplace evolved from first-time experimenters of the channel to now enjoying a ROI of $30:1, with 26% of all sales driven by their affiliate partners in our success story.
Listen to ThoughtMix's Managing Director Steve Bryant as he explores why the opportunities for micro-SMEs, start-ups and entrepreneurs are so ripe within the affiliate industry.
Read the full Awin Access chapter here.
Awin Gold Standard
In January, Awin launched the Awin Gold Standard, a new accreditation for advertisers. Helping to identify advertisers that run a best-in-class affiliate programme, the Awin Gold Standard ensures the best possible experience for publishers and is based on a defined set of criteria such as accelerated payments, optimal tracking, fair commission structure and transparent de-duplication. We're proud to reveal that over 57% of all advertisers achieving the Gold Standard to date are Awin Access programmes.
Publisher Directory Improvements
All Awin publishers can now search specifically for Awin Access advertisers in the directory. With the addition of this search feature it is now much easier for all our publishers to find and create relationships with Awin Access advertisers.
Webinar Resource Centre
A new Webinar Centre has been launched to help small businesses expand their affiliate marketing knowledge and to better manage their programmes by working with new publisher types. Including topics such as Technology Programme Enhancements (co-presented by Redbrain), Developing a Voucher Code Strategy (co-presented by The Groupon Reach Network) and Working with Influencers. Advertisers can also hear success stories from some our most popular Awin Access brands such as Wild and Pacamask.
Further information on Awin Access and how you can get started with an affiliate programme can be found here.
---
Downloads
Share this