Awin Access: One year in review
Written by

Maura Reidy on

.
One year on from the launch of Awin Access, Awin's entry-level solution that caters specifically to micro-SMEs, we spotlight the stand-out achievements.
Share this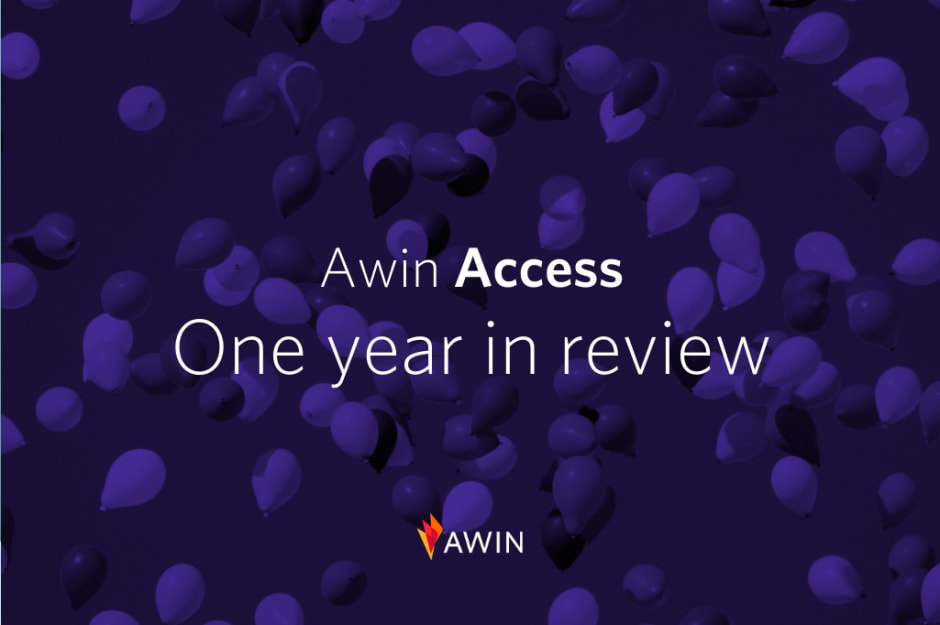 Awin Access was devised to support grassroots ecommerce. By lowering the barriers to entry that had long prevented small businesses from entering the affiliate channel, the solution would simultaneously help smaller businesses to drive online growth, while also diversifying the channel with this emerging micro-SME segment.
We couldn't have predicted how significant Awin Access would become in the context of the pandemic. While many milestones have been met in the first year since launching, we would like to recap on the stand-out performance and progress of the solution to date.
Small business performance during the pandemic
Following a successful pilot of Awin Access in the UK which ran over 12 months and included 168 advertisers, the solution was officially launched to the market last January. However in March, the outbreak of the COVID-19 pandemic forced businesses to pivot their operations online and in doing so, smaller businesses realised the low-cost, low-risk benefits of launching an affiliate programme.
Recognising how Awin Access was fortunately positioned to support micro-SMEs as they engaged in affiliate marketing, Awin waived the monthly fixed-fee for three months on all new programme launches to encourage businesses to test the model. Awin then expedited the roll-out of the solution across several regions to enable more businesses to advance their ecommerce efforts, with Awin Access now live in Benelux, DACH, Eastern Europe, France, Italy, Spain and the Nordics.
Since launching last January, over 240 new programmes have launched in the UK. From 1st April 2020 to 10th January 2021, Awin Access advertisers in the UK drove £18m in sales revenue over a total of 270,000 transactions, from 5.9m website visitors and 22.5m brand impressions.
The extent of the affiliate activity of these emerging brands in their first months and weeks of launching a programme demonstrates how profitable these businesses can be once equipped with the tools to survive and thrive.
Promising performance across the peak period
In October and November, Awin Access advertisers in the UK alone were seeing a +30% increase in traffic, +52% increase in transactions and a +56% increase in sales revenue. These figures indicate how the peak trading period extended to the smaller businesses on our network who were taking full advantage of the busy shopping season.
Casting our gaze to the global figures across Cyber Weekend, Awin saw 359 unique Awin Access advertisers receive sales across the weekend, generating €1.6m in combined sales revenue.
Looking specifically at the performance of Awin Access advertisers in the UK across the weekend, Awin again recorded an impressive insight into the activity across these emerging brands:
Black Friday (UK)
A total of £537,650 was generated in sales revenue
Awin Access programmes drove £34,799 in publisher commission
A total of 5,731 sales were made with an AOV of £93.81
Cyber Monday (UK)
A total of £276,250 was generated in sales revenue
Awin Access programmes drove £17,653 in publisher commission
A total of 3,403 sales were made with an AOV of £81.18
Seamless integration on the Shopify App Store
In November, Awin became part of the Shopify App Store community. Businesses using Shopify would now be able to seamlessly integrate with Awin, unlocking unparalleled access to over 211K partners with an online audience of 560m. Following the announcement, the team behind Awin Access explained that "being welcomed into the Shopify's ecosystem Network made sense as the next natural step due to the match of the exact audience Awin Access is designed to support and nurture".
An international award-winning team
On 25th November, the International Performance Marketing Awards were virtually broadcast to fellow marketers around the world. While the Awin team was extremely proud to take home a total of six awards, including the coveted title of Best Affiliate Network, one of these awards was more precious than the rest. The Awin Access team, who operate as a small satellite team across Europe, were awarded the title of Best Team in Performance Marketing as voted for by the international performance marketing community.
The judging panel commented, "The results clearly show that this new model (Awin Access) has the traction to further help SMEs in the future, with a dedicated team of professionals helping with the on boarding."
Recognising how the Awin Access solution is supporting micro-SMEs and opening up the channel to these small businesses, this award commends the team for also helping to diversify the affiliate channel with a previously untapped opportunity. As new start-ups, micro-SMEs and entrepreneurs enter the channel, new partnerships and new life will continue to form the lifeblood of our already thriving industry.
Awin Access on the virtual stage
In July, Awin hosted a standalone webinar with Affiliate Summit. Michelle O'Sullivan, our Business Development Director, deep-dived into how to best nurture the emerging European micro-SME segment including learnings from working closely with them.
Michelle was also joined by special guest Sian Gabbidon, founder of beach and loungewear brand Sian Marie and winner of 2018's The Apprentice. Sian shared her personal success story as an entrepreneur, changes taken to adapt to the pandemic, what piqued her interest in affiliate marketing and her experience using Awin Access.
Watch the webinar in full here.
Michelle then continued the conversation at PI LIVE Global in October with an aptly titled session, Making Affiliate Marketing Accessible. Welcoming two brand success stories, Gary Winter from facemask brand Pacamask and Dan Whytock from online marketplace for Independent High Street retailers Down Your Hight Street, we heard their experience of the affiliate channel and why these smaller businesses are quickly becoming valuable partners for the industry.
Watch the webinar in full here.
Following the success of the solution and on the anniversary of its launch, Michelle O'Sullivan comments:
"Awin Access is set to scale rapidly in 2021, propelled by the expedited launches mid to late last year within other markets including: Benelux, France, Italy, Spain, DACH, Eastern Europe and the Nordics. This small business segment makes up 93% of businesses within the EU, a significant 23 million brands, most of which are looking at how they can effectively shift to be successful operating largely or purely online within the ongoing pandemic crisis. The Awin Access team have a number of initiatives to further automate processes and that will guide and educate to allow these programmes to see their full potential."
Further information on Awin Access and how you can get started with an affiliate programme can be found here.
---
Downloads
Share this