Everything you need to optimise your affiliate marketing programme
Join our network
Awin's complete tracking solution allows advertisers to record and report on an extensive range of data points, including basket value, number of products, product type, new or existing customers, use of a coupon code and click-to-sale lag time. Awin also offers a range of additional technical products that can be used alongside each affiliate program to optimize and enhance an advertiser's offering, including cross-device tracking, coupon attrubution and commission by basket value. In addition, our complete tracking solution works with any browser to ensure you will never miss a sale. Influencer tracking is a key feature of Awin's reporting, allowing advertisers to see which publishers are having an impact on consumers and encouraging clicks throughout the purchase journey without being the last touchpoint, and therefore potentionally being under-rewarded when looking at the wider channel performance.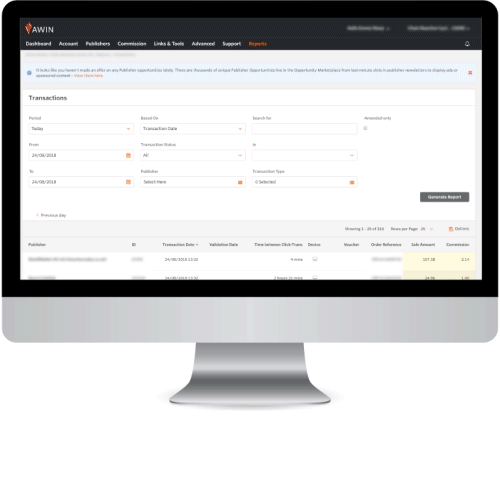 Cross device tracking
With an increase in recent years of multi-screening and over 65% of purchase journeys reported to be carried out across multiple devices, Awin's cross device tracking solution was developed to allow advertisers to reward publishers for multi-device journey transactions. The ability to track cross-device gives advertisers true understanding of how the performance channel drives customers, where previously anybody interacting with the channel across more than one device was instantly lost.
Awin's cross device tracking solution is based on a determinalistic algorithm and therefore offers the most accurate representation of multi device transactions we believe possible, using a database of unique user profiles to connect corresponding usage across multiple platforms.
These multi-device journey transactions are easily identifiable within our interface, and are depicted with a multi-device image within device tracking fields.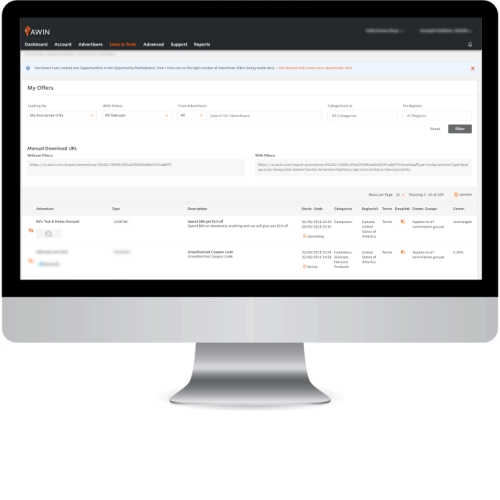 Voucher attribution
This feature allows an advertiser programme to give an exclusive voucher code to a publisher and track all transactions made using that code, even if no affiliate cookie is present, as well as if its been allocated to another channel by the advertiser. The publisher is rewarded commission for sales made using the exclusive code.
Voucher attribution helps to facilitate and open up partnerships between advertisers and social media influencers who are either unable to use affiliate links on certain platforms, or do not wish to use traditional tracking methods, with no setup involved for the publisher. It also provides an additional cost per acquisition (CPA) payment model, maintaining ROI for the advertiser and ensuring the control of spend against voucher code activity.
There are setup requirements needed in order to use this feature so please speak to your account manager if you'd like to know more about using this tool on the Awin network.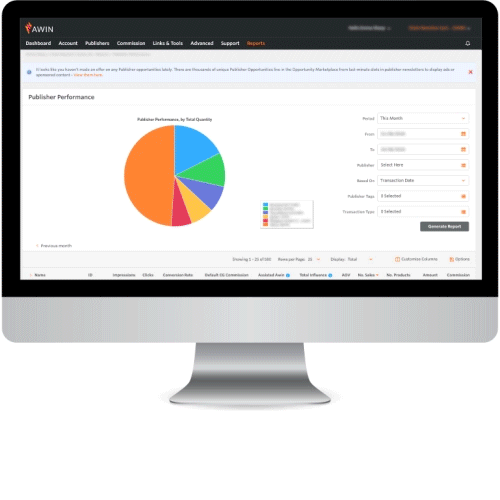 Commission flexibility
Awin's unique platforms offers a range of payment flexibility options which allows advertisers to collaborate with different types of publishers, across different campaigns or bringing new objectives into the affiliate channel. Within the interface there are a number of options:
Payment on Influence
Payment on influence allows an advertiser to assign a fixed commission amount for publishers who facilitate a click as part of a purchase journey, without obtaining the last click. This way of working is popular with upper funnel publishers, who are often influential in the decision making process during the research phase of a customer's journey.
Commission by Basket Value
The commission by basket value tool allows an advertiser to adapt their commission structure for one or more affiliates working on the programme for a fixed period of time. With no additional integration, defined limits can be added to allow publishers to be paid on a differing model to the main programme commission structure, which can be used to encourage increased order values through cashback and loyalty plaforms, key product ranges or focus on higher purchases across the programme.
CPC Campaigns
Using the CPC campaigns tool, advertisers can set up CPC (cost per click) agreements with publishers in a more streamlined way, setting rates and budgets for each campaign, as well as easily monitoring the impact these campaigns are having. Both advertisers and publishers will have visibility over the daily clicks tracked and a clear indication of what revenue is driven by CPC commission.
CPL or CPD Campaigns
We are able to run cost per lead (CPL) or cost per download (CPD) campaigns on a programme by programme basis, allowing advertisers to reward publishers for driving leads, newsletter sign ups, brochure requests or a range of other quantifiable actions. Cost per download campaigns are usually run on an app-download basis. If either of these options are something you'd like to discuss further, please contact our new business team.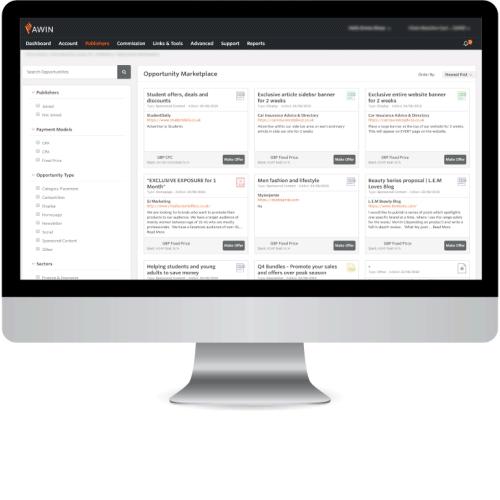 Promotional tools
Awin's interface has a number of tools to aid with the promotion of each advertiser's affiliate programme. Each of these are part of our standard programme set up and should be available to use on all programmes on the Awin network.
Opportunity Marketplace
Use Awin's opportunity marketplace to discover new affiliates to work with, and open conversations with them directly regarding their placement opportunities. Opportunity marketplace offers publishers a space to advertise any placements, blogs, and sponsorship opportunities to advertisers across the network from a centralised point, including details of reach, timing, cost and demographic relevance. Advertisers can then use these to contact and buy placements, find publishers with key demographic bases or test new promotional methods.
News Manager
Communicate new offers quickly and easily to your whole affiliate base via our News Manager tool. Create simple HTML layouts including tracking links which will autopopulate when sent out to each affiliate via our interface.
The Hub
The Hub is our portal for posting affiliate news and content related to your programme. The ideal place for key announcements, sale messaging, offers and new releases, all content can be added quickly and easily to the platform, and is connected to your advertiser profile.
My Offers
By adding key promotional messaging and landing pages to the 'My Offers' feed, publishers are given immediate access to these as soon as they go live. For any publishers using the Awin APIs, these offers will be automatically added to their site, immediately offering a wealth of affiliates to promote key offer messaging.