Awin Reports 27% Increase In Black Friday Online Shopping
Written by

Sophie Johnson on

.
Awin reported live data insights throughout Black Friday via their data visualisation website: www.awinblackfriday.com.
Share this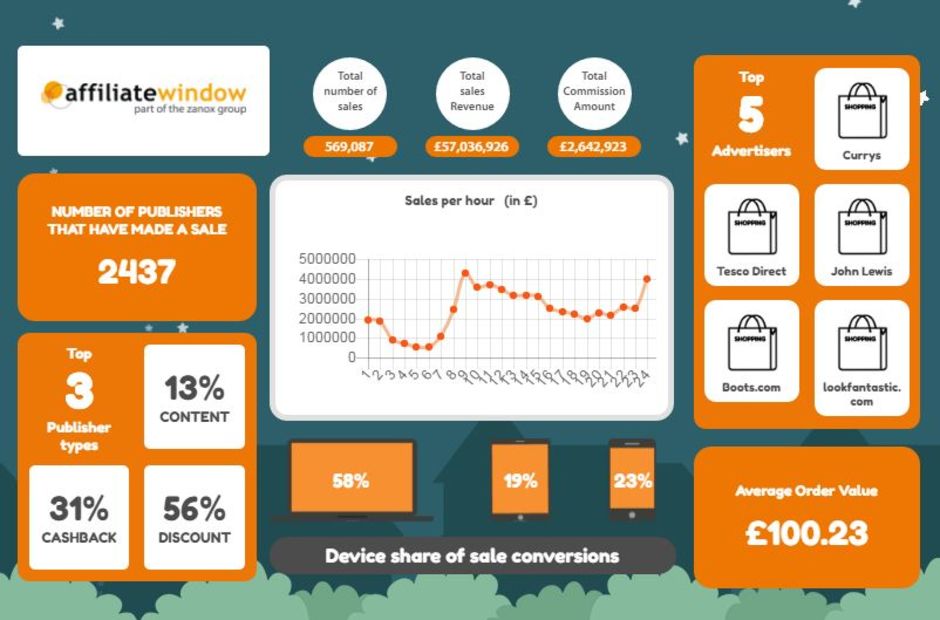 With over 2,000 of the UK's biggest eCommerce advertisers including the likes of Tesco, John Lewis, Boots.com and Currys, the website took thousands of visitors on a journey throughout the day and was updated hourly with key figures, learnings and commentary.
- Online shoppers spent over £57 million in revenue, amounting to almost £40,000 tracked every minute of the day
- Over 560,000 sales were driven, with consumer electricals remaining the most popular sector
- Consumer confidence to buy large ticket items was seemingly unperturbed, with the average spend per order rising from £93 in 2015 to £100.23 this year
- Sales for UK ecommerce advertisers were tracked from 156 countries around the globe
- 42% of sales driven were via mobile devices, with handsets driving almost a quarter of sales
Anjulie Truong, Operations Director at Awin says "We were excited to launch a live-data visualization website to share insights and trends live as they emerged. However, despite what was a phenomenal day of online trading, this year we have seen Black Friday wasn't just a one day event, with more advertisers starting their promotions earlier in the week. How this shift in trading will impact Christmas and January sales is yet to be seen, but what is clear is that Black Friday has secured it's place as a key trading event for online marketing."
Watch the whole story and see how Black Friday 2016 unfolded at: www.awinblackfriday.com
Ends
For press enquiries please contact:
Awin PR & Marketing Department
e: PR@affiliatewindow.com
t: 020 3761 6432
About Awin:
Awin is a global performance marketing network. The network offers global reach with 11 offices worldwide. In the UK, Awin is the largest affiliate network with 2,000 advertisers and 75,000 publishers across all sectors. We exist to provide clients with reach across the Internet, the best service and technology in our field, underpinned by a desire to innovate and challenge convention in online marketing.