Best (in class) Western programme migration and agency management
Written by

Jessica Brown on

.
Awin and Acceleration Partners successfully coordinated the rollout of Best Western GB's programme migration to exceed client objectives.
Share this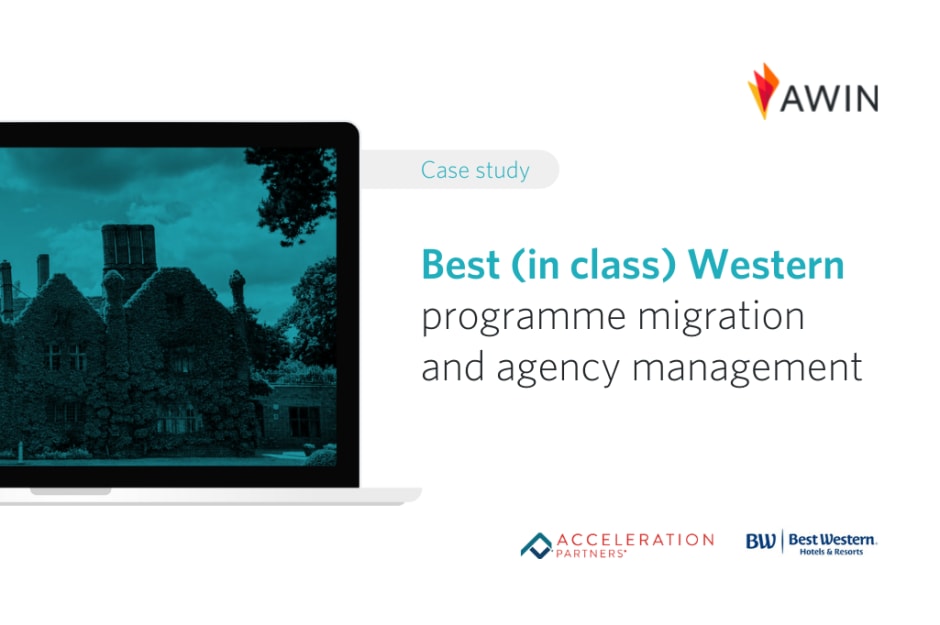 The travel and hospitality industries ground to a halt amidst the global pandemic; forced lockdowns and travel restrictions resulted in revenue shortfalls and declining consumer confidence.
Hotelier franchise, Best Western GB looked to streamline processes and leverage the performance-based affiliate channel to generate incremental revenue, understand consumer purchase behaviours, and to build consumer trust post-pandemic.
As a result of existing split affiliate activity across multiple affiliate networks and declining performance from top partners, Best Western GB tasked Acceleration Partners to manage the migration of their entire affiliate programme to Awin's global partner platform, for its industry-leading reporting, automation and service.
Objectives
Gain a holistic and real-time overview of affiliate programme activity
Manage programme reporting from one affiliate platform
Increase engagement and drive incremental performance from top programme partners
Scale performance activity using Awin's automated features
Leverage Awin's global affiliate platform to reward and incentivise publishers
The Solution
Acceleration Partners and Awin cocreated a migration roadmap for Best Western GB's top partners to the Awin platform. This was to ensure efficient and timely migration and to minimise revenue disruption for performance partners promoting Best Western GB.
Awin's reporting dashboard was ideal for migration optimisation; Acceleration Partners leveraged Awin to run partner engagement drives via the Awin publisher newsletter tool including branded imagery and video, and created bespoke commission rates for select top partners to incentivise performance. The flexibility of Awin's platform enabled Acceleration Partners to set up multiple commission rates, quickly assign these to the relevant programme partners and facilitate rate changes based on results and ad spend.
Acceleration Partners were able to contact each partner directly via the Awin platform sharing bespoke Awin tracking links, campaign assets and onboarding information. Formerly, Best Western GB's affiliate programme was fragmented between two platforms, making partner communication a time consuming process.
Once partners were migrated across to Awin, Acceleration Partners launched a partner engagement campaign, optimising partner communication via Awin's service support. Awin were on-hand to answer questions on contracts, pricing, tracking, validations, TQs, set-up and share knowledge and expertise with partners.
The collaborative process between Acceleration Partners and Awin was instrumental to facilitating a smooth, successful, and timely migration.
Additional value-added benefits from Awin's partner platform include:
Quick validations using the Awin Interface
Efficient processes in place for Transaction Queries using the Awin Interface
Holistic reporting across all programme partners
The Results
Best Western GB's top partners saw an increase of 57.65% in Month-on-Month revenue post-migration to Awin.
Partners bookings for Best Western GB increased by 74.49% during the same period.
Jessica Brown, Agency Client Partner at Awin commented on the migration:
"The results from the Best Western GB migration are testament to the strength of the partnership between Acceleration Partners and Awin. It's great to see collaboration between agency, network, and client drive performance success across affiliate channel activity, especially during a turbulent period for the travel sector."
Sophie Parry-Billings, Head of EMEA Marketing at Acceleration Partners stated:
"The impressive results of this migration are testament to the strength of the partnership between Acceleration Partners and Awin. By working in close collaboration Awin and Acceleration Partners were able to exceed client expectations during a challenging time for travel."
Chris Bowling, Head of Digital Marketing & Ecommerce, Best Western Hotels GB supported this:
"Combining Awin's powerful platform with the expertise of Acceleration Partners has allowed the Best Western GB affiliate program to grow at a pace we have never seen. After a few tough years for our industry being able to trust in these partners to deliver results consistently has been paramount to us."
For more information on how your agency can leverage Awin's partner platform contact the team here or access the Awin Success Centre here.