Awin, Currys PC World & Oculus: Supplier funded campaign success
Written by

Germana Mitrani on

.
Exceeding revenue targets by 79%, the Oculus and Currys PC World brand partnership is one of our most compelling supplier funded campaigns to date.
Share this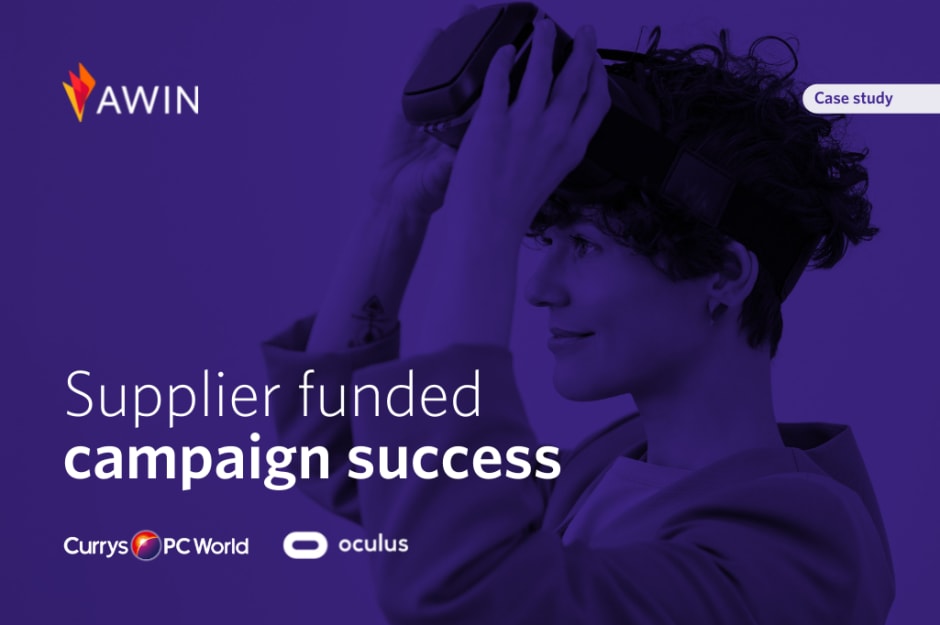 As a leading UK retailer, Currys PC World sell products supplied by all major global electronics manufacturers including Facebook's pioneering VR brand Oculus.
To elevate consumer awareness, and drive shared value growth, Currys PC World and its supply manufacturers frequently partner to deploy coordinated marketing campaigns. In doing so, the suppliers allocate marketing budgets to Currys PC World, who in turn leverage Awin's publisher base to drive product, category and brand level promotions. Widely referred to as 'supplier funding', this form of brand partnership is incredibly effective, delivering transparent and measurable results for all parties.
In early 2021, Oculus partnered with Currys PC World to launch their ground-breaking Quest 2 VR Headset. With a 79% over-achievement of revenue targets, the Oculus and Currys PC World brand partnership is one of the most compelling supplier funded campaigns Awin has enabled to date.
The Approach
Building on prior successes with the Rift, Quest and Go, Currys PC World enlisted support from Awin services to deliver an effective launch campaign for the Oculus Quest 2 virtual reality headset.
The campaign was centred on two key objectives;
New Product Awareness, measured by attainment of Awin traffic forecasts.
Revenue Generation, measured through Quest 2 VR headset, (and ancillary product) sales.
Awin facilitated partnerships with leading content publishers: Future Publishing and IDG. The content plan, targeting a Gaming audience, included sponsored articles on PC Gamer, Games Radar and Tech Radar and coordinated paid social ad campaign across Facebook, Instagram and Twitter.
The Results
The campaign proved a resounding success for all parties, delivering high-quality traffic and incremental revenues.
All traffic targets were met, with an average time on page of up to 3mins 18secs
Click targets were exceeded by +219%
Revenue targets were exceeded by +79.6%
Using Awin's commission group and product level tracking solutions, Currys PC World were able to report traffic and Quest 2 sales at an individual partner level. In doing so, they clearly demonstrated effective return on investment for the budgets allocated by Oculus.
"Supplier Funding is an ever increasing component of our activity – a fantastic way to engage with our suppliers and promote key lines to our customers through targeted campaigns. Helping our customers enjoy amazing technology is at the forefront of what we do, and collaborating with our suppliers through Supplier Funded campaigns helps us evangelise their brands and products in new and exciting ways.
Awin's management of these campaigns is seamless and swift, but also innovative as we try and find new avenues to promote our tech in an engaging way. Reporting and campaign analysis is key to help us ensure we consistently deliver the best experience for our customers as well as our suppliers by learning from past campaigns. It's definitely unlocked an array of opportunities with a host of publishers and we're excited to continue the trajectory of this part of our programme into the future."
If you want to learn more about supplier funded campaigns at Awin, please get in touch.