Awin launches Bounceless Tracking for all publishers
Written by

Edward Chaput de Saintonge on

.
Following the launch of Awin's Tracking Optimisation Plugin, Bounceless Tracking is also now available via our exclusive Publisher MasterTag technology. 
Share this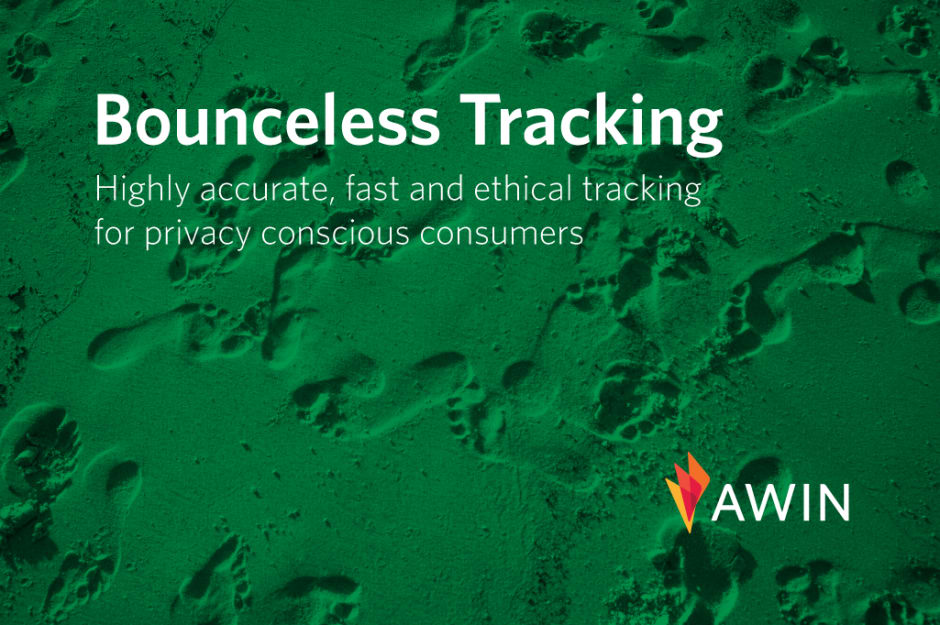 Optimise, automate and personalise are the hallmarks of the next generation of Awin's publisher tracking. As such, earlier this year Awin launched the Publisher MasterTag - a powerful piece of JavaScript that gives affiliates access to best-in-class third-party technology partners like Monotote and SingleView, with many more to come. Along with the Advertiser MasterTag, Awin is now able to offer advertisers and publishers alike an ecosystem of unique, innovative and revenue-boosting partners.
Using the MasterTag principles to facilitate and simplify the introduction of powerful solutions as a guide, Awin is proud to share it now has exclusive technology available for all publishers via our Publisher MasterTag – Bounceless Tracking and the recently-launched Tracking Optimisation Plugin.
Awin's "Bounceless" Tracking Innovation
Exclusively available within the Tracking Optimisation Plugin is Awin's new innovative tracking method Bounceless Tracking. Bounceless Tracking sends a user directly to an advertiser's website without any redirects. The tracking call is made asynchronously via the Publisher MasterTag without affecting the user journey in any way for smoother, faster user-focused affiliate tracking. In addition to quicker time to site – which correlates with improved conversion rates - Bounceless Tracking is our most accurate tracking to date and offers greater visibility on the referring pages, which can be seen in Awin's Transaction Reports.
Awin Tracking Optimisation Plugin
As browsers have reacted to the increased awareness and concerns over privacy, tracking across all digital marketing channels has become difficult and fragmented as user's choice of browser can have a major impact on the effectiveness of tracking.
Founded on privacy and respect for both consumers and restrictions put in place by browsers, Awin's Tracking Optimisation Plugin is personalised to an affiliate's users to ensure the highest chance of a successfully tracked click or sale. The plugin works with the current privacy requirements of the different browsers, selecting the tracking method based on the requested advertiser, the browser version being used, and the browser's privacy settings – going beyond a 'single tracking solution' to a 'best tracking solution.'
The Tracking Optimisation Plugin and Bounceless Tracking are only available in Awin's Publisher MasterTag and can accessed by any affiliate who has turned on and installed the MasterTag via our interface. While the Tracking Optimisation Plugin cannot be used to optimise links made with Convert-a-Link at this time, publishers can still use Bounceless Tracking for any affiliate link generated outside of Convert-a-Link. We recommend enabling both Convert-a-Link and the Tracking Optimisation Plugin within Awin's Publisher MasterTag to fully benefit from our innovate tracking solutions.
We are confident these releases will greatly boost confidence in the tracking accuracy of our channel to promote participant investment. For more information on the Publisher MasterTag, the Tracking Optimisation Plugin, Bounceless Tracking, and our Click Reporting, please visit the wiki or get in touch with your account manager.
Share this