Save the Date: Awin Group Retail Sector Insights Webinar
Written by

Joelle Hillman on

.
In our latest global sector webinar, Awin's Joelle Hillman interviews a mix of Awin and ShareASale partners to review recent performance in retail.
Share this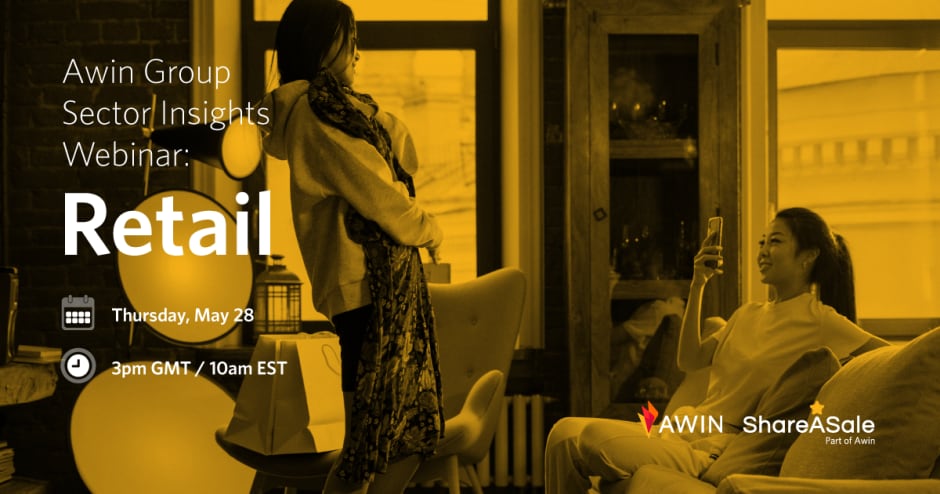 Retail is a sector that has arguably faced some of its biggest challenges over the last few months. And with ecommerce now taking on even more importance for merchants and consumers, the industry is facing rapid transformation across the globe.

For our latest sector-focused webinar, Awin's Joelle Hillman will consider some of the changes we've been tracking across our networks recently and then ask a mix of Awin and ShareASale partners to offer their opinions, insights and forecasts for the future of retail.
Join us to learn about the latest consumer trends, where there are opportunities for growth, and fascinating insights from our industry-leading group of panellists to help inform your own marketing and affiliate strategies.

Retail industry experts joining the panel:
Alastair Campbell, Chief Growth Officer, RedBrain
Chris Lloyd, General Manager, Reviewed
Laura Meunier, Associate Director Commercial (Global), Global Savings Group
Kristina Nolan, Vice President of Affiliate Marketing, DMi Partners
RSVP for the Awin Group Retail Sector Insights webinar here, and register your interest in our upcoming travel and fashion sector webinars too.
For more information on COVID-19, please visit our information hub where we bring you the latest news from Awin, as well as links to network insights and useful pointers, alongside wider updates.
Share this