Join Awin at PI LIVE 2021
Written by

Samantha Sherer on

.
We're delighted to be back in person at PI LIVE 2021. Meet with us to learn how Awin can elevate your performance marketing efforts. 
Share this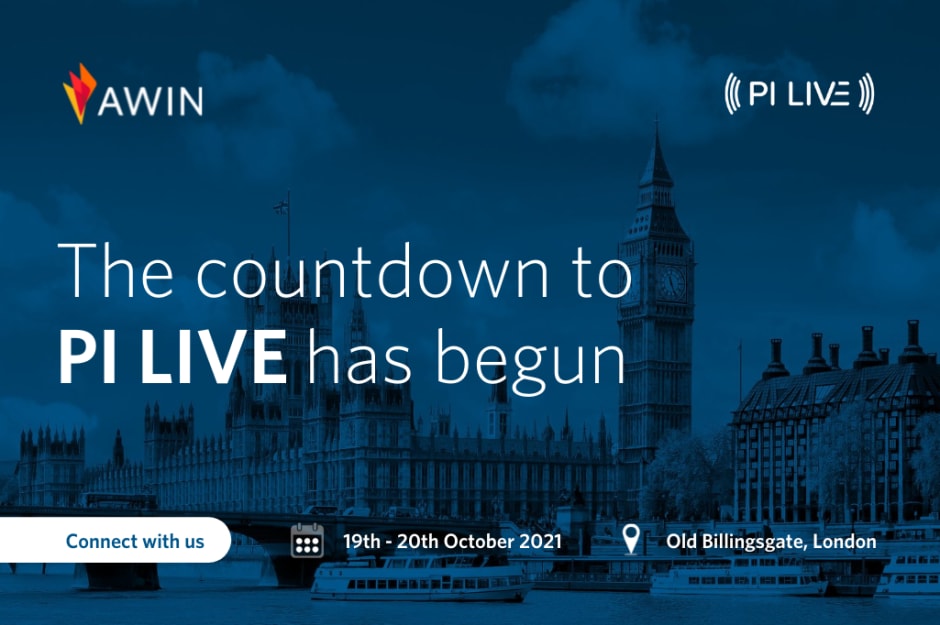 Awin is proud to be returning as headline sponsor of PI LIVE for the 14th consecutive year, and we're excited to share with you our plans for the conference.
Across the two days, Awin will be on hand to chat about how our platform can further optimise your digital marketing strategy like we do for our 16,500+ brands and 225,000+ partners.
Here are all of the ways to connect:
Awin stand
Centrally-located on the show floor between the two stages and beverage garden, find us at booth 9, where team members across the business - from advertiser and agency delegates, to publisher and new business representatives, our client partnerships team, SingleView staff and more – are available to answer any question you might have about Awin and how we can enhance your affiliate marketing activity.
Additionally, you can learn how Awin is helping 150+ clients benefit from brand-to-brand partnerships to increase customer loyalty, improve partner diversity and grow sales and revenue. To understand how brand partnerships can support your own digital strategy, book a consultation or speak to Awin ahead of PI LIVE by getting in touch here.
You'll also be able to pick up a copy of our special report The future of affiliate and partner marketing, which offers exclusive insights into how the channel will continue to drive ecommerce over the coming months.
Sessions
Why the Dawn of a New Ecommerce Baseline Means You Need to Demand More from Your Affiliate Platform | Ian Charlesworth, Regional Managing Director | 19th October at 12pm at Rakuten Stage
The mass adoption of online shopping, combined with the migration of many businesses to the internet and marketers finally fully embracing performance-based ad models, have broken affiliate into the mainstream once and for all. But with that added interest and investment come a new set of dilemmas: increased scrutiny and expectations of what the channel can deliver. This new ecommerce baseline means you need to demand more from your affiliate platform. More sophisticated tools, more robust tracking, more flexibility of service. In this session, Ian will show how the landscape has changed forever and why it demands a new set of expectations from affiliate platforms if the industry is to truly capitalise on its sudden popularity.
What's Next for the Performance Media Agency? | Jess Brown, Client Partner | 19th October at 12pm at Tipser Pyramid Stage
An unfiltered discussion of the challenges facing the performance media agency in a world of increased automation and decision control from Google, Amazon, Facebook and Apple. The role and relevance of the performance media agency of today and how brands can capitalise. Within this session you will discover the areas of greatest opportunity to drive growth in an increasingly competitive and complex digital landscape.
Convincing Your Head of Product About Your Next Affiliate Innovation | Jelle Ploeg, Global Strategic Partnerships Manager | 19th October at 2pm at Tipser Pyramid Stage
Choosing your next affiliate innovation is a relatively easy task in the era of light, forward-thinking, agile partners. Unfortunately, while on-site technologies are among a crop of partners that are changing the face of the affiliate, getting sign-off is an unconventional path. Join RevLifter's Caroline Oswald and Awin's Jelle Ploeg for a fireside chat around the secrets that often prevent affiliate managers, publishers and tech partners from getting the green light on their grand ideas.
How Do We Retain Talent in this Niche Industry | Alex Parmar-Yee, Client Partner | 20th October at 12pm at Rakuten Stage
The increasing talent shortage within the digital marketing industry seems to be a large problem across the board. This session will look at: How to future proof the industry and create learning and growth opportunities; innovative initiatives like the four-day work week at Awin and if companies are going to be going be further to attract potential recruits; and what programmes are out there to help combat this.
Finally, our fingers are crossed for the International Performance Marketing Awards, where Awin and are clients are shortlisted 8 times. The IPMA 2021 ceremony will take place on 18th October, the night before PI LIVE kicks off. What a perfect way to begin PI LIVE and carry a sense of celebration from the winners' reveal during the following two days.
You can keep up to date on all of Awin's activity across the two days by following us on social and by following #PILIVELNDN21. We look forward to seeing you on 19th October.
Additional ways to connect:
Share this