Publisher Spotlight: Particular Audience
Written by

Liz James on

.
Creating a different website for every customer, Particular Audience are a market leading, ecommerce solution for product discovery.
Share this
Particular Audience are a diverse team made up of former executives of Google Ventures, Sequoia China-backed personalisation and data analytics companies and ecommerce professionals from the likes of IKEA and Google.
This product discovery partner leverage technologies that mean they can show customers visually similar or descriptively similar items depending on the item they are currently looking at alongside utilising recommendations based on user behaviour.
Who do you work with?
Particular Audience work with some of the world's largest brands across a large range of verticals from luxury to fast fashion, electronics and white goods giants, to leaders in the homewares and pharmaceutical verticals.
They also work with marketplaces, including service marketplaces, which is proving to be a huge opportunity; forcing the evolution of their platform to account for real-time availability of online consultants.
How have they been helping retailers combat the challenges of COVID-19?
Retaining optimism for the future of ecommerce despite the current pandemic, the team are aware that discretionary spending has decreased which is putting pressure on certain areas of the retail sector. However, they believe that the global financial crisis, SARS and now COVID-19 have equipped them with the knowledge and tools to help retailers crisis-proof their businesses.
They came up with three rules to help retailers work towards doing just that:
Make things available when there is a demand for it.
Leverage dynamic pricing models to maximise sales volume and balance margins.
Help customers find the products they are looking for, and know when to substitute unavailable items with similar items.
Allowing retailers to monetise their own sites from their suppliers is an example of the sort of innovative ways Particular Audience are ensuring their clients succeed.
"We are here to help retailers with their evolving digital-first strategies, allowing them easy and affordable access to automation and machine learning technologies. Pro-actively managed by experts". - James Taylor, CEO and Founder
Success Stories: Life Pharmacy
Particular Audience often refer to Pareto's Law in their activities; the theory that 80% of a company's total revenue comes from 20% of their items.
For example, they have partnered with New Zealand's largest online pharmacy, Life Pharmacy where 80% of their revenue came from just 16.8% of their items. They managed to double this to over 33% by using various algorithms to surface relevant long-tail items to the right customers.
This resulted in a total 23.41% increase in sales; cementing the belief for this affiliate that there is so much value in the long-tail of products just waiting to be unlocked.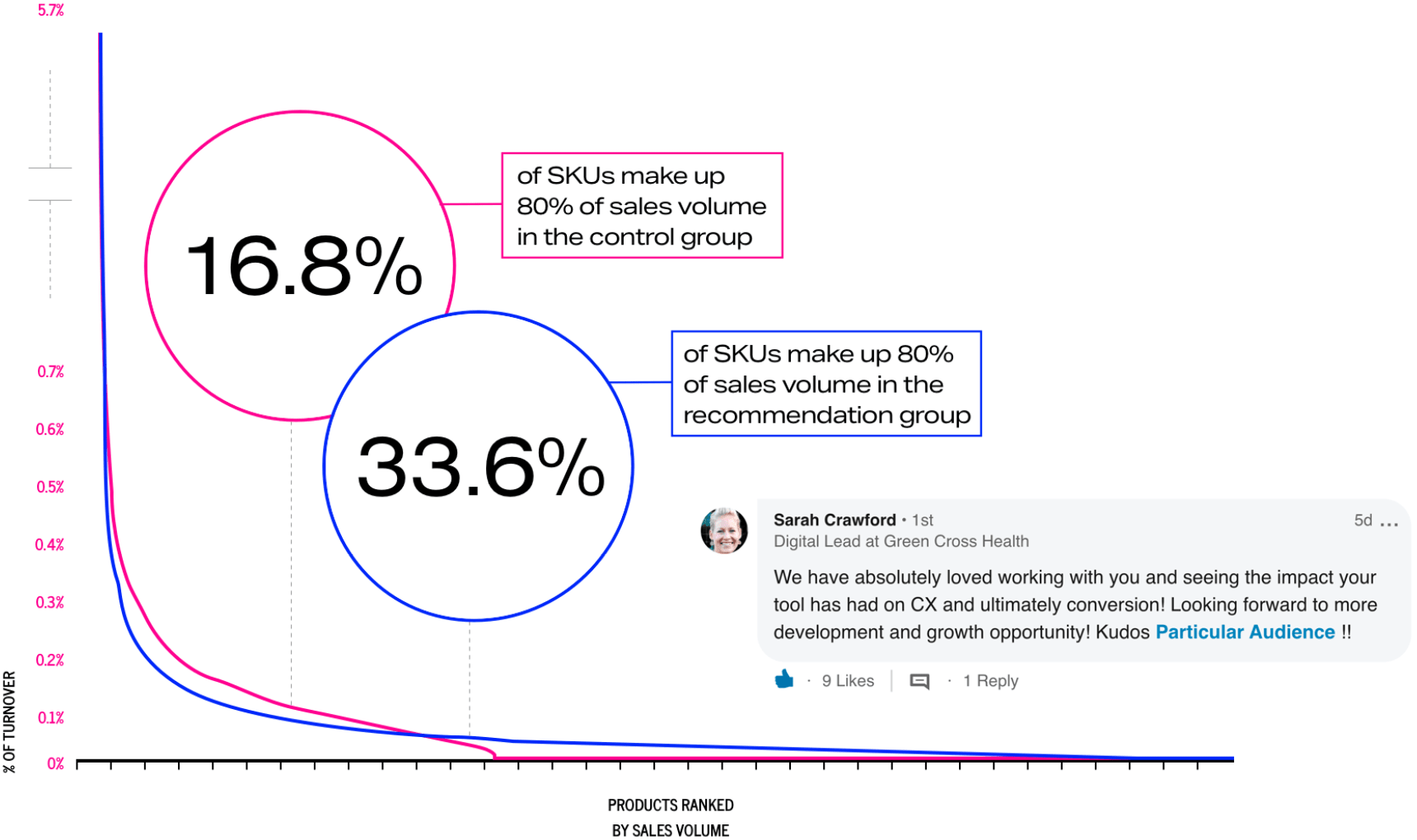 How does a brand integrate?
The integration is seamless. For an advertiser, all that needs to be done is to copy-paste their Javascript tag into the tag manager, similar to the process of adding the Facebook pixel to the website.
Partners: Particular Audience & Awin
"Working with Awin has been an incredible experience. We operate in a symbiotic manner by converting the additional traffic by providing an unmatched customer experience. The strong relationship that Awin has with their clients is clear and our partnership has only just begun. We are rapidly expanding globally and Awin are helping us achieve exposure and reputation in new and existing markets". - Tom Dredge, EMEA Sales Manager, Particular Audience
To find out more about Particular Audience and how you can work with them, please get in touch with Tom Dredge.