Unlocking new revenue streams with affiliate app tracking
Written by

Megan Lyons on

.
Discover how The Very Group achieved +36% revenue, +18% average order value and +21% conversion rates by implementing app tracking.
Share this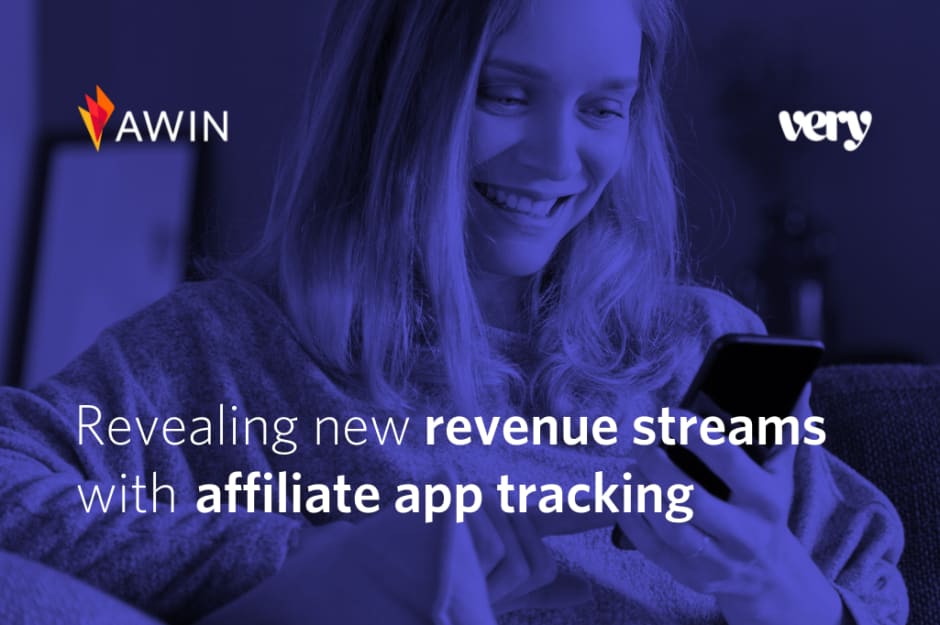 2020 was the year of app tracking at Awin and the numbers speak for themselves - 6x more in advertiser revenue, 1.7x more in publisher commission and 1.5x more integrated advertisers who exceeded 1,000 tracked app sales. What's more, Awin's earliest adopters have achieved up to 80% higher conversion rates and AOVs 3x higher than their standard affiliate programme.
As a well-established online retailer in the UK, The Very Group recognised this untapped opportunity and wanted to implement app tracking across its affiliate programme to drive more revenue, grow its customer base and attract more high-quality partners. Outside of wanting to enjoy the same benefits app tracking has afforded Awin advertisers overall, the decision to incorporate in-app tracking across its affiliate programme was supported by the realisations that The Very Group consumers purchasing through its app have a higher lifetime value than non-app shoppers and that there was a drop in conversion rates year-on-year from increasing purchases on mobile.
Pivoting to the forefront of innovative tracking
Mobile is playing an increasingly pivotal role in the affiliate channel, contributing a larger share of overall traffic than desktop for most publishers. In fact, 62% of all sales across Awin's global network in 2021 so far have both initiated and converted on smartphones. What's more, influencers now see up to 83% of sales tracked via app and, as such, more publishers are prioritising advertisers with app tracking across their affiliate channels. Awin recognises the crucial role in-app tracking plays in this, and how it helps ensure data accuracy, partner recognition and the future overall health of a programme.
Following the consumer insights The Very Group highlighted and a seamless integration of app tracking onto the affiliate programme, Awin got to work on determining how to best measure whether this new strategy was worthy of its investment. It ultimately decided on two overarching metrics.
Revenue generation
Awin knew that implementing app tracking would ultimately increase consumers' average order value (AOV) and felt a target of growing app AOV by 15% was ambitious, achievable and an accurate measurement of whether app tracking had a positive impact on overall revenue generation.
Customer reach
Awin also investigated the increase in customer lifetime value through the affiliate channel and what it found was a customer's order frequency is, on average, 85% higher in app compared to when shopping through mobile web. With this information, the team aimed to increase customer reach by tracking improvements to total sales generated and conversation rate. With app tracking, Awin also felt strongly that The Very Group could not only grow overall customer reach but improve new customer acquisition and customer retention as a result compared to the desktop shopping experience, and that these two metrics would prove this.
The results
At the close of 2020, it was clear implementing app tracking across The Very Group affiliate programme was a resounding success. Nicola Hughes, Affiliates Lead at The Very Group, shares the positive impact they've seen with app tracking now an integral part of the channel activity:
+27% AOV for in-app purchases, with app transactions having an 18% higher AOV compared to non-app purchases
+36% app-generated revenue
+30% app sales
+21% in-app conversion rate
Alongside these performance improvements, with app tracking The Very Group was able to better reward a publisher's contribution in the sales funnel, as well as obtain insight into partners currently under recognised across the affiliate programme.
This didn't go unnoticed by partners across The Very Group affiliate programme, with TopCashback Senior Partnership Manager Eniola Ogunbanwo stating, "The Very Group and Awin have been at the forefront of ensuring that all publishers are rewarded fairly for their performance. As part of that, they recognised the need for a strong mobile strategy due to consumer shifts in behaviour which led to the implementation of app tracking. As a result, we've seen increased consumer engagement and 19% of Q1's overall revenue driven by app transactions."
All together, these insights have been applied to The Very Group's ongoing strategy for the affiliate channel across 2021.
Ready to join The Very Group in the affiliate app tracking revolution? Get in touch.