MoneySuperMarket boosts customer acquisition with free credit checks
Written by

Lee Metters on

.
MoneySuperMarket, Buymobiles and Mobiles.co.uk leverage brand partnerships to generate +35% referrals and +31% credit check applications.
Share this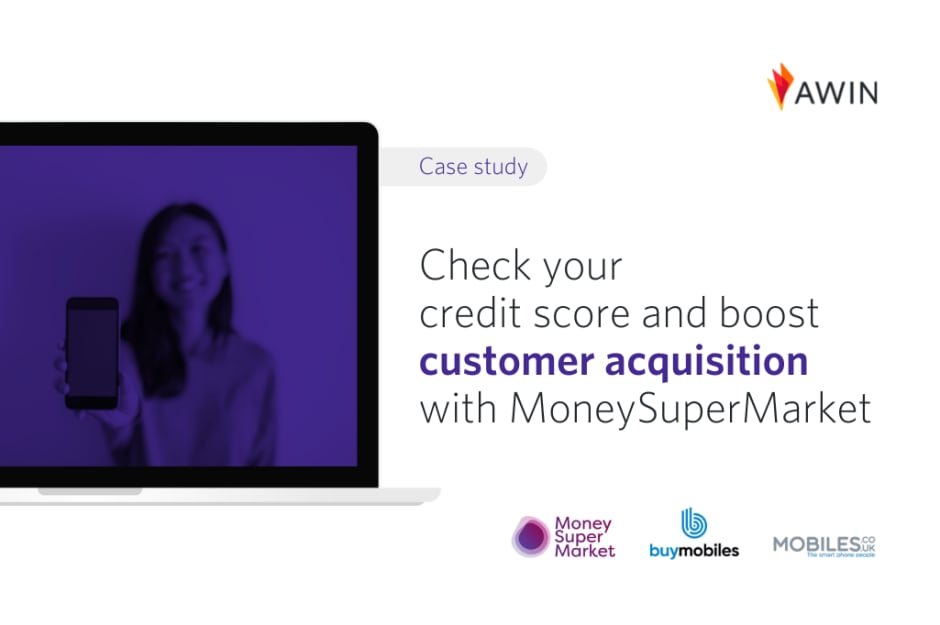 British price comparison website, MoneySuperMarket specialises in saving consumers money across financial services ranging from: energy, car, home and travel insurance, mortgages, loans and credit cards.
MoneySuperMarket approached Awin to help optimise opportunities to attract new customers and upsell additional MoneySuperMarket products and services via the MoneySuperMarket Credit Monitor; a free credit check service which acts as a customer acquisition and retention tool.
Objectives​
MoneySuperMarket established three KPIs to frame the brand partnerships campaign:
To diversify their existing partner portfolio
To drive new customers and retain existing users
To build brand awareness via the Credit Monitor tool
Approach​
Awin's Brand Partnerships team identified affinity retail partners, Mobiles.co.uk and Buymobiles, to implement customer targeting for MoneySuperMarket. Both mobile phone providers already initiated customer assessments for phone contracts by conducting a credit check.
Customers were retargeted following completion of a purchase, or if they failed a credit check. Depending on the outcome, customers received an email invitation to "Check My Score" with MoneySuperMarket.
Both brands added partner information promoting the Credit Monitor product to their customer account pages and as a recommended next step at their purchase checkouts. For synergy, MoneySuperMarket built tailor-made landing pages with Mobiles.co.uk and Buymobiles logos to ensure a consistent customer journey.
Results​
The confidence that all participating partners had in the campaign meant that the Credit Monitor was pushed via additional marketing channels, including onsite and via customer emails. This collaboration was valued as a new revenue stream for Mobiles.co.uk and Buymobiles, and both brand partners kept the campaign live and continued to offer the product as a value-added upsell.
+31% increase in credit check applications at launch
+35% of total applications were referred by partner brands
+76% of transactions came from brand partners during peak
Omer Mustafa, Commercial & Partner Manager, A1 Comms:
Our partnership with MoneySuperMarket has allowed us to provide our customers with an added value service extension beyond the purchase of their mobile phone contract. By offering a free credit check, we've been able to provide customers a better user experience, while improving our conversion rate on orders that might have otherwise been declined by the network.
Hannah Palmer, Partnerships Account Manager, MoneySuperMarket:
Brand Partnerships via Awin has really helped us to scale our Credit Monitor product. Through our partnership with Buymobiles and Mobiles.co.uk we've been able to target an engaged cohort of customers to provide them with a timely offer that enhances their mobile phone purchase. In addition to providing value to the end customer, we've been able to enhance our own rate of conversion for customer credit checks. We're excited by the future of our partnerships and look forward to working more closely with our partners.
Launch your own brand partnership with Awin
Sign-up today and start your brand partnership journey with Awin. The sign-up process takes no longer than 10 minutes and provides Awin with information about your brand, your objectives and your promotional inventory, that we then use to match relevant brands. Once vetted by our partnerships team, your brand is then added to our brand partnerships discovery matrix, showcasing your brand and all of your exciting opportunities to potential partners.
Leverage our #AwinningPartnerships to boost your affiliate activity, get in touch with the team to learn more.