Wolverhampton Wanderers reward fans powered by Awin brand partnerships
Written by

Lee Metters on

.
Wolverhampton Wanderers increased fan subscriptions and generated +510% inbound revenue through Brand Partnerships.  
Share this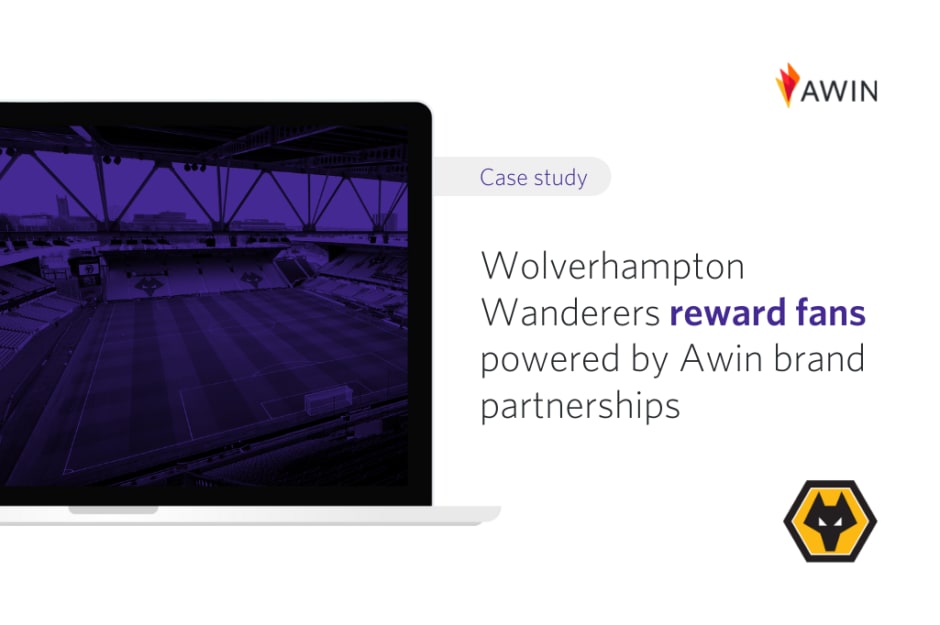 Wolverhampton Wanderers are one of the fastest growing professional football clubs in the UK, with one of the most engaged fan bases in world football. With progression ingrained within the club's philosophy, both on and off the pitch, growing their supporter base and engaging with fans remains their ultimate aim as they strive to compete with some of the biggest clubs in the world.
Wolves launched their fan loyalty platform, Wolves Rewards, in June 2021 with the aim of engaging supporters with attractive, money saving, offers. It also provided supporters with an additional reason to subscribe to the Wolves marketing database and to opt-in to receive third party offers. The rewards platform provides partner brands with an optimum advertising space to promote their products or services, whilst also creating a new inbound revenue stream for the football club.
With over 30 brand partnerships launched within the first three months, Wolves are leading the way in this new age of supporter loyalty. By partnering with Awin, Wolves have been able to better scale, track and monetise their fan rewards platform.
Objectives
Wolverhampton Wolves established three clear objectives upon launching brand partnerships with Awin:
To grow the number of subscribers to the Wolves database.

To provide fans with exclusive reward benefits from UK retailers.

To generate an inbound revenue stream for the football club.
Approach
In partnership with Awin, Wolves were able to access thousands of UK brands across a number of different sectors. With Awin's support and existing brand relationships, Wolves were able to partner with different retailers, of which shared complimentary customer values with their own supporter base, including Beerwulf and Alton Towers. Wolves were able to optimise supporter loyalty via brand partnerships, partnering with BT and Sky to provide fans with streaming offers for televised fixtures, and collaborating with Travelodge to enable fans to cash in on discounts for an overnight stay after a long distance away fixture.
By onboarding partner brands across different sectors and industries, Wolves have been able to secure a variety of fan-based rewards whilst also monetising their existing Wolves Rewards platform.
In exchange for referral commission payments, partner brands were given access to a highly engaged cohort of football fans, and with offers gated behind fan logins, partner brands had peace of mind that their exclusive discounts and promotions would not be leaked publicly.
The Results
Since partnering with Awin and introducing brand partnerships into the Wolves Rewards platform, Wolves have generated:
+10k

increase in the number of subscribing fans.

33

new partnerships formed within the first three months.

+510%

average uplift in inbound revenue.
"The Awin platform underpins our supporter reward programme, giving us easy access to a multitude of offers which can be used to engage supporters across our digital channels."
James Gibbins, Supporter Insight and Loyalty Manager at Woverhampton Wanderers
Launch your own brand partnership with Awin
Start your brand partnership journey with Awin by completing our opt-in form. The form provides Awin with information about your brand, your objectives and your promotional inventory, that we then use to match relevant brands. Once vetted by our partnerships team, your brand is then added to our brand partnerships matrix, showcasing your brand and all of your exciting opportunities to potential partners.
Leverage our #AwinningPartnerships to boost your affiliate activity, fill out this form or get in touch with the team to learn more.