Meet Awin's new Agency Partner, Jessica Brown
Written by

Rosalyn Berrisford on

.
Our Client Partnerships team's newest member, Jessica Brown, tells us about her move from publisher side to take up the newly developed role of Agency Partner.
Share this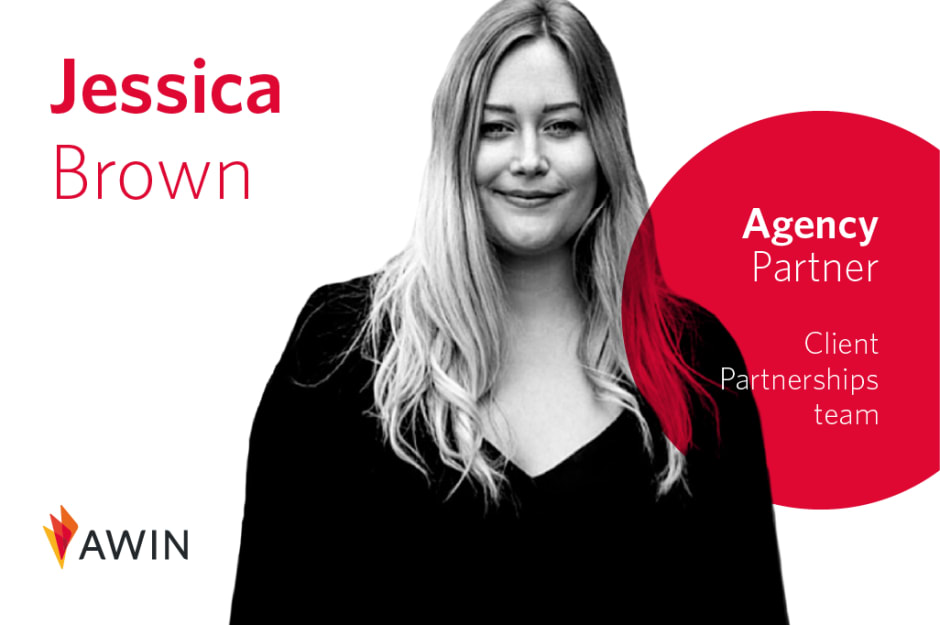 We caught up with Jessica to discuss her industry background, new role, and what her plans are for enhancing Awin's Agency strategy.
What was your past role and how long have you worked in the affiliate channel?
My previous role was Client Services Manager at The Groupon Reach Network where I worked for five years. I was tasked with growing agency brand performance and strengthening partnerships which expanded from just vouchercloud across The Mirror, Mumsnet, The Guardian and Groupon when vouchercloud & giftcloud were acquired in May 2018. Before that, I worked for a creative agency in Cheltenham and Teradata eCircle on the Lead Gen side of things.
Why did you want to join Awin?
There were a couple of factors; the main one being that I've become very committed to flying the affiliate flag across the world of agencies and being publisher side had its limitations. We had made great progress across the five platforms at The Groupon Reach Network with our top agencies and it was a difficult decision to leave the job and team there. However, the opportunity to continue my agency and affiliate relationships on a much larger platform such that Awin offers was too great to turn down. I'm so excited to let everyone know about some of the projects we've already started working on.
What's it been like starting at Awin during lockdown?
I've worked with a lot of the team at Awin for years so it was a smooth transition for me. Everyone has been ultra-friendly and there are so many social activities to get involved with despite being in lockdown including Yoga, HIIT workouts at lunchtime, virtual pub quizzes and my personal favourite – Awin Radio every Friday. Joining a brand new department in the Client Partnerships team is also exciting. Although the team, Roz, Joelle & Alex, have been at Awin almost 25 years between them, the strategy and insights we are pulling are all from a new perspective so its great to be a part of.
What is your remit in the new Agency Partner role?
For me the role of Agency Partner at Awin is to build out completely new partnerships and put the spotlight on existing agency relationships. In the affiliate industry, agency voices aren't always heard, with a lot of the attention traditionally being given to networks, advertisers and publishers. With the great relationships that Awin have, I want to ensure the lines of communication are wide open and as a best in class network, we are providing a bespoke service for varying sizes and technical needs of our agencies.
In addition to this, the Client Partnerships Team with our in-house sector specialists Joelle, Client Partner Retail & Travel and Alex, Client Partner Telco & Finance, headed up by Client Partnerships Director Roz, means that we can collectively offer industry trends and insights to all our agencies as well as advertisers and publishers across Awin.
Can you talk us through the types of Agencies that you will be working with? Are there different considerations for working with different partners?
When working with a partner; advertiser or agency, flexibility is essential and a bespoke strategy based upon the size, spend and goals that we are looking to achieve are all considerations. For example, performance marketing agencies may be more up to date on what's happening within affiliates versus a full-service agency that manages a brand's global marketing channels. As such, relevant content to suit our agency audience and offering support with the affiliate channel has been a key part of my approach.
A side from this, with the wealth of experience and knowledge across the Awin business, the aim is to give every type of agency from 1-1,000 employees access to relevant newsletters, events, a dedicated agency hub and webinars to unlock new opportunities. Which also provide training around upcoming product launches and updates as soon as they are released.
What are your main plans for how to enhance Awin's relationship with Agencies?
Awin's agency relationships have a key place in our core company OKR's so it's never been a better time to create networking opportunities across the whole spectrum. Being based remotely is a plus when it comes to visiting agencies and I am available to work from wherever needed. However meeting up with our partners in Awin's London office is also valuable for teams internally to have a chance to meet the contacts they are working closely with day-to-day. Communication between, agency and network is key and it's going to be a lot of fun bringing the different teams together, so I'm really looking forward to putting on some post-lockdown 'Media Thursdays'.
When aligned, agencies and networks have the resource to drive forward innovative opportunities for advertisers, publishers and brand-to-brand partnerships to collaborate on with previously award-winning results. I am keen to offer a chance for these conversations to happen more frequently with our new agency approach to staying informed with the latest insights from the Client Partnerships team.
Finally, what are you most looking forward to about the role?
This is an easy one – I am most looking forward to working with the amazing team at Awin. I've already learnt a lot in the few short weeks since starting and the ease of reporting and level of transparency we can offer our clients is also vast and exciting. For example, Awin partner with Singleview and can offer an insight into where advertisers' affiliate activity fits within the wider marketing spend and ROI – which has already unveiled some interesting results. I am excited to explore this across our agencies and work with them to strengthen the level of data-driven insights we can share.
Interested in hearing more from Awin's Client Partnerships Team? Join their upcoming webinar on Thursday, 11th June and sign up to their newsletter here.
Share this