Button Reach: How is the new partnership helping Awin's advertisers and publishers?
Written by

Edward Chaput de Saintonge on

.
Three months after announcing a pioneering partnership with Button, what has Awin learned about how app-tracking is transforming affiliate campaigns? 
Share this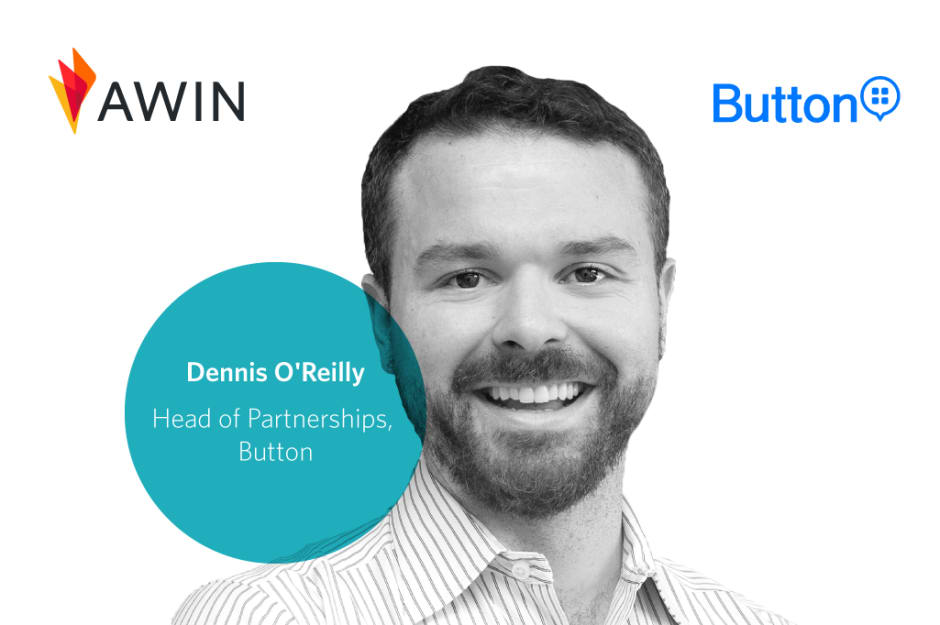 Awin is on an industry mission to track all in-app affiliate sales.
In July we announced an exclusive deal with leading mobile platform Button empowering publishers and advertisers to track across the entire mobile journey. Three months on we speak to the company's Head of Partnerships Dennis O'Reilly to find out more about Button Reach and how it is changing advertiser understanding and management of their affiliate campaigns.
What does the new mobile partnership with Button actually mean for Awin brands?
Dennis: Simply put, Reach™ unlocks app sales and installs for Awin brands across their affiliate programs. It helps publishers offer better user experiences without having to worry about links, compliance with incentivised publishers, Apple's Identifier for Advertiser (IDFA), and all the nitty gritty that's been a headache historically. 
Affiliate teams, who typically don't get credit or contribute to mobile growth, can now become an asset to the broader mobile organisation at their companies. All of this takes place while ensuring publishers remain fairly compensated for driving app activity and that there are no breakages in the chain.
What makes Button's technology different from that of other vendors in this space?
Dennis: There are a couple core differences between Button's approach compared to existing tech out there. 
First, Button's tech sits on both the publisher and advertiser sides in their apps, so we don't rely on redirect links. This gives us a few more levers to pull over the user experience. For example, we have a patented innovation called AttendedInstall which allows us to drive installs without leaving the publisher app.
Second, unlike many other technologies that are priced on clicks or views or installs, Button is paid out on a percentage of sale so it's always been in our best interest to ensure the app affiliation persists without dropping the user or sale.
But again, Button is not meant to supplant other mobile tech. We've taken strides to ensure all advertiser data makes it to those platforms for partners such as AppsFlyer, Adjust, and others.
Looking beyond mobile and app, what can Button offer Awin brands to improve their affiliate programs?
Dennis: Outside of app stuff, we're trying to build a dynamic and personalised affiliate ecosystem. Compared to social, display, and programmatic, whose currency is targeting and personalised ads, the affiliate channel has historically been fairly static, meaning it's not uncommon for affiliates to get the same creative unit or offer. Button's latest product launch, Button Evolution, enables brands to target across publishers and offer dynamic offer rates to users. Best of all, these are compatible with all Awin brands regardless of whether they have an app or not.
One Awin brand, a leading sports apparel company that's on Button Evolution, has already experienced a 108% increase in revenue against its return on advertising spend target. We were able to determine that 7% cashback rate maximises for both conversion and efficiency while a 13% cashback rate maximises for revenue, with both rates far exceeding the brand's ROAS targets. From this, we pinpointed the rates that delivered the highest lifetime value and average order values.
Long story short, we're seeing that these tests raise affiliate conversations higher up in the organisation because affiliate teams can make data-driven decisions with the backing of their analytics teams.
You mentioned personalisation, can you expand on Button's approach to personalisation?
Dennis: Personalisation means many different things in marketing based on the advertiser, organisation, channel, and so on. To Button, affiliate personalisation is moving away from static, one-to-one, "here's a link, drive me some sales" partnerships. Much the same way programmatic has automated and refined CPM-based buying with audience matching, we believe personalisation will allow marketers to be smarter with their spend across publishers, which in turn will push the affiliate channel into the mainstream and win over budgets that are not as performance-oriented as affiliates. 
A good example of this in the wild is seen in many rewards-based publishers. I see the same exact offers for cosmetics and back-to-school gear as my sister. I don't have kids and I don't wear makeup. At Button, we think by providing the right users with the right creatives at the right time, that would yield better engagement, sales, and satisfaction for customers, publishers and brands.

Button's new personalisation solution presents each individual consumer with the most relevant offer through machine-learning-driven ranking to maximise the efficacy of every dollar spent by marketers. By modelling user preferences and past purchase behaviour, every customer is shown a unique experience leading to higher revenue and engagement. This product is built to directly integrate with brand CRMs so that first-party data from brands and advertisers can be used to enable precise, secure, and privacy-first targeting to yield never-before-seen capabilities and results in affiliate marketing. 
What makes a brand partner in Button's eyes, and what kind of partners are you looking to work with?
Dennis: We love working with innovative partners who are also looking to propel this industry forward. We love to test, develop products, and experiment with our partners. Basically, those who are not just looking for a faster horse! 
The brands that get the most out of our new partnership with Awin are those that are looking to weave their affiliate teams within the larger fabric of their mobile organisation so they can work more cohesively and all row in the same direction. That hasn't been the case for many brands. It might take a bit more work to build the foundation, but for those partners willing to take the leap, there's a huge opportunity to revolutionise this industry.
Can you give any advice to advertisers who are at the beginning of their app journey so that they can begin in the best possible way?
Dennis: Before you build anything, understand how your target consumers buy on desktop and on their phones. What devices do they use currently? How does the repeat purchase rate look like? How much time do they take to make a purchase? How do they buy? Do they use the guest-check out or create new accounts? Do we need a commerce plug-in like Apple Pay or Affirm? Lots of these answers will provide a roadmap for how you should support your app with promotions and optimise it for UX and conversions. 
Also, focus on the mobile user experience first. It's better to build a strong foundation first, followed by reassessing if an app strategy makes sense. Some brands may not need an app and that's fine. 
Awin advertisers who are keen to understand about more about Button should speak with their account contact or email our Global Strategic Partnerships team.
Share this