Awin HQ & DACH move office to a new location in Berlin
Written by

Sarah Ruzgar on

.
Last week we moved into our new HQ and DACH office in Potsdamer Platz, the heart of Berlin's newly developed business district.
Share this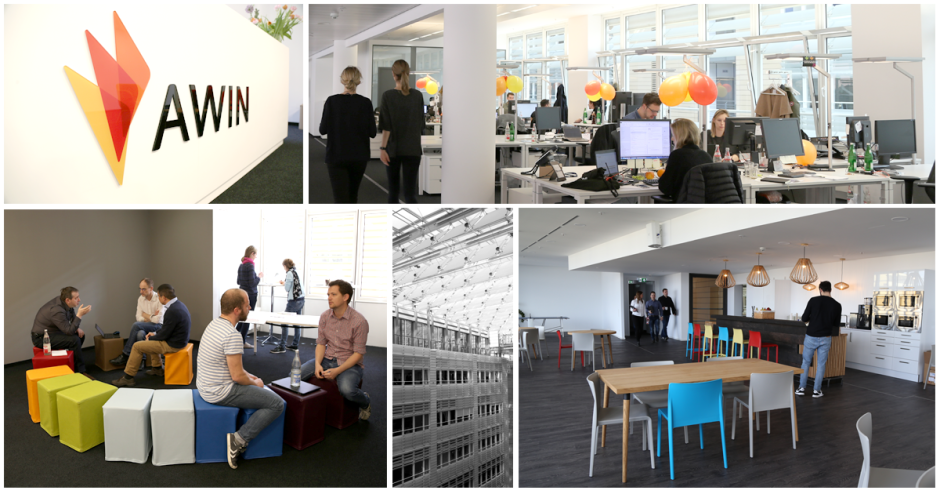 What better way to start a new chapter as Awin than with a new environment?
The relocation follows 13 memory-filled years at the Spreespreicher building, a former warehouse on the Spree next to the Oberbaumbrücke on the border of Friedrichshain and Kreuzberg. The decision to move wasn't an easy one, given the history and local charm of the neighbourhood. But what began in 2000 as a small start-up, has grown into a global network employing over 900 staff. With 260 colleagues located in Berlin it was time to find a space that could accommodate our team as we continue to expand.
At 106m, the Atrium Tower is one of the top 10 tallest buildings in Berlin, and our location on the 5th and 6th floors provides stunning views of the city. The spacious, open plan office environment allows for greater cross-department collaboration, and we now have 19 meeting room in alternate sizes as well as more casual areas to host impromptu meetings or hot-desk. The glass walls fill the office with natural light and we've kitted our new space out with modern furnishings, adding pops of colour from our new palette. Our beloved table tennis and kicker tables have been brought over for our teams to let off steam. And it goes without saying that the beer fridges moved over with us too!
On the first morning in our new surroundings, the Awin Board welcomed our teams with newly branded stationary and a catered brunch, including waffles, crepes and fresh Barista made coffee.
Mark Walters, CEO of Awin says: "The beauty of change is that it can be hugely rewarding and create an appetite for more. Our new office environment not only reflects our brand and what our staff have achieved but aligns itself with their aspirations to continue to collaborate and grow."
Our new address is:
5th and 6th Floor
Eichhornstraße 3,
10785 Berlin
Germany
We welcome our partners to stop by and visit us, and hope you like our new office space as much as we do.