Awin launches in the Shopify App Store
Written by

Edward Chaput de Saintonge on

.
Businesses using Shopify can now seamlessly integrate with Awin, unlocking unparalleled access to over 211k partners with an online audience of 560m. 
Share this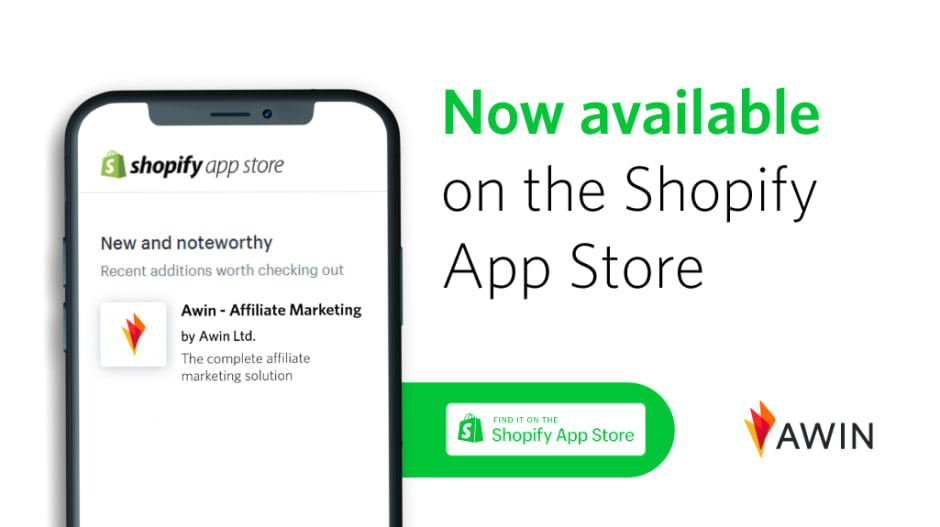 Awin is now part of the Shopify App Store community offering businesses exclusive access to an unrivalled directory of partners. As the first global network to launch in the App Store, this release sees Awin open the power of affiliate marketing partnerships to every Shopify ecommerce site.
Awin partners (also known as affiliates) operate by promoting brands to refer customers online based on a performance (commission) model. Awin tracks, reports and organises payments as well as offering a range of additional ecommerce services, housed within a centralised interface.
Shopify is a leading global commerce company and powers over one million businesses in more than 175 countries.
The move coincides with Awin's new proposition aimed at small and micro-SME businesses known as Awin Access. Awin Access offers businesses operating on this self-managed tier the ability to launch a programme for free with low license and operational costs as well as a short minimum term (see details below)*.
Michelle O'Sullivan, Business Development Director, UK explains, "Awin Access has been hugely successful, helping small and newly launched businesses to take their first steps into affiliate marketing, unlocking the substantial growth it can bring. We have already helped drive over £14m in sales revenue for the UK alone. Being welcomed into the Shopify's ecosystem Network made sense as the next natural step due to the match of the exact audience Awin Access is designed to support and nurture. Shopify is going from strength to strength and, as the largest ecommerce platform, has an impressive customer portfolio of thriving businesses who can increase their traffic and sales by launching an affiliate programme. By paying out to referring websites only when sales are achieved all businesses should consider adding this type of no risk activity to their marketing mix."
For businesses looking to launch a programme you will need to join Awin via the link here to receive your advertiser ID. Then, simply go into the Shopify App Store to install the app.
Further information on Awin Access can be found here.
*Free set-up, first monthly fee is free (thereafter £75 +VAT), 30% network fee. The advertiser selects the amount of commission they wish to pay the affiliate/partner referring customers. This is paid for confirmed transactions only (past returns period). The network fee is a charge applied on top of the commission For example. If the commission is 10% on a £100 transaction, the affiliate/partner would receive £10 and the Awin fee would be £3, total cost to the advertise is £13. Minimum term 3 months.
Share this