Celebrating 20 years of success: Awin releases fourth edition of the Awin Report
Written by

Sarah Ruzgar on

.
To mark its 20th anniversary, global affiliate marketing network Awin has released a special edition of the Awin Report.
Share this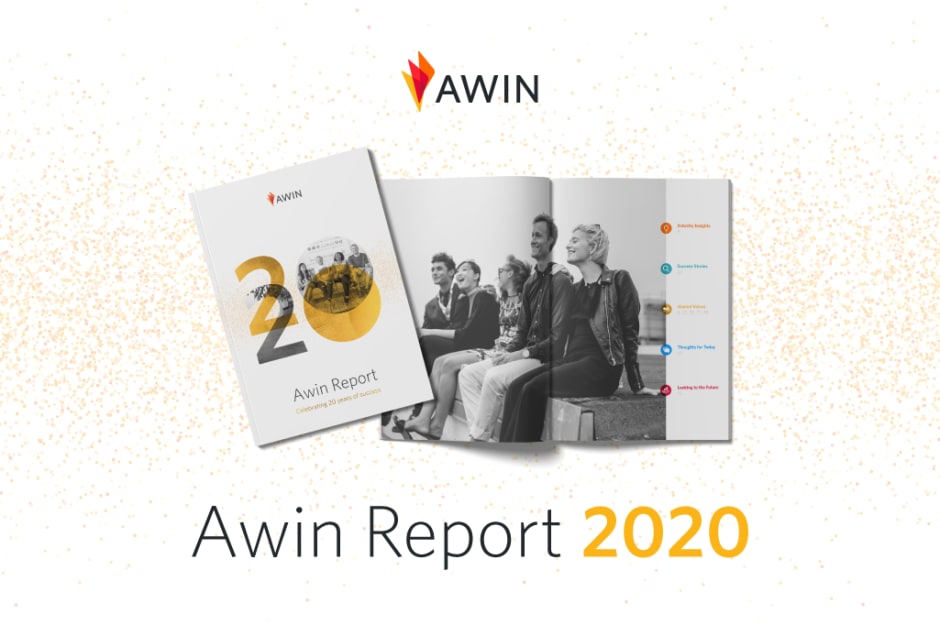 The report offers vibrant and insightful commentary on radical changes in the channel over the past 20 years, reflecting not only on Awin's history but also the role the business has played in shaping the global affiliate industry.
With a variety of key contributors from across the digital landscape, the report presents:
A unique perspective on the latest trends within the industry including cross-border shopping, the global growth of smartphone adoption and tracking in a privacy-conscious era
Inspiring success stories, past and present, from brands including Carphone Warehouse, HP and vouchercloud
Views from mass media houses such as Marie Claire on why they are now embracing affiliate marketing
An assessment of the size of the affiliate opportunity on the high street
Predictions for 2020 forecasting attribution solutions, tracking updates and emerging entrepreneurialism
Threaded throughout the report are Alumni Voices, former Awin employees reflecting on their time at the company, setting them on the path to their current roles in companies including Facebook, Axel Springer, Volkswagen and Verizon Media.
Alongside this retrospective, the report acknowledges a fundamental realignment within the affiliate industry based on changing client needs, outlining a new journey Awin is embarking on to reinvent and rethink relationships with partners.
Kevin Edwards, Global Strategy Director says "Anniversaries allow us to take stock of the past, as well as celebrate success. We're immensely proud of our heritage, particularly the people that have contributed over the past 20 years, both to the success of our company but also to driving the industry forward. It's human nature to focus on the challenges and with recent years proving particularly tricky for marketers, it was important for us to showcase the evolution of the affiliate channel and remind us all how far we've come. That being said, it's imperative to define a compelling vision for 2020 and embark on projects to cement affiliate marketing's credentials as a data-respectful and transparent vehicle for continued investment."
The Awin Report 2020 is available to download for free here. Attendees at Affiliate Summit West on 28th – 29th January can visit the Awin + ShareASale Coffee Lounge to receive a printed copy of the report.
First published in 2017, providing a definitive global guide to the state of the affiliate marketing industry, the annual Awin Report has since been downloaded over 15,000 times. Featuring insights from across Awin's 11 local markets, the Awin Report has shared the story of the affiliate channel's evolution in that time. 2018's updated edition shed new light on common global themes across the industry while the third edition, released in March 2019, emphasised the industry's natural digital diversity by shifting the perspective to that of Awin's numerous, innovative partners.
Share this