Awin's global network development
Written by

Emma Sharp on

.
2017 has been a significant year for Awin, starting with the acquisition of ShareASale in January and swiftly followed by a global rebrand and internationalisation of the Awin platform, now unified under one brand and one global platform.  We've since announced a merger with longstanding competitor affilinet, as well as partnerships with Australian network Commission Factory, and influencer platform Tailify.
Share this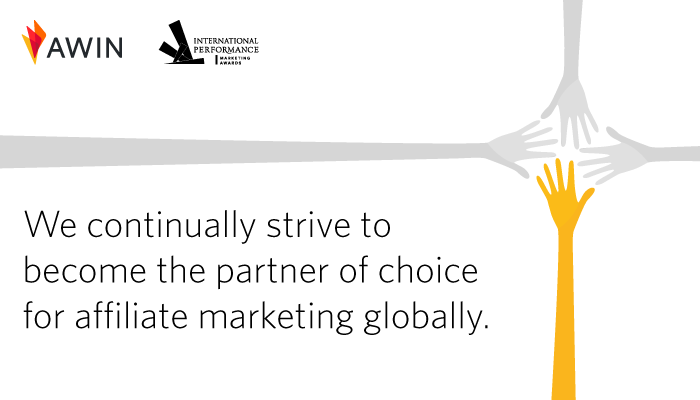 To follow these announcements, Awin has been nominated for awards including Best International Affiliate Marketing Network and Industry Choice of Network at this year's International Performance Marketing Awards. This type of industry recognition validates the work of our many teams and departments across the business and drives us to improve, deliver value and listen to our customers.
Unifying the two platforms was a monumental undertaking, and teams from across both the zanox and Affiliate Window businesses have been working closely together for over a year to ensure the now-unified Awin can operate as efficiently as possible across multiple markets. A key objective throughout this operation was to ensure the transition for our customers across platforms and through migrations was seamless. We strive to be the partner of choice for affiliate marketing globally, and we hope this is also reflected in our work to become a truly global platform. The unification however spans not only our interface and tracking requirements, but also affects our client service departments, with the need to align contracts, service levels and offerings across 15 territories.
The key driving force in this has been our core product and engineering teams, who have led the project across all departments and all territories. Internationalisation of the platform has been one of their primary focuses as Awin expands the interface across Europe and beyond. Since beginning the project, our teams have delivered features that now power connections across 22 different regions, ten languages and ten currencies, including Norwegian and Danish krone, and Australian dollars which were not supported previously on either network, making it easier to work with advertisers and publishers across multiple markets. Our new global platform strives for excellence, not only taking features from the existing platforms but also advancing the technology even further to ensure growth for all our partners.
One of the vital features of the migration project has been to ensure our advertisers see as little disruption as possible throughout the process, whilst still being able to gain access to a host of new features via the Awin platform, including Awin's cross device tracking solution. Our teams have developed a robust tracking service which gives an advertiser the option to migrate from zanox Marketplace to the new user interface and ensure a quick and smooth transfer to Awin without the re-integration of tracking tags. Publishers can also be automatically joined to the new Awin affiliate programs, without the need to switch tracking links to continue to earn commission, meaning traffic and promotion remains uninterrupted throughout the process. Via the new global platform, advertisers and publishers will now have access to improved tracking and reporting, which our product teams have strived to build in a scalable and reliable environment.
Another key feature of the project has evolved via publisher logins to the network; each publisher can now gain access to both the Awin UI and zanox marketplace via one login, meaning that every publisher has access to Awin's entire global network of advertisers, at whatever stage of migration their local country is.
Our key focus throughout this process has been scalability and stability for all our clients and users. In the last week, we've successfully upgraded the way we track and process 100% of our traffic, allowing for future developments and customisation within the platform. The new AWS tracking system will handle around 115 billion impressions and 4.3 billion clicks annually for over 6000 merchants, supporting the Awin platform as high performing and fully scalable environment. This new technology will further allow our engineers to bring new tracking features to market more quickly, with the aim of aiding the growth and performance of our partners.
We power global reach with strong market focus and easy access to data. This helps publishers and advertisers on our network to further understand the consumer buying behaviour and make informed, powerful data-driven decisions.
We strongly believe in supporting our publishers and advertisers, demonstrating their value and increasing their say in the affiliate marketing channel. We are committed to continuing our work enhancing our core interface, and the tools we have available to drive the industry forward and strive for global excellence.
If you'd like to support Awin at the 2017 International Performance Marketing Awards, you can place your vote here.