Gener8 better conversions by giving consumers control of their data
Written by

Yana Bogina on

.
Brands' customers can choose to browse privately or be rewarded from sharing their data on the Gener8 web browser. Learn more about this #AwinningPartnership.
Share this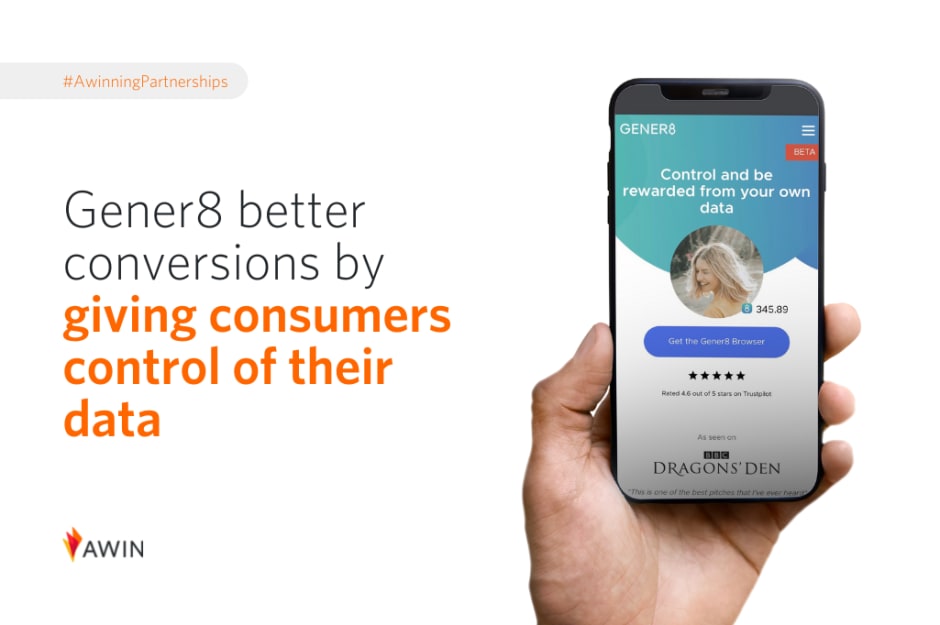 Having appeared on Dragon's Den earlier this year where the company's concept was met with huge praise, Gener8 has now partnered with Awin UK to support their expansion with a trifold offering for direct-to-consumer brands across data insights, display advertising and marketplace promotion. To date, Gener8 has successfully partnered with Audible, WeAreFeel and Fragrance Direct.
Gener8's Founder, Sam Jones, recently spoke to Yana Bogina on Awin's Global Publisher team to discuss how enabling consumers to share in the wealth of their own data can yield better conversions for advertisers on the privacy-conscious browser.
Hi Sam, please could you introduce yourself and Gener8?
Sure, my name's Sam and I'm the founder of Gener8 which I started in 2018. Gener8 is a free-to-use browser that lets people take back control and earn from their data.
Gener8 is currently gaining a lot of press coverage, particularly in the UK, in part thanks to your fantastic pitch on Dragons Den, but also because of your new unique product. Could you talk us through where the idea for Gener8 came from and what is its primary goal?
Things have really taken off since I was on Dragon's Den! We've seen an incredible response, with over 1.8m people visiting our website and hundreds of thousands downloading Gener8. In fact, on average a person is downloading Gener8 every ten seconds, so it feels like a movement is really starting.
The origin of Gener8 comes from when I was a Global Brand Manager at Red Bull, responsible for 33% of their worldwide advertising. In this role I realised our entire digital lives are being tracked; every question we search for, every website we go to, every click we make. Companies we've never heard of are tracking us, profiling us, and creating 'digital fingerprints' of us. They then sell this information and make money from it. But this is our information and I believe that we should have the ability to share in the wealth that's created from our own data. So I left Red Bull and founded Gener8 in order to enable people to control and earn from their own data.
How does Gener8's technology enable users to monetise their data? Could you tell us about the rewarding system that is implemented?
When you use Gener8 you have a simple choice: privacy mode – to stop companies from tracking you online or, rewards mode – to allow you to earn from your data.
When a person chooses to earn from their data, they're given their own profile where they select what they're interested in. This information is used to tailor the adverts they see online, so that all ads are based on their interests. In return for sharing their data with us people earn points and they can redeem these points in our marketplace for products, vouchers and donations to charity.
For our advertiser partners who are interested in working with Gener8, what would you say are the key benefits a relationship with Gener8 can bring?
We work with brands in three ways:
Data: using our proprietary data to provide insights that allow brands to better understand their customers.
Media: running display advertising campaigns to get the brand in front of the right person at the right time.
Distribution: promoting the brand's products and offers in our marketplace so that users can redeem.
On average our media performs 750% better than the industry standard because the quality of our data is unmatched. No special requirements are needed to work with Gener8, simply connect with us and we can begin getting you integrated.
Are there any specific industries that seem to resonate well with the Gener8 audience or do you see a broad mix in users' interests?
As our user base is growing quickly, we are attracting a broader range of people. So where historically we may have preferred partners who were in the electronics or gaming space, now we are working with a wider mix of partners. The common denominator is that all are direct-to-consumer brands and the key for us is that the offer must be best in market (or not widely available elsewhere). The categories that are currently performing very well include: FMCG (fast-moving consumer goods), Health and Beauty, Fitness and Electronics.
Why did you partner with Awin and what are you hoping to get from the partnership?
"The team at Awin are fantastic. They do a brilliant job of helping us to pair our powerful proposition with the right partners who will benefit most from working with us."
Gener8 is giving its users a choice of keeping data private. What are your thoughts on the future of data privacy and what do you think advertisers should be thinking about now to help them to stay ahead of the curve?
The status quo is that thousands of different companies hoover up people's data and sell it themselves. The individual whose data is being sold is always excluded.
Most of the digital advertising ecosystem has been built on legacy architecture: based in a world where there was nothing wrong or illegal about persistently capturing data on people unbeknownst to them. This is now changing. Legislative winds are blowing, and platforms are taking a stance; Apple with their IOS 14 updates centred around app tracking, and Google removing cookies by the end of the year.
The major advertisers we speak to are increasingly placing an emphasis on 'ethically sourced data and media' to ensure that their advertising budget is being spent in a manner that reinforces their brand's values.
One thing that's for sure is that this will become an increasingly important topic over the coming months and years… and the really clever brands are using their position as a strategic advantage over their competitors.
With the increase in coverage and the increasing awareness of consumers around data and its commercial uses, can you share any stats on Gener8's user growth?
Certainly, here are some fun stats for you:
On average a new person has downloaded Gener8 every ten seconds for the past four weeks.
Each month our users spend the equivalent of 120 years browsing on Gener8. That's four years' worth of browsing continuously every day!
Our users spend over £1m on ecommerce every month.
Our users trust us, and we have an 'Excellent' 4.5 star rating on Trustpilot
Gener8's growth has been incredible so far, what's next on the horizon?
For the second half of the year we're focussing on our people, partners and technology:
People: having recently grown the team from 4 to 14 with more hires on the way, we're excited to be building a culture around creating awesome technology.


Partners: working with more advertisers and agencies to bring their campaigns to life on Gener8, helping them to achieve their goals.


Technology: we're focussing on continuing to improve our core technology as well as to accelerate the development of our mobile app (which already has a waiting list with more than 50,000 people on it!).
Boost brand loyalty by giving customers control of their data, and learn how you can leverage this #AwinningPartnership by reaching out to the team here.
Share this