Awin named as one of Glassdoor's Top 50 Best Places to Work in 2021
Written by

Maura Reidy on

.
Awin is honoured to be among the winners of the Glassdoor Employees' Choice Awards, recognising the Best Places to Work in 2021.
Share this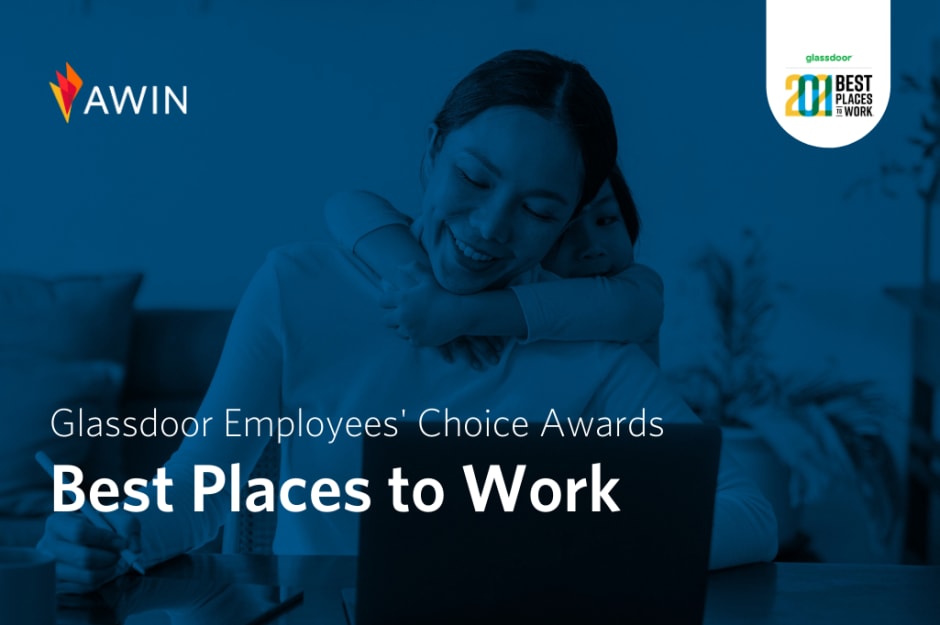 With a global rating of 4.2 and UK rating of 4.5, Awin joins the likes of Salesforce, Google and Microsoft in the list of the Best 50 Places to Work in the UK.
This announcement comes little more than a week into Awin's introduction of a 4-day work week pilot. This move sees the company offering increased flexibility and autonomy to staff in what it believes will lead to a happier, more productive workforce, enabling us to better service our clients and partners.
Awin has long been a champion of employee wellbeing, with the UK pioneering several initiatives since 2015 that have since been established globally across all regions, such as flexible working, mental health coaching and Awin's Wellness programme. We are committed to providing staff with a safe, diverse and inclusive workplace in which they can develop and thrive, and this recognition from our employees is truly valued.
This award takes on even more significance given that the reviews encouragingly indicate that employees continue to feel supported, engaged and included whilst working from home.
Following this change Awin has launched several initiatives to ensure that employees continue to feel part of a workplace community. From a dedicated social and mental health resource hub, weekly social activities, to a radio show, and online workouts, safeguarding employee wellbeing throughout, and after, the pandemic will continue to be a priority for the business.
Speaking about this award, Regional Managing Director at Awin UK, Ian Charlesworth said: "Being listed as one of the top 50 places to work in the UK is of course an incredible achievement, but what makes this specific initiative impactful is that it is entirely formed by the unfiltered opinions of staff past and present. Awin UK has worked hard to create a safe environment for people from all backgrounds, whilst developing a culture based on trust, fun, accountability, and mental wellbeing. Making the top 50 best places to work in the UK shows that we are heading in the right direction."
The Employees' Choice Awards programme, now in its sixth year, is based solely on the input of current and former employees, who have voluntarily and anonymously provided feedback on their companies on Glassdoor. When sharing a company review on Glassdoor, employees are asked to rate their satisfaction with the company overall, and key workplace factors such as career opportunities, compensation and benefits, culture and values, senior management and work/life balance. In addition, employees are asked to describe the best reasons to work at their companies as well as any downsides.
Glassdoor's Best Places to Work were determined using company reviews shared by UK-based employees between 22 October 2019 and 19 October 2020.
A huge thank you to the staff, past and present, who took time to share their perspectives on what it is like working at Awin.
Below are some samples of the reviews shared by our employees on Glassdoor that contributed toward the award:
"…You are praised and rewarded for hard work & they let you get on with your work without micro-management which is a pro! Not to mention everyone is so friendly and willing to help for the greater good of the company."
"A vibrant and upcoming company to work for with a dynamic and youthful workforce; everyone is passionate in what they do, offering a community value to all employees. The company offers an excellent work-life balance and always puts the employee first and ensuring you remain happy while working. Excellent work perks and great working conditions (from a new refurbished office to working from home). Each day offers new and exciting opportunities making each day incredibly enjoyable. Awin is a fantastic place to work and I look forward to my future development within the business!"
"Great culture, good benefits, lots of knowledge and opportunities to keep developing. Modern & innovative mindset from management which is great, and has been especially during lockdown."
If you are a current or former Awin employee, you can leave a review on Glassdoor here.
Share this