Awin places 17th in Glassdoor's Top 50 Best Places to Work in 2022 listing
Written by

Maura Reidy on

.
Recognised amongst the top 20 best places to work in the UK, Awin is honoured to be one of the Glassdoor Employee Choice Awards winners.
Share this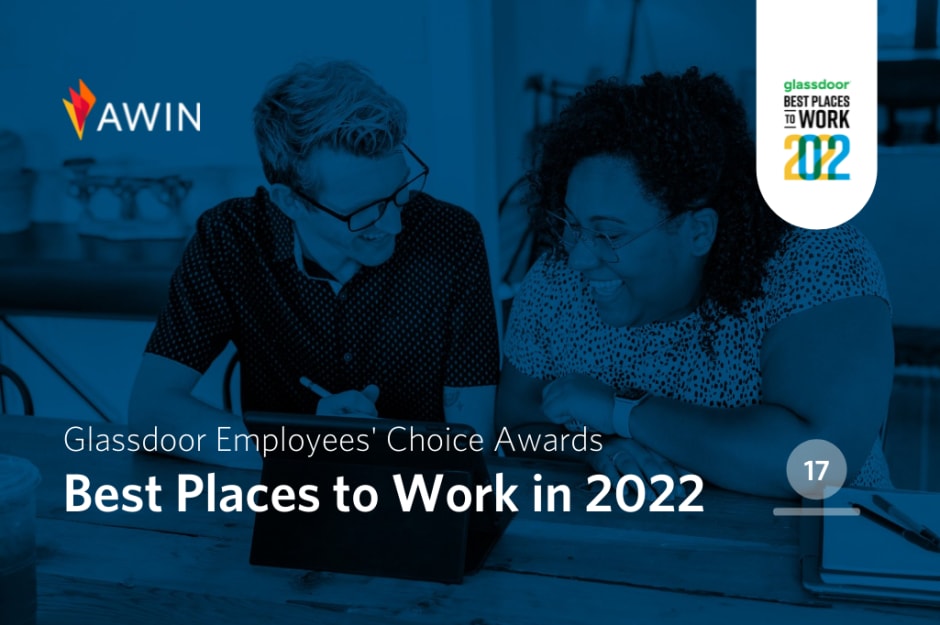 With a global rating of 4.4 and 4.6 in the UK, Awin UK jumps 30 places from last year's listing to join the likes of Salesforce, Adobe and Microsoft as one of the Top 20 Best Places to Work in the UK.
Having introduced a 4-day-work-week pilot in January 2021, alongside establishing several health and wellbeing initiatives such as mental health coaching, an online wellness hub, fitness classes and social activities, this recognition from our current and past employees is extremely valuable. Our staff reviews encouragingly show that Awin's commitment to safeguarding and supporting staff throughout our move to remote working is still appreciated by staff both in the UK and across our global offices.
While a new year likely brings more unpredictability in terms of when we will have the opportunity to bring the entire UK team together, Awin is dedicated to creating an open, diverse and engaging work environment – whether online or in-person – so that employees continue to passionately drive the company forward and bring our new vision to life.
Commenting on this achievement, Awin UK Regional Managing Director Ian Charlesworth said; "Glassdoor provides a completely unbiased and unfiltered assessment of how a business is perceived by employees past and present. Being positioned in the top 20 of UK companies, is therefore massive for Awin UK and a source of huge pride for myself and all our UK teams. It really confirms that the approach we have taken is the right one. We have a flexible approach to work, invest in a comprehensive set of benefits that support people mentally and physically, and have worked hard to develop an inclusive, trusting and open culture. The journey clearly doesn't end here and we are excited to develop even more, but it's also important to acknowledge the progress we have made so far. I know I couldn't wish for a better work environment or a more supportive business to be part of and it's amazing to know our employees feel the same".
The Employees' Choice Awards programme, now in its 14th year, is based solely on the input of current and former employees, who have voluntarily and anonymously provided feedback on their companies on Glassdoor. When sharing a company review on Glassdoor, employees are asked to rate their satisfaction with the company overall, and key workplace factors such as career opportunities, compensation and benefits, culture and values, senior management and work/life balance. In addition, employees are asked to describe the best reasons to work at their companies as well as any downsides.
Glassdoor's Best Places to Work were determined using company reviews shared by UK-based employees between 20th October 2020 and 18th October 2021.
A huge thank you to the staff, past and present, that took time to share their perspectives on what it is like working at Awin.
Below are some samples of the reviews shared by our employees on Glassdoor that contributed toward the award:
"It has an amazing culture, great support from line managers, very focused on customer service."
"Incredible focus on employee wellbeing. They keep us included in a lot of decision-making and really value our feedback which I think is amazing in such a huge company."
"Awin clearly care a lot about their employees, and make a strong effort to ensure they're happy and achieving their full potential."
"The combination of technology and marketing means there's a lot of exciting projects going on. Awin is a great place to develop and apply a digital expertise."
"Great people, work ethic and culture. Very welcoming and approachable people."
"Staff development is a key focus for Awin, and you'll always have access to training, mentoring, and advice from your line managers and the wider Awin teams."
This news comes a day after Awin announced the appointment of its first Chief Customer Officer, Alibaba General Manager David Lloyd. As Awin continues to enjoy another year of record growth, staff wellbeing, engagement and recruitment remain a key pillar and contributor to the company's high performing, talented workforce and resulting success.
Interested in joining Awin? View our full list of vacancies here.
Share this