Awin and NMPi by Incubeta launch Amazon Ads optimisation partnership
Written by

James Bentley on

.
In a pioneering step for the affiliate channel, Amazon advertising optimisation can now be reported and paid for on a CPA basis with NMPi and the Awin platform.
Share this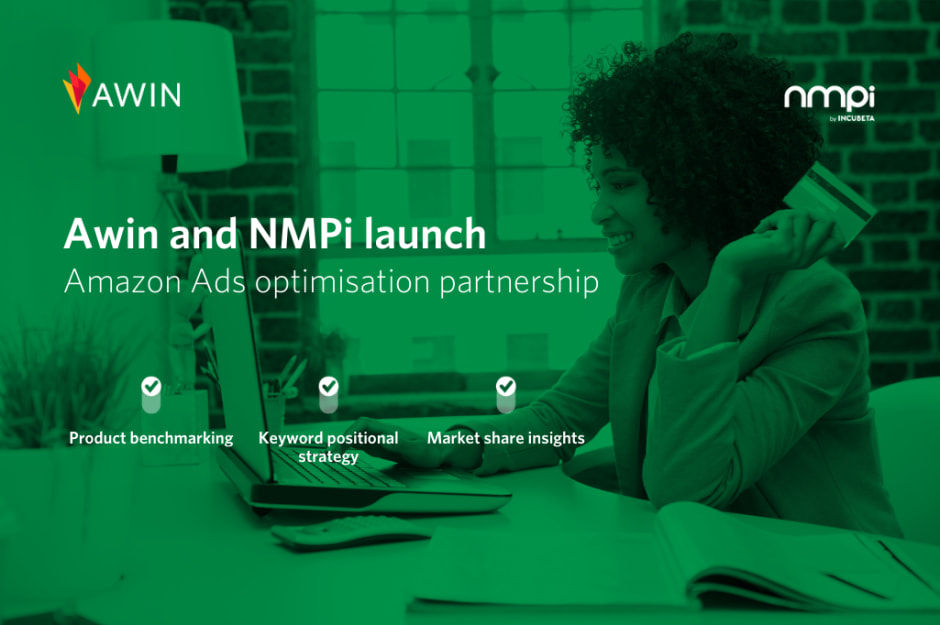 Forecast to reach over $20 Billion by 2023, Amazon advertising is a sophisticated, vast, and value rich opportunity for brands seeking to broaden marketing investment.
Amazon sponsored advertising consists of pay-per-click product ads across multiple formats, varying from native product placements to creative banner ads, targeting keywords and products across the Amazon marketplace.
With over 300 million active users worldwide, Amazon is an often untapped, or vastly under-optimised eco-system for many brands. Competition and fluid price shifts make ROI delivery particularly challenging.
To meet these needs, NMPi by Incubeta (NMPi) have developed advanced and proprietary Amazon market intelligence solutions. Bespoke to each brand, they deliver rich performance insights that power bid and creative optimisation, including:
Product price, rank and review benchmarking
Keyword positional strategy
Keyword gap analysis and market share insights
With two-decade of expertise in search and programmatic, NMPi provide best-in-class Amazon advertising management, delivering exceptional results for clients such as Onnit and Laithwaites.
Through partnership with Awin, NMPi is now extending these advantages to Awin brands at scale on a performance CPA basis. A new integration also surfaces key Amazon performance metrics in Awin reporting dashboards, and enables streamlined commissioning, billing, and payments.
"As an Agency who prides ourselves in putting our money where our mouth is, we've been looking to bring our Amazon proposition to the affiliate CPA world", said Max Flajsner, UK Director of Innovation at NMPi. "Now in partnership with Awin's brilliant tech, we're able to offer Amazon management services on a pay-per-sale model, making expert Amazon management more accessible for all brands, big and small!"
"Amazon advertising is a huge frontier of opportunity and value, but brands need expert guidance to ensure revenues align to ROI", said James Bentley, Awin UK Strategy Director. "Managing Amazon advertising through Awin and NMPi is the perfect way to achieve optimised growth on a performance CPA."
To fully demonstrate the benefits of their CPA optimisation services, NMPi is, for a limited time, offering the following to Awin brands with an Amazon presence:
Complimentary account audits
Complimentary virtual workshops
Best practice recommendations
Performance optimisation forecasts
Driven by their shared performance-first obsession, Awin and NMPi are thrilled to make Amazon advertising success easier and more attainable than ever before.
To register your interest, please contact the NMPi Partnerships team or the Awin Publisher Management team.
Share this