Our highlights from the 14th annual Performance Marketing Awards
Written by

Maura Reidy on

.
Recognising the excellence of the UK's performance marketing industry, Awin is proud to announce that together with our clients we took home eight awards.
Share this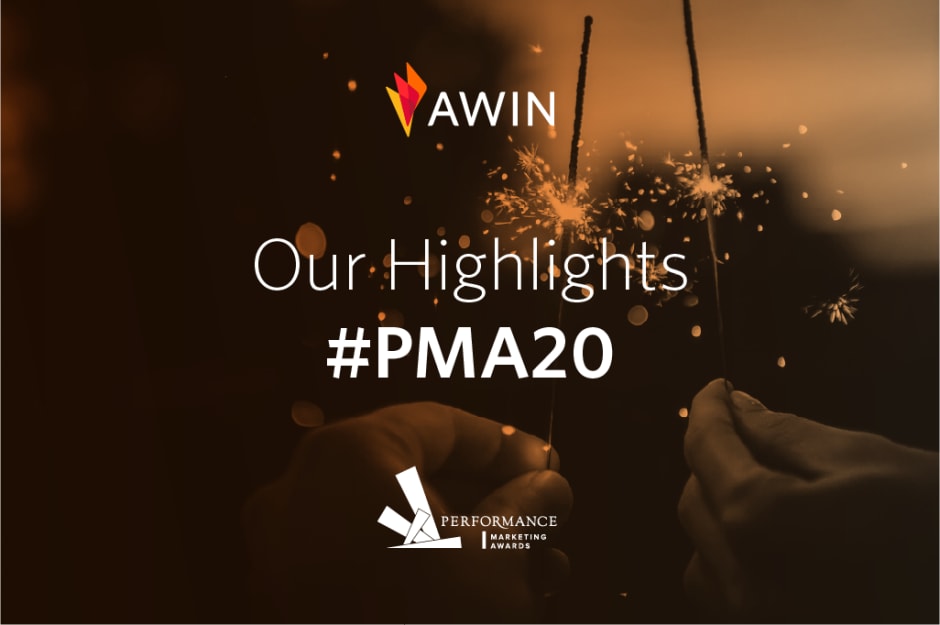 As the 14th annual - and inaugural virtual - Performance Marketing Awards ceremony was broadcast across our screens yesterday afternoon, the Awin team tuned in with excitement as the event unfolded. Due to take place in April, and perhaps a little more home-office wear than Park Lane haute-couture, this year's ceremony was no less enthralling as the industry's creativity and diversity was represented amongst the 28 categories.
In what was a fitting reminder of the people and relationships that make up the affiliate industry, Founder of the Awards Matt Wood opened the ceremony by recalling how only last year 'Human Touch' was incorporated into the judging criteria. Although we could not all come together to celebrate our combined achievements last night, Matt acknowledged the industry's ability to "rise to the challenge" and praised the quality of collaborative work in this year's entries.
"This was a memorable event for our clients and teams, picking up a total of eight awards including Best Use of Data and Stephen Short's recognition as Industry Rising Star. However, it's not just the volume and breadth of awards that are noteworthy but the quality that is required to win in the face of such healthy competition. Missing out on the Publisher Choice of Network was naturally disappointing for Awin UK, but we will be back next year with a new approach which better reflects our loyal global publisher base." – Ian Charlesworth, UK Country Manager, Awin
Awin is delighted to have won eight awards and we would like to especially thank our clients and partners for their continued support.
Best Price Comparison Website Strategy – Awin and BT Group
"Identified a key problem with the need to not just save money but stop spending ineffectively." – judges' comment
Best Brand Engagement Campaign – Awin and Easy fundraising for Sky: Moving the Goalposts
"For Easyfundraising and Sky to bring together such a close relationship that genuinely impacts. It's something I've not come across in any of the entries to date." – judges' comment
Best Use of Data – Awin and RevLifter for Mobiles.co.uk
"Unique way of serving personalised offers that still maximised margin for Mobiles.co.uk." – judges comment
Global Excellence – Awin and Nike: Sneakerheads and Stories
"Embraced affiliate across multiple channels, resulting in impressive coverage and results." – judges' comment
Best Technology and Telecoms Campaign – The Groupon Reach Network and Awin for NOW TV: Winning the Iron Throne
"A well-rounded campaign exemplifying strong cross-channel results, resulting in an uplift in sales." – judges' comment
Best Fashion, Health and Beauty Campaign – The Groupon Reach Network and Awin for Dorothy Perkins: Perk up your Winter Wardrobe
"Great demonstration of creativity in the Wheel of Fortune and bold targeting of competitors' customers." – judges' comment
Best Retail and E-Commerce Campaign – The Groupon Reach Network and Awin for Dorothy Perkins: Perk up your Winter Wardrobe
"Stellar results were achieved and brilliant work across online and offline/stores to optimise campaign effectiveness." – judges' comment
Rising Star – Stephen Short, Senior Product Manager, Awin
We also wanted to use this opportunity to remember Zak Edwards, who was a close friend of Awin's and who loved the PMAs. Zak won several awards with us in the past, including a memorable 2008 ceremony where he took home two. Awin has made a donation to Zak's favourite charity, the League Against Cruel Sports. Reflecting on our donation, Ian Charlesworth said, "we all felt that remembering Zak in this way was a fitting mark of the PMAs and the lighter side of the industry that he enjoyed so much".
If you would like to make a donation in Zak's name you can do so via the JustGiving page.
For a full list of the award winners and judges' commentary, you can download the Book of the Night.
Share this