Supporting the affiliate industry – we'd be honoured to have your vote
Written by

Maura Reidy on

.
Celebrating the adaptability and innovation of the performance and affiliate marketing industry, this year's Awards showcase the channels' exceptional work.
Share this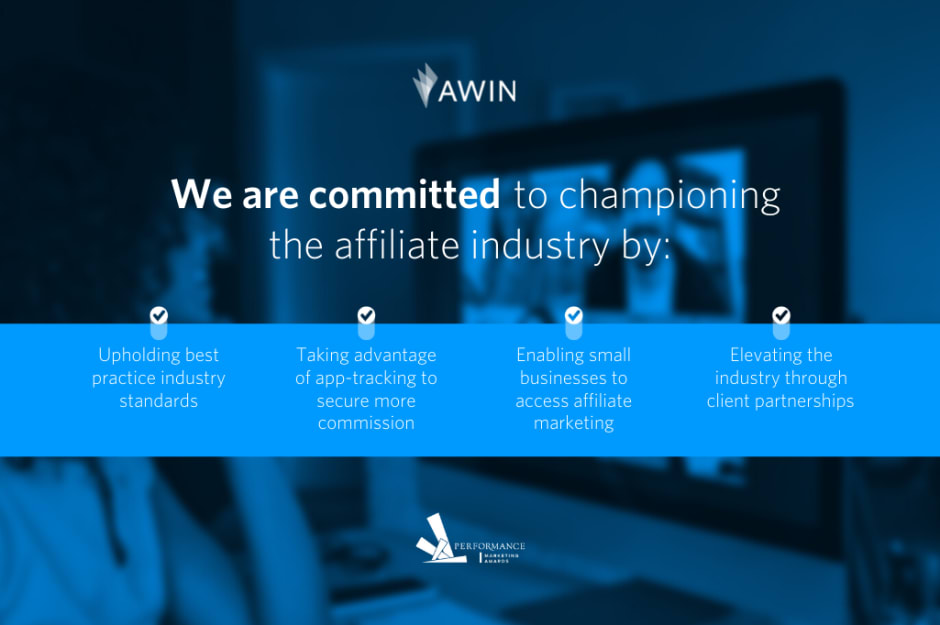 We're proud to be shortlisted alongside our clients 23 times for the 15th annual Performance Marketing Awards.
We're especially delighted to be shortlisted for Publisher's Choice of Network, which is decided entirely by publishers' votes.
To vote, publishers must register to verify their eligibility from today, 27th May until midday Wednesday 9th June. Verified publishers will receive a link to place their vote from Monday, 7th June with lines closing at midnight, Thursday 10th June.
Receiving this recognition from our partners would be a huge honour, and to secure your vote, we'd like to show you how we've supported the industry over the past year:
Upholding best practice industry standards
In January, Awin launched the Gold Standard advertiser accreditation to encourage positive change within the industry and protect publisher revenues. In collaboration with the external Publisher Board, the accreditation requires advertisers to commit to faster payments, optimal tracking set-up, fair commissions and transparency on their de-duplication policies.
By establishing a framework for best-in-class affiliate programmes, together we lay the foundation for continued growth and investment in the channel.
To date 45 advertisers are Gold Standard accredited, with plans to roll-out the accreditation to other regions later this year.
Taking advantage of app-tracking to secure more commission
In 2020 Awin added app tracking as a requirement within our tracking policy for brands with transactional apps, as well as creating a dedicated app-tracking specialist role.
To assist brands, we partnered with the three largest Mobile Measurement Partners (MMPs); Adjust, Appsflyer and Branch, further aiding the integration process.
Through in-app tracking, Awin has secured nearly £5m worth of commissions that would have otherwise gone untracked, with our earliest advertiser adopters achieving up to 80% higher conversion rates and AOVs 3 x higher than their standard programme.
Enabling small businesses to access affiliate marketing
Awin Access is a low-cost, low-risk, entry-level affiliate marketing solution for small businesses. With the IAB estimating that SMEs account for 45% of adspend, Awin saw huge opportunity for the affiliate channel within this untapped client segment.
Launching in the UK in January 2020, the solution has since been rolled out across our European regions with over 800 programmes live globally with 52% of programmes Gold Standard accredited in the UK.
Emerging brands can now reach new audiences, increase sales and thrive through online partnerships. While our primary goal of Awin Access is to support grassroots ecommerce, micro-SMEs are proving their worth to the longevity of the channel with a total of 670 UK programmes, including Mela, Pacamask and Wild driving nearly £2m in publisher commission.
Elevating the industry through client partnerships
As the affiliate channel has grown in importance, the awareness of senior marketers has not always been reflective of the value it drives. Even though 70% of CMOs use ROI as a key driver in decision making, their awareness of the affiliate channel is often limited. Awin wanted to tackle this mis-alignment head on, and therefore launched a new bespoke team to build more strategic and senior relationships with clients; our Client Partnerships team who have also been shortlisted for the Best Team in Performance Marketing award.
As senior marketers become more educated and passionate about the channel, their openness to testing, expanding partnerships and increasing spend will follow.
Leveraging the team's individual perspectives and specialised expertise to produce a wealth of resources, the team have helped our partners navigate the unpredictable landscape of the past year. Initiating a market trends webinar and article series days atter the first national lockdown, and leading the UK chapter of The Awin Report are just a couple examples of how their knowledge has contributed to informing the industry.
At Awin, we champion the affiliate channel. By reacting and responding to the needs of our clients and partners, we strive to collectively drive the industry forward and broaden the scope of what we can achieve.
We hope we have done enough to support you over the past year, and we'd be honoured to have your vote for Publisher's Choice of Network.
You can find the full shortlist here.
We're thrilled to be shortlisted with our colleagues and clients for the following awards:
Best Affiliate Marketing Innovation: Awin: Tesco Innovates In-Store Experience
Best Affiliate Marketing Innovation: Branch x Boohoo x Awin
Best Brand Engagement Campaign: Awin: Samsung Supports Emergency Workers
Best Content Marketing Campaign: Awin & Sky Mobile: Content Collaboration for sky-high sales
Best Content Marketing Campaign: Groupon – Sending Some Love This Valentine's with Vodafone
Best Data-Led Campaign: Awin & TalkTalk: Walking the Walk to Profit
Best Fashion, Health and Beauty Campaign : Awin, LOOKFANTASTIC & UNiDAYS: Making Freshers Fantastic
Best Industry Initiative: Awin Access
Best Influencer Marketing Campaign: Awin, Carphone Warehouse & Google: Influencing the Smartphone Market Through the Pixel Lens
Best Managed Affiliate Programme - Enterprise Level: Awin & Wilko - Riding the Covid Wave: Reshaping strategy in the face of adversity
Best Managed Affiliate Programme - Enterprise Level: Awin & BT Group: Working as one, with Scrum
Best Paid Social: Groupon – Sending Some Love This Valentine's with Vodafone
Best Price Comparison Websites (PCW) Strategy: Awin & TalkTalk - Feel the Churn: Increasing Visibility and Retention in Telecoms
Best Programme Launch or Migration: Awin-O, Let's Go
Best Retail and E-Commerce Campaign: Awin, VoucherCodes & Currys PC World: 'Reaping Rewards in an Unpredictable Climate'
Best Retail and Ecommerce Campaign: Increasingly x Craghoppers x Awin
Best Team in Performance Marketing: Awin: We are the extra mile
Best Technology and Telecoms Campaign: Awin: The future is exciting with Vodafone and Samsung
Best Technology and Telecoms Campaign: Groupon – Sending Some Love This Valentine's with Vodafone
Best Use of Performance During COVID-19: Awin & Tastecard: Evolving from Advertiser to Publisher to drive revenue in a global pandemic
Best Wellbeing Initiative: 4 days 4 success: A journey to increased employee happiness and productivity
Global Excellence: Twentysix Digital x Deckers (UGG) x Awin
The competition is incredibly fierce this year, and we wish everyone the best of luck. We look forward to celebrating the industry's success at the virtual event on Tuesday 22nd June.
Share this