Grow your programme with Awin recommended publishers
Written by

Edward Chaput de Saintonge on

.
Partner recruitment just got easier with publisher recommendations in the directory.
Share this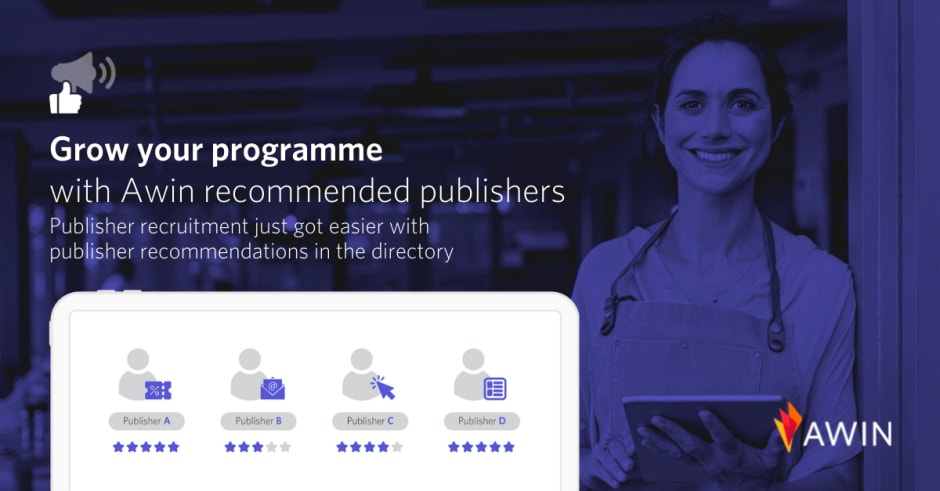 A healthy mix of publishers is really important for any affiliate programme and discovering a new partner who is a great fit for your brand is always satisfying.
But finding the right balance is easier said than done and discovering the right publishers for you on our platform can make recruitment a difficult and time-consuming task.
Over the years our Publisher Service teams have built their own reports and publisher analyses to help create new recommendations, drive publisher recruitment and compile partnership recommendations. From today we're pleased to offer these insights to every advertiser on the network and they can be found in our Publisher Directory.
How do they work?
Awin created an algorithm based on what we think are the most appropriate publishers for you. The tool automatically generates up to 25 recommended partners per day which can be found in the 'Recommendations' tab of the Publisher Directory.
The 25 publishers are your top recommendations and, just like the other directory pages, you can click through to the publisher profiles or invite them to join your programme.

To keep optimising the recommendations you receive, we encourage you to rate each publisher recommendation. Rating and interacting with your recommendations provides feedback to our machine learning algorithm which then improves the quality of future recommendations. Rating is also the way you can unlock new recommendations. So, the more you interact, the more recommendations you will see and the better they become.
Further information can be found in the Success Centre or you can log straight into your account and start reviewing your recommendations now.
Share this