Meet the ThinkTank UK speaker: James Maley, RevLifter
Written by

Maura Reidy on

.
AI deals personalisation in affiliate marketing; everybody knows they should be doing it, but not everyone knows exactly how best to achieve it.
Share this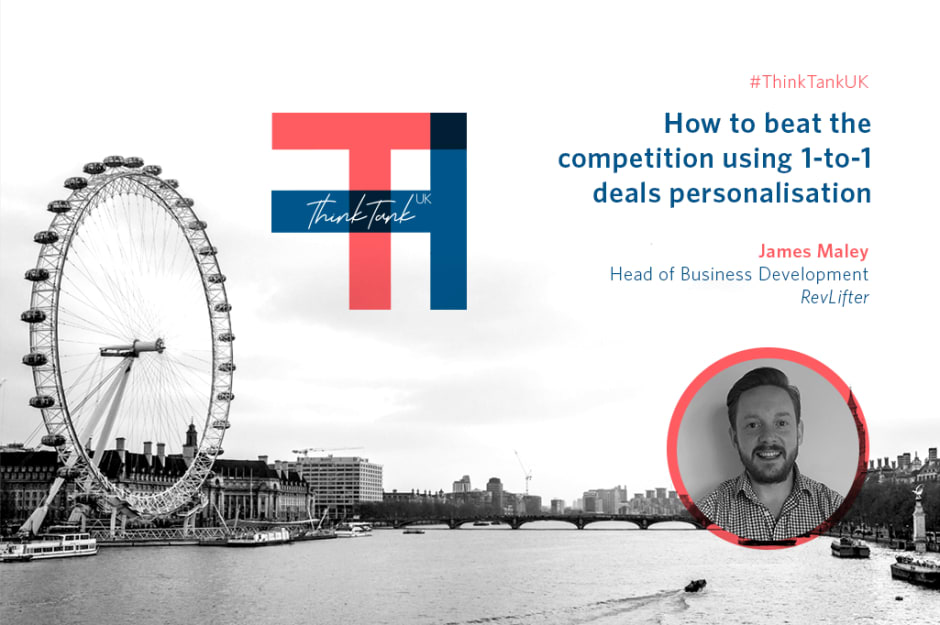 James Maley is Head of Business Development at RevLifter, and will be delivering a session, How to beat the competition using 1-to-1 deals personalisation, at ThinkTank UK on 13th June. We catch up with James ahead of the conference to get a sneak peak of what attendees can expect from his session, key takeaways and why sponsoring ThinkTank UK is important for RevLifter.
As Head of Business Development, James is responsible for expanding RevLifter's business opportunities across the EMEA and APAC regions. Advocating the use of AI-powered personalisation within performance marketing, James strives to keep ahead of industry trends to understand the needs of key stakeholders, clients and partners alike.
Why are you speaking about this topic?
Real-time personalisation is more important than ever before. Retail is going through extraordinary change. Technology has handed power to the consumer, providing them with unlimited choice and access to competing offers. Marketers need to work harder than ever to provide personalised experiences for their customers that are truly relevant to them.
If you want to cut through the noise and emerge as a brand your buyers want to engage with, the marketing must seamlessly resonate with your buyer's preferences in real-time.
What can guests expect to learn and takeaway from this session?
Guests will learn how to balance retailer objectives against the specific needs of consumers, get a view of several examples of data-driven personalisation in practice and come away knowing the key considerations when defining a personalisation strategy within their organisation. Guests will also learn how to measure success and define incrementality from personalisation tactics.
Why are RevLifter sponsoring ThinkTank UK?
Sponsoring Awin's ThinkTankUK this year was a no brainer. It's invaluable for us to meet and connect with our clients and future clients all in one place. Plus, it's great to learn from other businesses in the affiliate marketing industry.
The event's theme of future-proofing perfectly encapsulates what we're doing as a business; helping brands and retailers achieve scalable deals personalisation using our data-driven technology. Marketers are being challenged to improve their levels of personalisation across the entire ecommerce landscape. For affiliate marketing, we believe the personal touch to be more than just a 'nice to have', it is a must.
Consumers have grown to expect unique offers and experiences with each purchase, and there is a huge opportunity for us to provide this.
Where do you see Revlifter fitting into the future of affiliate marketing?
RevLifter can show a specific offer or incentive by applying scenario-based rules, geared around what the technology can draw from the customer's basket and browsing data - no other company can execute this process in the way that we do. The possibilities are endless in terms of the results that we can drive.
We can personalise rewards based on customer buying habits and interests, such as providing gift cards and vouchers in return for a higher spend. We're capable of driving attributed sales in-store (online to offline) through personalised, geo-targeted deals online.
Direct to consumer brands will start to own customer relationships as they have higher margins and can experiment with deals personalisation like providing dynamic pricing models and presenting selected offers to different consumer groups.
Finally, it's inevitable that consumers will own the value exchange, we decide what data we're willing to share in return for personalised experiences.
How will RevLifter complement changing consumer trends?
Demonstrating incrementality within affiliate marketing channels and providing 1-to-1 real-time personalisation is key. RevLifter can accommodate the needs of both consumers and retailers. Working closely with brands and retailers to ensure that the most valuable content is presented at the right time based on their specific goals and customer preferences.
Mass discounting and the continuous squeezing of margins are detrimental to a retailer's future health. RevLifter uses machine learning to provide organisations with the mechanism to present discreet discounts or rewards on a one-to-one level which enables them to protect margins by displaying automated deals based on basket margin, stock levels and customer profitability.
How to beat the competition using 1-to-1 deals personalisation will take place at 14:50 at ThinkTank UK on 13th June. You can see the full agenda here and stay updated by following #ThinkTankUK.
ThinkTank UK is free to attend and you can register here if you haven't done so already.
Share this